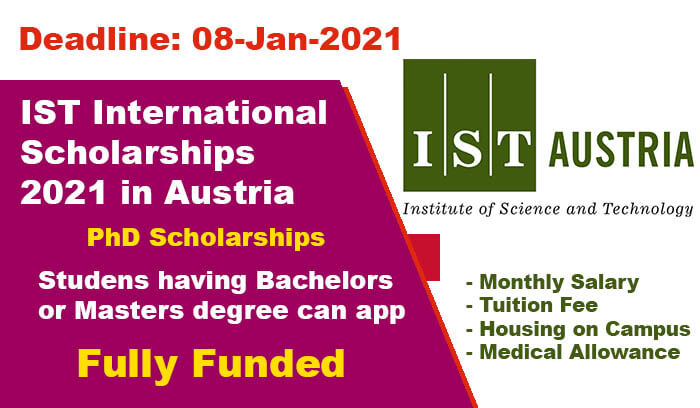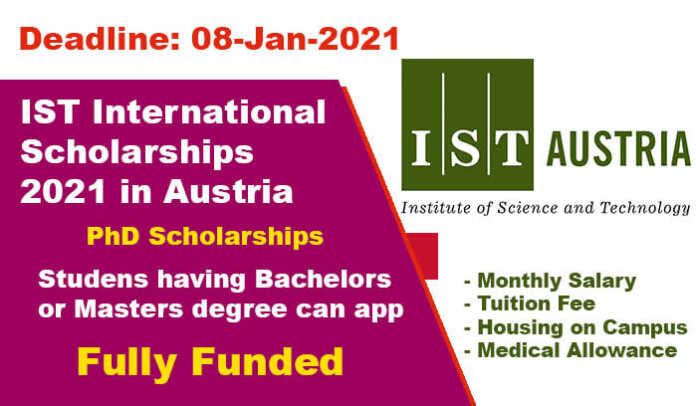 IST International Scholarships 2021 for International Students:
Applications are invited to apply for the IST International Scholarships 2021 in Austria. All International Students from all over the world are eligible to apply for Scholarships at Institute of Science and Technology. Students those who want to continue their Postgraduate degree from Austria are highly encouraged to apply for IST Award. The Austrian Scholarship will cover all the expenses to complete PhD Degree. IST is a Fully Funded Scholarship for excellent Students. Also apply for University of Miami Undergraduate Scholarship 2021 in USA (Fully Funded).
Students those who hold Bachelors Degree or Masters Degree can apply for this Scholarship. University offers award in these academic fields of Physics, Computer Science, Biology, Mathematics, Neuroscience and Related areas. The duration of the Scholarship is 4 to 5 years depending upon degree.
IST Austria was established in 2008. It is an international research educational institute in mathematical  and natural sciences, located Austria. This institute is ranked in top three research institutions in the world. You can also apply for Vanier Canada Graduate Scholarships 2021 in Canada (Fully Funded).
IST International Scholarships 2021 Details:
University: Institute of Science and Technology
Degree level: PhD
Scholarship coverage: Fully Funded
Eligible nationality: International
Award country: Austria
Last Date: 8 January 2021.
Join Our WhatsApp Group if You not Joined it Already
Stay in Touch & Follow us on our Social Media Platforms to Get Latest Updates for Latest Opportunities. Facebook Page – Facebook Group – Instagram – Twitter – LinkedIn
Don't miss this amazing award ANU International Research Scholarships 2021 in Australia (Fully Funded).
Also check Merck International Research Scholarship 2020 in Germany.
Financial Benefits:
IST International Scholarships 2021 in Austria is a Full Free Scholarship for candidates from any part of the world to pursue a PhD degree. This award will provide the following benefits to meet your expenses:
Handsome Monthly Salary
Complete Tuition Fee will be given.
Housing on Campus
Comprehensive Medical Allowance.
List of Available Study Fields:
Applicants can apply for one of the following or any related PhD academic field and major:
Computer science
Biology
Physics
Neuroscience
Mathematics.
Check Islamic Development Bank Scholarship 2020 (Fully Funded).
Documents Required:
Updated Resume (CV) Click Here for CV Writing Guidelines
Academic Degree Certificate and Transcript
Statement of Purpose in 1-2 page in which you have to specify 3 research groups of your interest.
Reference Letters from Three Referees
Note: All document should be in English Language and Academic Certificates are in it Original Language.
Eligibility Criteria:
Applicants with any nationality from any part of the world can apply.
Your academic performance in Bachelors or Masters Degree
Other relevant skills i.e Internships, Participation Conference or in Olympiads.
Experience in Communication Skills
Application Deadline:
The last date to apply for the Institute of Science and Technology Austria Scholarship 2021 for Students from all over the globe is 8th January 2021.
Check Asia Pacific University MEXT Scholarship 2021 in Japan (Fully Funded).
How to Apply for IST International Scholarships?
There is an Online Application System to apply for the IST International Scholarships 2021 in Austria. The link to official scholarship website is given below. Visit it for more information and apply procedure.