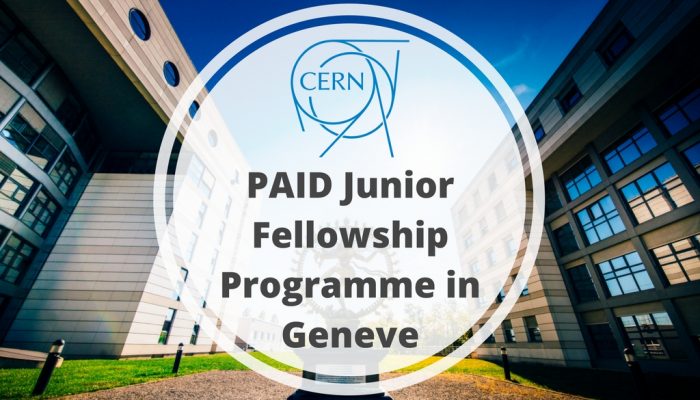 CERN Junior Fellowship Program 2021 in Switzerland:
Applications are opened to apply for CERN Junior Fellowship program 2021 in Switzerland. CERN is a fully funded fellowship. CERN Provides International internships as well as a Summer Student Program. This program is basically for Undergraduate & Graduates, Fresh Students. There is no need to Give any language test like IELTS. There is No Application Fee. Also apply for University of Sydney Scholarships 2022 in Australia (Fully Funded).
The aim of the CERN Fellowship Programme is to bring Undergraduates & graduates from all around the world to gain practical experience in a field of Applied Sciences, Computing, and Engineering, physics with limited or No Work Experience. Must check Griffith University Research Scholarships 2021 in Australia (Funded).
CERN Junior Fellowship Program 2021 Details:
Organization: CERN
Fellowship coverage: Fully Funded
Eligible nationality: CERN Member
Award country: Switzerland
Last Date: 1 September 2021.
Join Our WhatsApp Group if You not Joined it Already
Stay in Touch & Follow us on our Social Media Platforms to Get Latest Updates for Latest Opportunities. Facebook Page – Facebook Group – Instagram – Twitter – LinkedIn
Amazing Opportunity Humphery Fellowship Program 2022 in USA (Fully Funded).
Also check Asia Pacific University MEXT Scholarship 2022 in Japan (Fully Funded).
Financial Benefits:
As Stated Above, CERN Juinor Fellowship is a Fully Funded International Internship program. Doing an Internship at the CERN internship in Switzerland will provide the following benefits.
A Monthly Stipend of 5,305 to 6,586 Swiss Francs per month (net of tax).
Coverage by CERN's comprehensive health scheme (for yourself, your spouse and children), and membership of the CERN Pension Fund.
Round Airfare Travel Tickets Expenses to and from Geneva, Switzerland.
Depending on your individual circumstances: an installation grant, family, child and infant allowances as well as travel expenses to and from Geneva.
2.5 days of paid leave per month.
About CERN Junior Fellowship Program:
CERN is a European Organization for Nuclear Research, physicists and Engineers. Please note that you are applying for a program and not a specific job.
Diversity has been an integral part of CERN's mission since its foundation and is an established value of the Organization. So, Students with Diverse Fields from different academic backgrounds are encouraged to apply.
Check DAAD Helmut Schmidt Scholarship 2022 in Germany (Fully Funded).
Eligibility Criteria:
Undergraduate & Graduates, Graduated & Fresh Students.
You have Graduated, or are about to graduate (within six months from the date of the committee), with a university degree (BSc or MSc level).
Limited or No Work Experience OR No more than 4 years' relevant experience after obtaining your degree.
Kindly note that prior experience will not be taken into consideration.
You are a national of a CERN Member or Associate Member State (Check Your Country Here)
Diversity has been an integral part of CERN's mission since its foundation and is an established value of the Organization. So Students with Different & Multiple academic Disciplines are eligible.
The Duration will be 6 months (minimum) up to a maximum of 36 months.
Check Vanier Canada Graduate Scholarships 2022 in Canada (Fully Funded).
Documents Required:
You will need the following documents (in PDF format) to complete your application:
Updated CV (Resume)
Your Most Recent Relevant Qualification.
Three recent letters of recommendation (not older than a year at the time of the deadline for applications), giving an overview of your academic and/or professional achievements.

You can upload these letters at the time of application if you have them to hand. You will also be provided with a link as soon as you have submitted your application to forward to your referees to upload their letters confidentially. Please note this must be done before the closing date.
Application Deadline:
The last date to apply for CERN Fellowship Program 2021 in Switzerland is 1st September 2021. Don't miss this opportunity and apply before the deadline.
Check Khalifa University Graduate Scholarship 2022 in UAE (Fully Funded).
How to Apply for CERN Junior Fellowship Program?
There is an Online Application Process to  apply for CERN Junior Fellowship Program. Visit the given below link and Resister on website then start your Applications. Link to the Official Advertisement is given below: