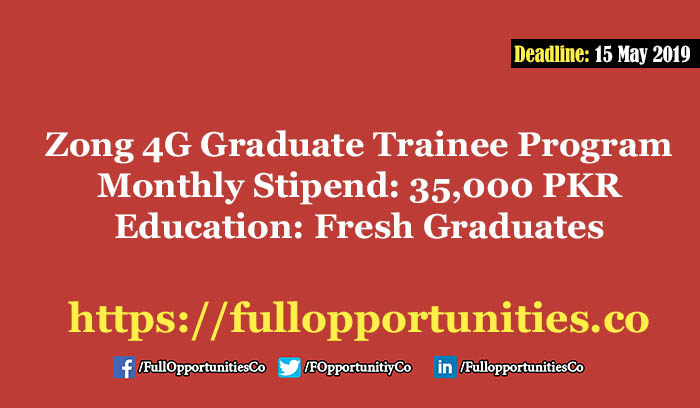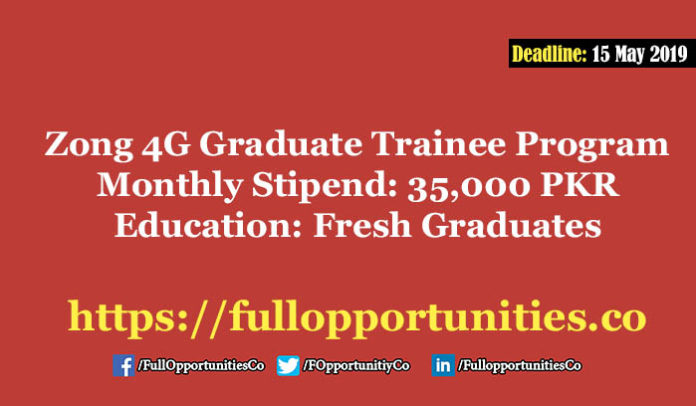 Zong 4G Graduate Trainee Program 2019 – 35,000 Monthly:
The Zong 4G Graduate Trainee Program 2019 are open apply now. Zong 4G is Inviting Students from all over Pakistan to Apply for their Graduate Trainee Officers program. According to previous Reports, The Monthly Starting Stipend will be 35,000 PKR.
The Duration of the Zong 4G Graduate Trainee Program will be for 12 Months to 18 Months. Zong Encourage Fresh Graduates as well as old Graduates with No experience from all over Pakistan. There is NO previous Experience Required. After the Completion of Training, permanent Zong Jobs will be Offered.
Last Year in Zong Graduate Trainee Program 2018, a total of 50 New graduates has entered into the corporate world. This Year they will select more than 50 or approximately 50 Graduates from Pakistan. A Great Opportunity to take a Start from Zong Careers. Read the Full Detailed information below.
Zong 4G Graduate Trainee Program 2019 Details
Position: Graduate Trainee Officers (GTO)
Training Duration: 12 to 18 Month
Monthly Stipend: 35,000 PKR
Location: All over Pakistan
Deadline: 15th May 2019
Last Year in 2018, The Company Shortlisted Graduates from various Universities of Pakistan, to encourage and provide them with an opportunity to grow as the Leaders of tomorrow by allowing the trainees to experience the practical world and gain experience in the diverse fields of Engineering, Information Technology,  Sales and Marketing, etc.
Areas of Interests in 2019
Computer Science, Software Development, Software Engineering, Information Technology, Telecommunications, Information Technology & Services
Skills
Level of Education
Monthly Stipend:
35,000 PKR will be given to each participant during the Training as well a with other benefits Like Sim Cards, Mobile Data Etc.
Eligibility Criteria
Education: Fresh Graduates Holding degrees in Computer Science, IT, Software Engineering
Score/CGPA: Minimum 2.5 CGPA or 70% Marks required
Age: Maximum 26 years (at the time of hiring)
Work Experience: Less than 01 year
Timeline
The Expected Joining Month will be From July 2019
Hiring Steps
Online Application Submission
Online Test
Assessment Center
Final Interview
Job Offer & Onboarding
Deadline
The Last Date to Apply for the Zong 4G Graduate Trainee Program 2019 is 15th May 2019
How to Apply For Zong 4G Graduate Trainee:
You have to Aly Online. No Applications will be accepted without Online Aly. The Link of the Zong Online portal is given below.
CLICK HERE FOR THE OFFICIAL ADVERTISEMENT