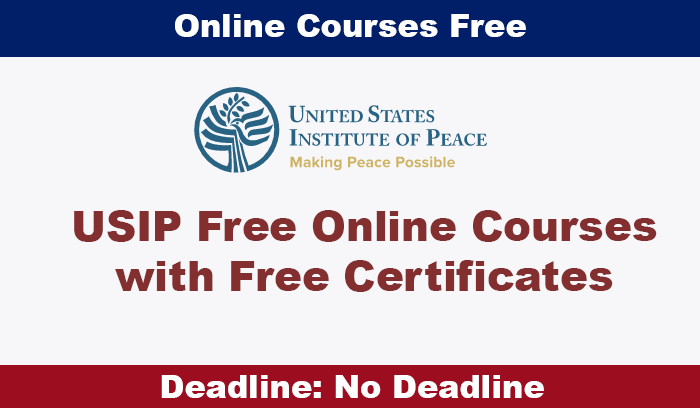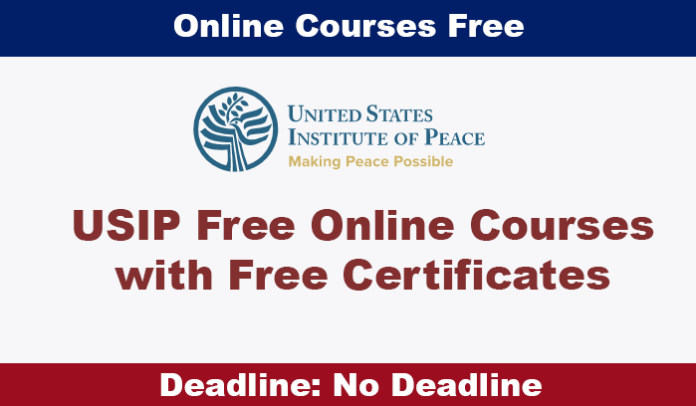 USIP Free Online Courses 2020 with Free Certificates:
Students from all over the world those to want to learn new Skills Online from The United States Institute of Peace Academy then you are at the right place. Enroll for USIP Free Online Courses 2020 and get Free Certificates on completion of the Course. There is No Fee to apply for these Courses Offered by USIP. Also apply for University of Maryland Online Courses Free 2020 with Certificate.
The USIP Academy courses are self-paced and Professionals can sharpen their skills to prevent and manage conflict while earning certificates upon completion. These micro-courses are designed for busy professionals in a convenient self-paced format that is available 24/7. Each course is approximately three hours in duration. Must check IBM Free Online Courses 2020 with Certificates.
USIP Free Online Courses 2020 Details:
University: The United States Institute of Peace Academy
Course Fee: Free of Cost
Access Mode: Online
Eligible nationality: All Applicants
Last Date: Open.
Join Our WhatsApp Group if You not Joined it Already
Stay in Touch & Follow us on our Social Media Platforms to Get Latest Updates for Latest Opportunities. Facebook Page – Facebook Group – Instagram – Twitter – LinkedIn
Amazing Opportunity to Study Free in Australia UTS Scholarships 2021 in Australia (Fully Funded).
Check Vice-Chancellor's International Attainment Scholarship in UK.
Benefits of the USIP Academy Courses:
There is No Fee Required to Apply
Complete Online any time
Self-Paced
Free Certificate will be given.
About the The United States Institute of Peace Academy:
The United States Institute of Peace is a national, nonpartisan, independent institute, founded by Congress and dedicated to the proposition that a world without violent conflict is possible, practical, and essential for the U.S. and global security. In conflict zones abroad, the Institute works with local partners to prevent, mitigate, and resolve violent conflict.
To reduce future crises and the need for costly interventions, USIP works with governments and civil societies to build local capacities to manage conflict peacefully. The Institute pursues its mission by linking research, policy, training, analysis, and direct action to support those who are working to build a more peaceful, inclusive world.
List of the USIP Free Courses:
USIP Free Online Courses offered 12 Courses that's list is given below:
Conflict Analysis
Designing Community-Based Dialogue
Introduction to Peacebuilding
Negotiation: Shaping the Conflict Landscape
Mediating Violent Conflict
Nonviolent Action
Preparing for Peacebuilding
Good Governance after Conflict
Media and Arts for Peace
Design, Monitoring, and Evaluation for Programming in Fragile Environments
Religion and Peacebuilding
Gender Inclusivity in Peacebuilding.
Check DAAD Scholarship in Germany 2020 (Fully Funded).
How to Apply for USIP Free Online Courses?
The Enrollment Process is very Easy. Just visit the given below website and register yourself. Fill the given form by putting your basic information and start learning.