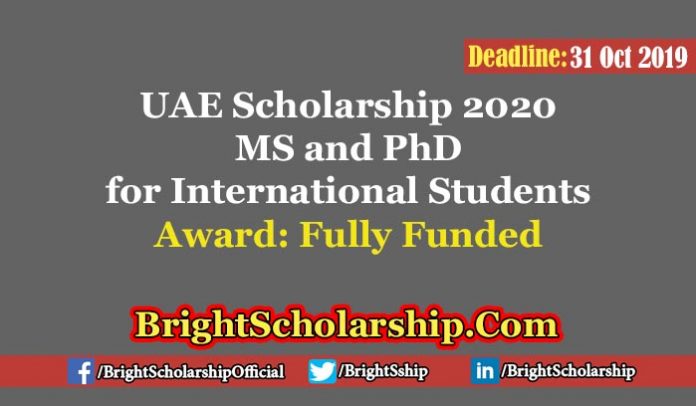 UAE Scholarship 2020 MS and PhD for International Students:
Applications are invited to apply for the United Arab Emirates University Scholarship 2020 for International Students who want to pursue a Masters & Ph.D. Degree from the UAEU University. This is a Good Scholarships for International Students.
The grant is available for those eligible candidates who wish to pursue the Masters and Ph.D. degree coursework for the academic year 2020-2021. United Arab Emirates University is an accredited research-based institution. It is continuously ranked as the top university in the United Arab Emirates.
The university provides UAEU graduates with the opportunity to browse through hundreds of jobs available at partner employer organizations and to apply for jobs of their choice. You can apply for their Master program at any time. But before going down Check Chevening Scholarship 2020 in the UK | UK Government's.
You may also like:
UAE Scholarship 2020 MS and PhD for International Students Description:
Degree Level: Postgraduate
Eligible countries: International candidates
Scholarship country: Dubai
Last Date: 31 October 2019
Available Academic Fields:
UAE University Scholarship is offering all type of academic fields for the Masters and PhD. Degree program. The list of the programs is given below.
Humanities and Social Sciences
Science
Education
Business and Economics
Law
Food and agriculture
Medicine and Health Sciences
Information Technology
You can download the PDF Files of the Courses. CLICK HERE
Financial Benefits:
Full tuition fee.
Monthly Stipend.
Health insurance (if needed).
Extra Bonus:

Up to AED 3,000 from supervisor's external research project, or.
Up to AED 2,000 from supervisor's internal research project.
For Ph.D. Details: CLICK HERE
For Master Details: CLICK HERE
Application procedure:
To Apply., Complete the Application Form & all the required Documents. The details are given below in the.