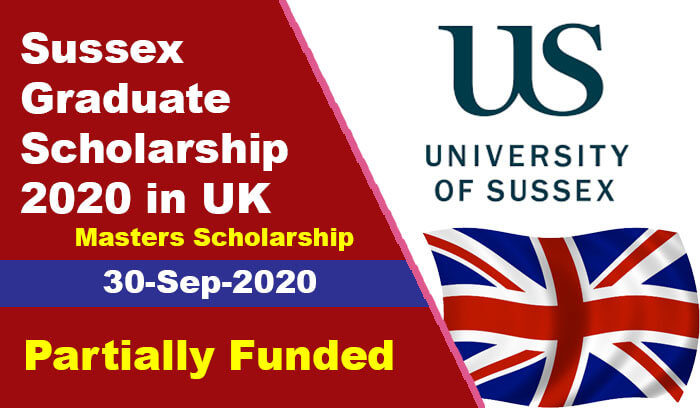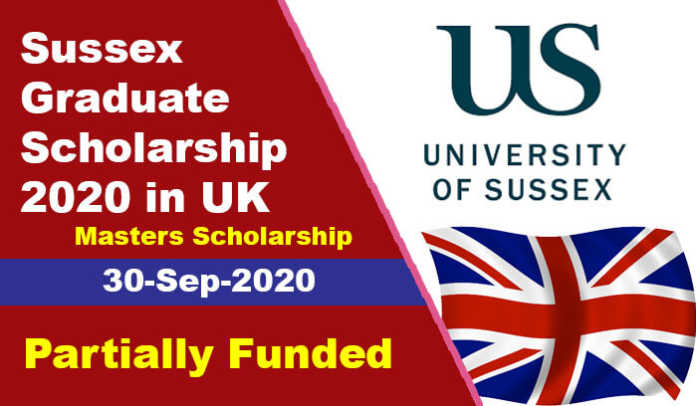 University of Sussex Graduate Scholarship 2020:
Applications are opened to apply for the Sussex Graduate Scholarship 2020 in United Kingdom. The University of Sussex is a prestigious University in England offering International Scholarships to study a Master's degree in UK. The duration of the Master's Degree will be for 1 Year Full Time, and 2 Year Part-time. The University of Sussex offers an Unlimited Number of Scholarships. Also apply for National University of Malaysia Scholarship 2021 (Fully Funded).
The University of Sussex is a public research university located in Falmer, Sussex, England. The Times Higher Education World University Rankings 2020 placed Sussex 146th in the world overall and 40th in the world for Social Sciences. Sussex counts 5 Nobel Prize winners, 15 Fellows of the Royal Society, 9 Fellows of the British Academy, 24 fellows of the Academy of Social Sciences and a winner of the Crafoord Prize among its faculty.
Sussex Graduate Scholarship 2020 Brief Description:
University or Institution: University of Sussex
Degree level: Master's
Scholarship coverage: £3,000
Nationality: National & International candidates
Scholarship country: United Kingdom
Last Date: 30 September 2020.
Join Our WhatsApp Group if You not Joined it Already
Stay in Touch & Follow us on our Social Media Platforms to Get Latest Updates for Latest Opportunities. Facebook Page – Facebook Group – Instagram – Twitter – LinkedIn
Must apply for Asian Development Bank ADB Online Courses with Free Certificates.
Also check University of Waikato International Excellence Scholarship 2020.
Scholarship Coverage:
You receive £3,000, awarded as a tuition fee reduction.
Available Study Fields:
The Following Fields & Majors are available to study Master Degree scholarship in England for international students at the University of Sussex. You can also Find Detailed information about Courses at (CLICK HERE)
Chemistry
Childhood and Youth Studies
Accounting, Banking, and Finance
American Studies
Anthropology
Art History
Biochemistry
Biology
Biomedical Science
Ecology and Conservation
Economics
Education and Teaching
Business and Management
Computer Science and Artificial Intelligence
Mathematics
MBA
Media and Communications
Criminology
Cultural Studies
Development
Digital Media
Drama and Theater
Energy Policy, Innovation, and Sustainability
Engineering and Robotics
English, Literature and Creative Writing
Film Studies
Film-making and Media Production
Gender Studies
Genetics
Geography
History
International Relations
Journalism
Languages and Linguistics
Law
Marketing
Medicine
Music
Neuroscience
PGCE courses
Philosophy
Photography
Physics and Astronomy
Placement years and Sandwich Degrees
Politics
Product Design
Project Management
Psychology and Cognitive Science
Research Methods
Social Work and Care
Sociology
Zoology and Animal Studies.
Check Fulbright Scholarship 2021 in United States (Fully Funded).
Eligibility Criteria:
UK residents and All International students are eligible.
Must have a Bachelor's Degree.
English Language Requirements
To Find the Specific Entry Requirements for Your Course, see our Masters Courses.
Application Procedure:
The Application System for the UK Scholarship is Online through the Application Portal. The link of Online Application and Official Advertisement link is given below: