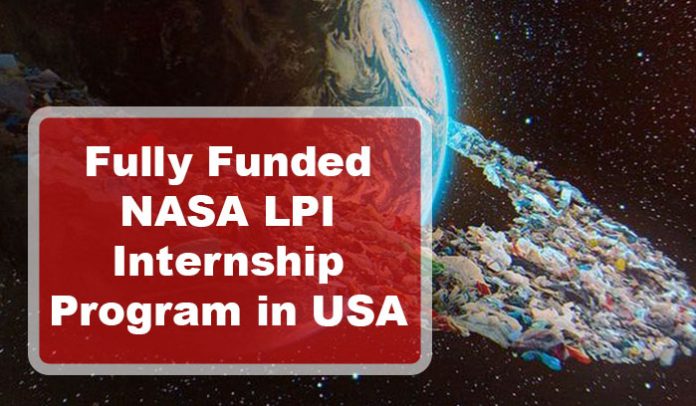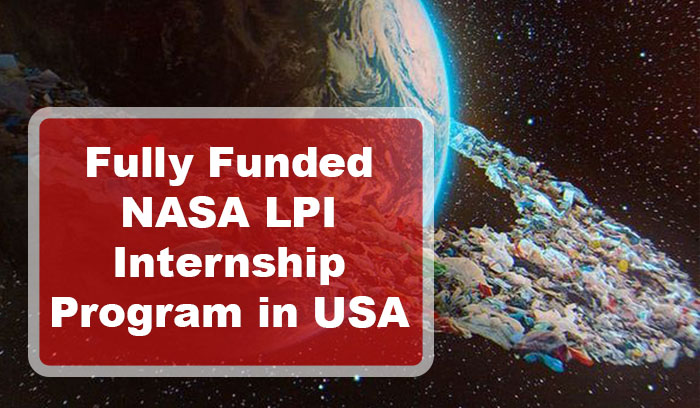 LPI Summer Internship Program 2020 in USA:
Applications are invited to apply for the LPI Summer Internship 2020 in United States of America. LPI Summer Internship Program is a Fully Funded internship program hosted by Houston, the United States of America. The duration of the NASA LPI Internship program is 10 weeks from 1st June 2020 to 7th August 2020. No IELTS or TOFEL is required to apply for this internship program. You can apply with English Proficiency Certificate. Also apply for Winter Internship Program 2020 in South Korea (Fully Funded).
LPI is one of the best internship programs for undergraduate students. There is no application fee. Applicants will be selected without the discrimination between race, color, nationality, age or other non-merit aspects. Must apply for UTRIP Summer Internship 2020 in Japan (Fully Funded).
NASA LPI Summer Internship Program 2020 Details:
Institute: Lunar and Planetary Institute (LPI)
Internship duration: 10 weeks (1 Jun 2020 to 7 Aug 2020)
Eligible nationalities: International candidates
Internship country: Houston, USA
Last Date: 6 January 2020.
Also check Harbin Institute of Technology CSC Scholarship 2020 in China (Fully Funded).
Check Beijing Institute of Technology Scholarship 2020 in China (Fully Funded).
LPI Summer Internship:
LPI is a summer paid internship program in the field of planetary science which provides the undergraduate students with an opportunity to learn, gain, research and seek help from professional planetary scientists. During the 10- week internship, students will be participating in social activities, NASA visits, lectures and career development workshops. Applicants will be considered for appointment without regard to race, creed, color, sex, national origin, age, handicap status, or other non-merit factors.
About LPI:
The LPI Summer paid Intern Program in Planetary Science provides undergraduate students with an opportunity to perform cutting-edge, peer-reviewed research, learn from widely respected planetary scientists, and discover exciting careers in planetary science. During the 10-week internship, students have the opportunity to participate in enrichment activities, including NASA Johnson Space Center scientific visits, lectures, and career development workshops. Applications' door is wide open so read the eligibility criteria and register yourself.
Internship Coverage:
LPA Summer Internship Program is not only paid but it's a fully-funded 10-weeks program that provides successful applicants following financial coverage.
Successful applicants will receive $7,300 USD to cover the following:
Housing expense.
Living expense.
Travel expense. (International applicants might get additional $500 USD)
Internship stipends.
In addition to the expenses, financial support of up to $1,000 USD (domestic travelers) and up to $1,500 (international travelers) is offered to interns who submit an accepted abstract as the first author to the upcoming Lunar and Planetary Science Conference.
Internship Benefits:
The internship program will bring the following advances into the applicant's professional life.
Valuable research experience.
Refine skills and develop new.
Meet and establish contact with other professionals.
Experience a working environment of a whole new level.
The LPI is located near the NASA Johnson Space Center, on the south side of Houston, Texas, so on NASA's behalf, the LPI provides leadership in the scientific community for research in lunar, planetary, and solar system sciences and linkage with related terrestrial programs.
Eligibility Criteria:
Students are required to be eligible enough to match the following conditions:
LPI provides 50 semester hours for the work of lunar and planetary sciences, students should intend to attend all the hours respectfully.
Students with a major in physics, mathematics, computer science or engineering have an advantage but any eligible student can apply.
Foreign nationals will be required to submit IELTS or TOEFL scores OR an English proficiency certificate from any professor of the university which supports the fact that student is proficient
level English speaker or writer.
Students must be undergraduate.
For more information:
Claudia Bellard
[email protected]
281-486-2159
Result Announcement:
Selection will be done on the following basis:
Scholarship and curriculum.
Experience.
Career objectives and scientific interest.
Match of applicant's interest with an available research project.
The result will be announced on 9th March 2020 and students will be notified. Notified students will be required to respond within 2 working days. If the response is not received, the application will be unconsidered.
Application procedure:
Below are the method and conditions to apply. Make sure to read and apply all very carefully.
You will need to apply using the online application form. Paper applications will not be accepted.
Once you begin the application, you must complete all of the questions on the form, including essay-style questions.
Transcripts and letters of recommendation may be submitted independently but must be
received by January 6, 2020, 11:59 p.m., CST
Upon submission, you will receive a confirmation e-mail with your application number and a link to view the status of your reference letters. You are required to submit three reference letters to qualify for the program.
Applicant's college registrar mai should send an official transcript to LPI Summer Intern
The program, Application #, 3600 Bay Area Boulevard, Houston, TX 77058-1113.
If you are a foreign national, you will be asked to provide proof of English proficiency.
This may be in the form of a Test Of English as a Foreign Language (TOEFL), the International English Language Testing System (IELTS) score, or a letter from one of the professors in the English department at your university confirming that you have sufficient spoken and written English language skills to successfully participate in our internship program.
Be sure to include your application number in the address you provide to your registrar.
Transcripts must be received by the LPI no later than January 6, 2020, at 11:59 p.m. CST.
How to Apply:
There is Online Application System to apply for LPI Internship program. Apply link and the link of Official Advertisement is given below: