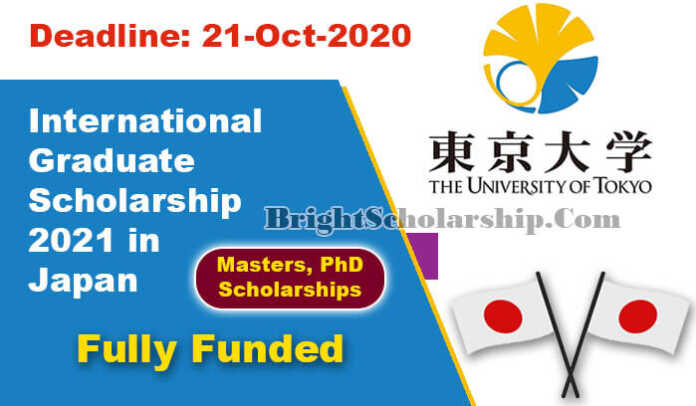 International Graduate Scholarship 2021 for International Students:
The Applications are invited to Apply for the International Graduate Scholarship 2021 in Japan. All International Students from all over the world are eligible to apply for Tokyo Institute of Technology Scholarship in Japan 2021. Students those who want to study Masters Degree or PhD Degree from Japan are encouraged to apply. Tokyo Institute of Technology is offering International Scholarship for students with any nationality. Tokyo Institute of Technology Scholarships are Fully Funded Scholarship available for the academic session of 2020-21. Also apply for Korea University Undergraduate Scholarship 2021 in South Korea.
Tokyo Institute of Technology is offering almost all academic fields and majors to undertake postgraduate degree. The Scholarship will cover all the expenses to complete degree. Students can apply using English Proficiency Certificate without IELTS/TOFEL or knowledge of Japanese Language. The Masters Degree Scholarship Duration is 2 Years while for Combined Masters & PhD Degree and Doctoral Degree its 3 Years.
The University of Tokyo was established in 1877 and located in Tokyo, Japan. It is a public research institution. The university has more than 30,000 national and international students. University is ranked at 3rd in country and 20th in the global. The institute is providing high quality of education to its students also Japan is the hub of education. Must check Singapore Government Scholarships 2021 in Singapore (Fully Funded).
International Graduate Scholarship 2021 Details:
University: University of Tokyo
Degree level: Masters, PhD, Combined
Scholarship coverage: Fully Funded
Eligible nationality: National & International
Award country: Japan
Last Date: 21 October 2020.
Join Our WhatsApp Group if You not Joined it Already
Stay in Touch & Follow us on our Social Media Platforms to Get Latest Updates for Latest Opportunities. Facebook Page – Facebook Group – Instagram – Twitter – LinkedIn
Apply for Japanese Government scholarship Asia Pacific University MEXT Scholarship 2021 in Japan (Fully Funded).
Also check Asian Development Bank Internship 2021 (Fully Funded).
Financial Benefits:
International Graduate Scholarship 2021 in Japan for International Students is a Full Free Scholarship under Japanese Government MEXT University Recommended Scholarship. The award will provide the following grant to cover the study expenses:
Tuition Fee: Enrollment and Full Tuition Fees will be Exempted. MEXT Scholars Don't Require to Pay Application Fee
Traveling Cost: Round Airfare Tickets will be given from Home country to Japan and from Japan to Home country.
Monthly Stipend:

Masters Degree: 147,000 Yen/Month
Doctoral Degree: 148,000 Yen/Month
Available Fields & Majors:
Tokyo Institute of Technology University in Japan is offering a Following academic fields and majors for masters degree, PhD degree and combined masters and doctoral degree. All study fields are given below:
School of Science:
Physics
Mathematics
Chemistry
Earth and Planetary Sciences
School of Engineering:
Electrical and Electronic Engineering
Mechanical Engineering
Information and Communications Engineering
Industrial Engineering and Economics
Systems and Control Engineering
School of Materials and Chemical Technology:
Chemical Science and Engineering
Materials Science and Engineering
School of Computing:
Computer Science
Mathematical and Computing Science
School of Life Science and Technology:
Life Science and Technology
School of Environment and Society:
Civil and Environmental Engineering
Trans-disciplinary Science and Engineering
Architecture and Building Engineering
Social and Human Sciences
Eligibility Criteria for Japan Scholarship:
Applicants who have completed 16 years of education (Masters Degree) successfully from other than Japan or whose degree is going to complete before enrollment date.
International students from any part of the globe with any nationality who has diplomatic relations with Japan.
Candidate must be born on or after 2 April 1985.
Students must apply for the academic study field that applicants studied at their previous university or a related field.
Must have a Bachelors Degree Student if applying for Masters Degree.
Must completed Master's Degree to apply for PhD Degree.
If Students native language is not English they can submit English Proficiency Certificate from their previous University & they are exempted from Language Test.
Check Vienna Bio Center Undergraduate Fellowships 2021 in Austria (Fully Funded).
Application Deadline
The last date to apply for the International Graduate Scholarship 2021 in Japan is 21st October 2020.
How to Apply for International Graduate Scholarship?
To apply for International Graduate Scholarship 2021 in Japan, applicants have to fill the application form and attach all the necessary documents, then Post all these material to university. There is No Online Application. For more details about how to apply for Japanese Government visit the given below link: