High Commission of Canada Scholarships 2023-24 for International Students:
Bachelors, Masters, and PhD Scholarships Opportunities in Canada. A new way to start education in Canada and apply for the Fully Funded High Commission of Canada Scholarships 2023-24. Canada is a top-noted destination for any student living in any country. First priority is Canada. Canada offers Splendid opportunities filled with fruitful benefits for students, thanks to Mr Justin Trudeau, Canadian PM. It has Scholarships for Bachelors, Masters, and PhD degree programs. It has well-maintained Top educational universities that are ranked in the world. All the expenses will be covered by the Canadian Universities. These are the Fully Funded Scholarships to Study in Canada. Also apply for Study in Australia Without IELTS 2023-24 | Fully Funded Australian Scholarships.
Some Top Scholarships are having a Deadline in August, so this is the last call for these Canadian Scholarships. With more than 6,50,000 international students pursuing Bachelors, Masters, and Certificate/Diploma courses in Canada, studying in Canada is rapidly increasing and becoming popular all over the world. It has a well-advanced education system with more than 6,000 Programs in Canadian Universities.
The Embassy of Canada has specific guidelines on the study Visa Process, requirements, and documents. Generally, you must apply for a study permit before you come to Canada. You can contact the High Commission of Canada in your country, once you get an admission offer. But don't worry, when you will get an offer from Canadian University they will facilitate you with a visa process.
High Commission of Canada Scholarships 2023-24 Details:
| | |
| --- | --- |
| University: | Canadian Universities |
| Degree level: | Bachelors, Masters, PhD |
| Scholarship coverage: | Fully Funded |
| Eligible nationality: | All Nationalities |
| Award country: | Canada |
| Last Date: | Different |
Join Our WhatsApp Group if You not Joined it Already
Watch Video on YouTube to Apply
Stay in Touch & Follow us on our Social Media Platforms to Get Latest Updates for Latest Opportunities. Facebook Page – Facebook Group – Instagram – Twitter – LinkedIn
Table of Scholarships in Canadian Universities:
These are the Popular Scholarships in Canada for Undergraduate, Masters, and PhD studies.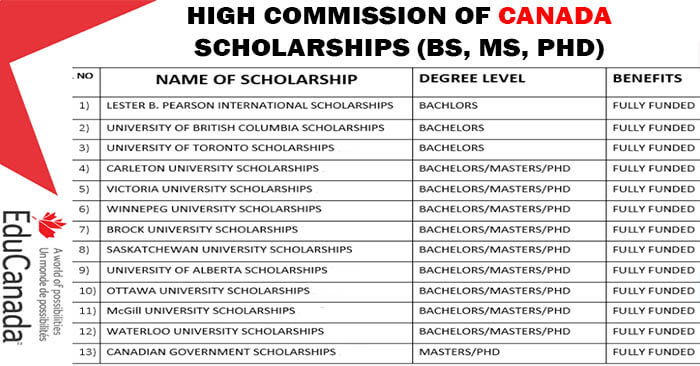 1# Vanier Canada Graduate Scholarship:
The Vanier Canada Graduate Scholarship 2023 is a Canadian Government Fully Funded Scholarship. It offers Doctoral, and Post Doc Scholarships in Canada. It is open to all international students. It is the largest Scholarship by the Canadian government.
Institution: Canadian Universities
Study in: Canada
Level of Study: PhD
Deadline: 1st November 2023
2# Lester B. Pearson International Scholarship:
The Lester B. Pearson Scholarship 2023-24 is a Fully Funded Scholarship at the University of Toronto. The Scholarship is for Undergraduate students to study Full-time four-year undergraduate programs. This scholarship will cover tuition, books, incidental fees, and full residence support for four years.
Study in: Canada
Level of Study: Undergraduate
Deadline: November 30, 2023
3# McGill University Scholarships:
McGill University Scholarships in Canada for the academic term Fall 2024, Winter 2024, and Summer 2024. Available for only Masters and PhD Scholarships in Canada.
University Name: McGill University
Degree Level: Masters, Ph.D.
Financial Coverage: Funded
4# Alberta University Scholarships Without IELTS:
Alberta University has removed the IELTS requirement. Apply for the University of Alberta Scholarships in 2023 without IELTS for the academic term 2023-24. They have exempted Many Countries as well as Many Universities from giving an IELTS. Study in Alberta University without IELTS.
Degree Level: Bachelors, Masters, PhD, Diploma
Financial Coverage: Fully Funded
Deadline: 15th December 2023 (For most courses)
Link: Check University of Alberta Scholarships
5# University of Waterloo Scholarships:
This scholarship is offered for Undergraduate, Masters and PhD studies. The University of Waterloo is a public research university in Canada. Waterloo University automatically grants scholarships.
6# Montreal University Scholarships:
The Montreal Scholarship 2023 continues for winter 2023, summer 2023, fall 2024, and winter 2024 terms. Apply and submit applications for the Montreal University Scholarships in 2023. It is the second-largest university in Canada.
You can apply to the following degree programs: Undergraduate, Masters, Doctorate, and Postdoctoral fellowships. The University is at Rank #4 in Canada and Ranked 73rd in the world.
University: Université de Montréal
Degree Level: Bachelors, Masters, PhD
Financial Coverage: Funded
Upcoming Deadline: 1st September 2023
Link: Check Montreal University Scholarships
7# McCall MacBain Scholarships:
The applications for the McCall MacBain Scholarships 2023 at McGill University are now open. Start your applications and apply online for the McGill University McCall Scholarship. Up to 30 full scholarships and 80 Entrance awards will be offered. This is a Fully Funded Canadian Scholarship.
Country: Canada
University Name: McGill University
Degree Level: Masters, PhD.
Financial Coverage: Fully Funded
Deadline: Canada & U.S. Applicants September 21, 2023
Deadline: International Applicants August 25, 2023.
8# University of Manitoba Scholarships:
The University of Manitoba spends 2 million every year toward its scholarship programs for graduate students. These scholarships are for Master's and Doctoral students
9# University of Algoma Scholarships Canada:
The majority of scholarships are based on academic merit and your most recent academic history. If you are looking for a chance scholarship in Canada you might have your chance.
Country: Canada
University Name: Manitoba University
Degree Level: Undergraduate
Financial Coverage: Fully Funded
For More Information: University of Algoma Scholarships
10# Laval University Scholarships in Canada:
The Information about the Laval University Scholarships in Canada 2023 is Available Here
Why You Should Study in Canada?
Here are a few convincing reasons for you and your elders to allow you to apply for the Canadian High Commission Scholarships to Study in Canada.
English is Everywhere: Canada has two official languages – English and French. This makes your day-to-day interactions while living in Canada very convenient as English is spoken everywhere in the country.
Top-Ranking Universities: Canada has some of the top-ranking universities which come under the 150 best universities according to QS rankings.
Job Opportunities: Canadian Government offers High-Level different Job opportunities in Canada for International applicants and for foreigners.
High and safe quality of life: Being one of the safest countries with a comparatively low crime rate, Canada is ranked second in the world to have the highest quality of life.
Research-based Universities: Canada is well-renowned for its groundbreaking discoveries and developments in the field of life sciences and medicine.