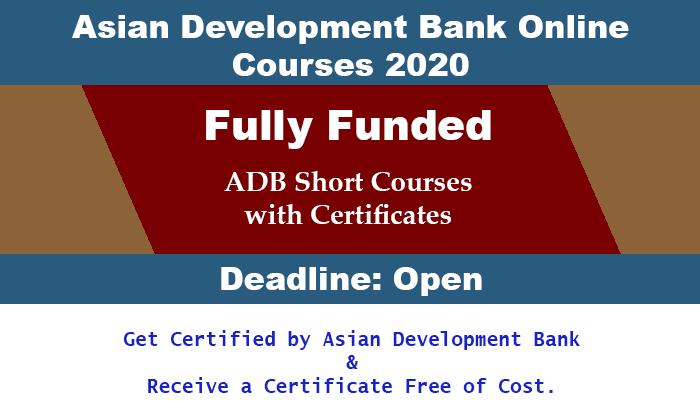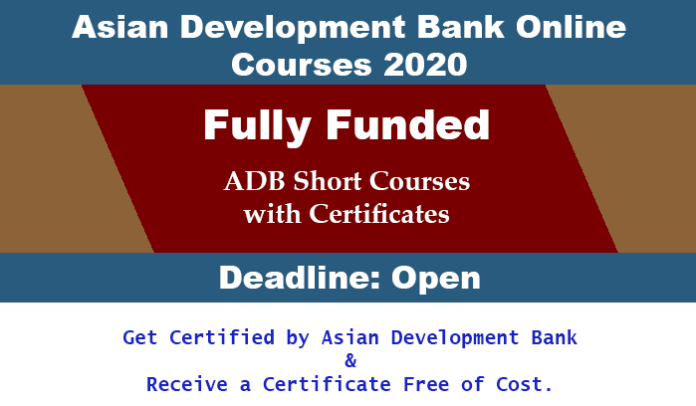 Asian Development Bank ADB Online Courses with Free Certificates:
Now a Days everyone is at Home. So, Online Course worth is more than others. While staying at Home Learn new Skills and Educate yourself with Free Online Course. Apply now for Asian Development Bank ADB Online Courses with Free Certificates. These are Short Courses with Free Certificates Provided by ADB. Applicants from All over the world can apply for Online Free Courses. There in No Application Fee. Also apply for 44 Online Free Short Courses with Certificates 2020.
ADB Online Courses 2020 Brief Description:
Offered by: Asian Development Bank
Course level: Short Courses
Course Fee: Free of Cost
Eligible nationality: All nationalities
Last Date: Open.
Join Our WhatsApp Group if You not Joined it Already
Stay in Touch & Follow us on our Social Media Platforms to Get Latest Updates for Latest Opportunities. Facebook Page – Facebook Group – Instagram – Twitter – LinkedIn
Don't miss this Australia Awards Scholarships 2020 (Fully Funded).
Also check University of York Masters Scholarship 2020 in UK.
Benefits of Online Courses:
Free Courses Online with Free Certificates
Watch anytime When you Free
Choose from a Number of development topics
Earn Training Certificates and Track your Progress
Why ADB Online Courses?
ADB Provides Free Courses accessible to anyone from around the world.
Get Certified by Asian Development Bank & Receive a Certificate Free of Cost.
Tuition-free training courses in Asia Pacific development
Access to Lectures from Leading Experts
Training certificates issued by ADBI for completed courses
Build your qualifications for Asia Pacific development jobs and promotion opportunities
Manage your course completion progress with personalized user accounts
An International Worlds Top Bank is committed to achieving a prosperous, inclusive, resilient, and sustainable Asia and the Pacific while sustaining its efforts to eradicate extreme poverty.
Check International Undergraduate Entry Scholarship 2020 in Hong Kong.
Available Fields of Courses:
Finance
Education
Sustainable Development Goals (SDGs)
Digital Economy
Energy Economics, Environment, and Policy
Private Financing for Infrastructure and Sustainable Growth
Financial Inclusion, Financial Literacy, and Financial Education in Asia
Achieving Sustainable Development Goals on Water and Sanitation
Financial Inclusion: Evolution and Contemporary Challenges
Advancing the Digital Economy for Sustainable Growth in Asia
Financial Integration in Southeast Asia
Financial Globalization, Capital Flows, and the Global Financial Cycle
Introduction to Sustainable Development in Asia and the Pacific
Fostering Growth and Inclusion in Asia's Cities
Leveraging Services for Development: Prospects and Policies
Eligibility Criteria:
International Students From Any Country from any Corner of the Globe.
Applicants of Scool, Higher Degree, Graduates Any Qualification can apply.
No Age Restrictions.
No Academic Background Restrictions.
Check Online Free Courses by WHO 2020 COVID-19.
How to Apply for ADB Online Courses?
There is Easy steps to apply for Asian Development Bank ADB Online Courses with Free Certificates. You just need to enroll in the Course. The Link to the Online Application is given below: