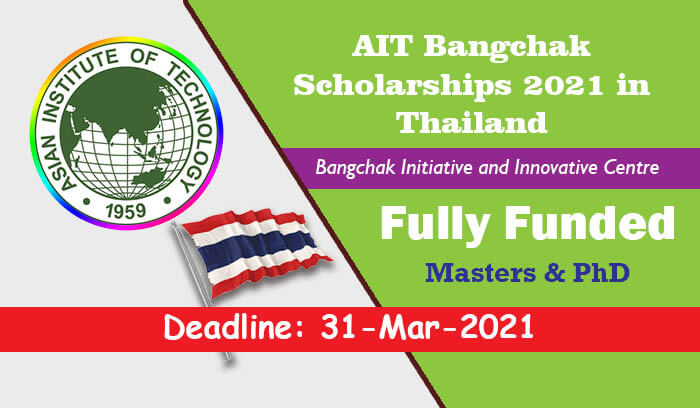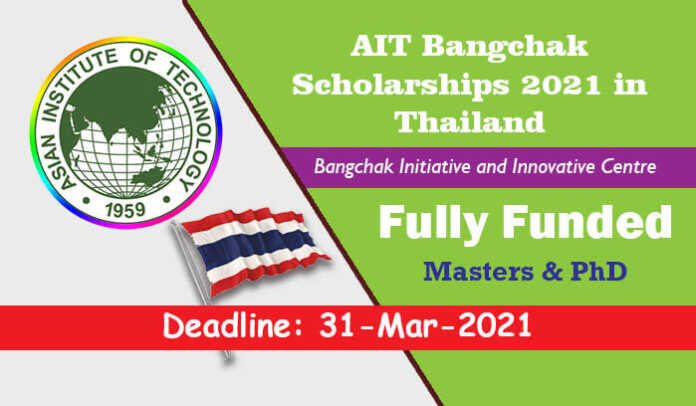 AIT Bangchak Scholarships 2021 for International Students:
Applications are invited to apply for the AIT Bangchak Scholarships 2021 in Thailand. All International Students from all over the world are eligible to apply for Bangchak Scholarships 2021. The Scholarship is offered in Asian Institute of Technology, Thailand. This is a Fully Funded Scholarships to undertake Masters Degree or PhD Degree from Thailand. Students those who want to study in Thailand are encouraged to apply. The award is available for the academic year of 2021-22. Also apply for SDG Academy Free Online Courses 2021 from United Nations.
Multiple academic fields and majors are available at AIT to pursue postgraduate degree programs. All the programs will be taught in English. The scholarship will cover all the expenses. The scholarship duration for Masters Degree is 24 Months while its 42 Months for Doctoral Degree.
Asian Institute of Technology (AIT) was established in 1959 is a research university. AIT is the number #1 university. Here is the golden chance for all students to study free in Thailand. You may also be interested in Deakin University Scholarship 2021 in Australia (Fully Funded).
AIT Bangchak Scholarships 2021 Details:
University: Asian Institute of Technology
Degree level: Masters, PhD
Scholarship coverage: Fully Funded
Eligible nationality: International
Award country: Thailand
Last Date: 31 March 2021.
Join Our WhatsApp Group if You not Joined it Already
Stay in Touch & Follow us on our Social Media Platforms to Get Latest Updates for Latest Opportunities. Facebook Page – Facebook Group – Instagram – Twitter – LinkedIn
Study Free inJapan Kyoto University of Advanced Science Scholarship 2021 in Japan (Funded).
Also check Shaanxi Normal University CSC Scholarship 2021 in China (Fully Funded).
Financial Benefits:
AIT Bangchak Scholarships 2021 is a Fully Funded Scholarship for international students. The Bangchak Scholarship will provide all expenses to study in Thailand. Detail is given below:
Complete Tuition Fees
Monthly Stipend will be given.
Available Study Areas:
Energy
Food Engineering and Bioprocess Technology (FEBT)
Environmental Engineering programs (EEM)
Eligibility Criteria:
Applicants with any nationality are eligible to apply
to apply for Masters Scholarship, candidate must have First-class (honors) Bachelor's Degree with GPA 3.0 from reputed University
for Doctoral Degree, Aspirant must hold First-class (honors) Bachelor's and Master's degrees or equivalent (Master GPA above 3.50 out of 4.0)
Have English proficiency score as required by AIT Language Center (IELTS-Academic: 6 (writing and overall) or AIT EET ≥ 6.0, TOEFL ≥ 550).
Check Finland Government Scholarship 2021 in Finland (Fully Funded).
Documents Required:
Covering letter
Project proposal which may lead to commercial products (2 pages maximum)
Information about education, exams and previous relevant work/research experience (a CV).
Certified copies of academic diplomas and certificates.
Publications relevant to the research scope and any other work which the applicant wishes to be taken into account and should clearly state the applicant's contribution.
Names and contact information of at least two references
Application Deadline:
The last date to apply for Bangchak Scholarship at Asian Institute of Technology 2021 for International Students is 31st March 2021.
Check Shanghai Jiaotong University Scholarship 2021 in China (Fully Funded).
How to Apply for AIT Bangchak Scholarships?
There is an Online Application Process to apply for AIT Bangchak Scholarships 2021 in Thailand. To get Admission in August 2021 batch, candidates have to fill the Online Application. Along with this application, aspirants have to send the above mentioned documents all in one combined PDF file to the following email (sheree@ait.ac.th) before the deadline. The Official Advertisement link is given below: