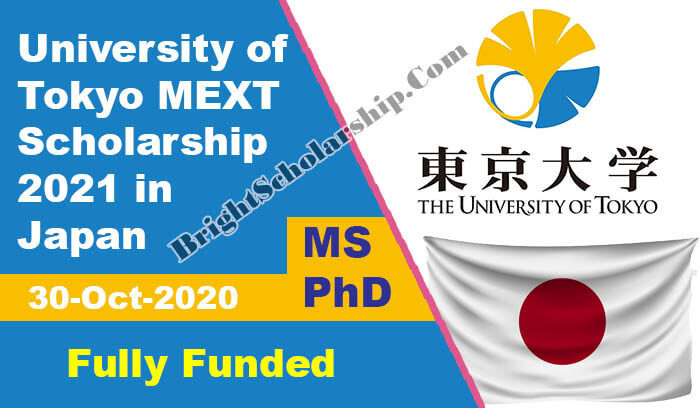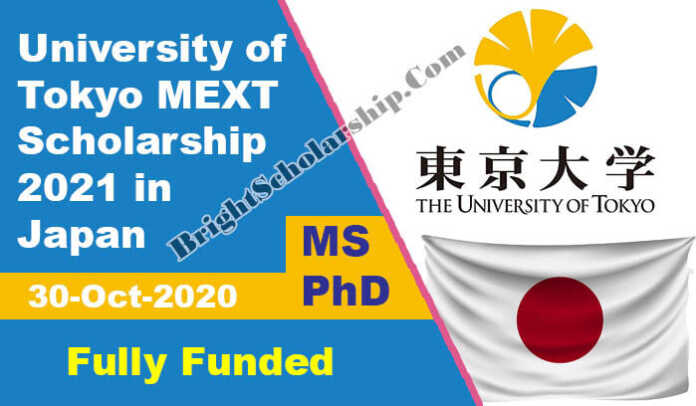 University of Tokyo MEXT Scholarship 2021 for International Students:
Applications are invited to apply for the University of Tokyo MEXT Scholarship 2021 in Japan. All International Students from all over the world are eligible to apply for University Recommended Japanese Government (MEXT) Scholarship 2021. Students those who want to pursue their postgraduate education from Japan are encouraged to apply. The scholarship is applicable to study Masters Degree or Doctoral (PhD) Degree from University of Tokyo. Japanese Government Fully Funded Scholarships are available for the academic year of 2020-21. Also apply for Charles Darwin University RTP Scholarship 2021 in Australia (Fully Funded).
University Recommend MEXT international Scholarship will cover all the expenses of the selected applicants. Getting a Scholarship at the University of Tokyo opens the door towards many opportunities. The recipient of the fully-funded MEXT Japanese Government Scholarship 2021 will be studying in one of the top universities in Japan. It is one of the best and most highly paid scholarship programs of the year.
The aim of the fully-funded Japanese Scholarships 2021 is to promote and enhance cross-cultural understanding among International Students. Students will get exposure to research and education in many scientific fields. The University of Tokyo provides a research platform with the supervision of best professors. Among fully-funded international scholarship, it is one of the best Postgraduate International Scholarships.
The University of Tokyo was established in 1877 located in Tokyo, Japan. It is a first public research imperial university. More than 30,000 national and international students enrolled in the university. The university facilitated students with quality of education and others. This university has produced great leaders. University of Tokyo is ranked at 1st in Asia and Japan and on 26th number in the whole world. Must apply for Koc University Turkish Scholarship 2020 for International Students (Fully Funded).
University of Tokyo MEXT Scholarship 2021 Details:
University: University of Tokyo
Degree level: Masters, PhD
Scholarship coverage: Fully Funded
Eligible countries: International
Award country: Japan
Last Date: 30 October 2020.
Join Our WhatsApp Group if You not Joined it Already
Stay in Touch & Follow us on our Social Media Platforms to Get Latest Updates for Latest Opportunities. Facebook Page – Facebook Group – Instagram – Twitter – LinkedIn
Turkey is the hub of education Sabanci University Scholarship 2021 in Turkey (Fully Funded).
Also check American University Global Leader Scholarship 2021 in United States (Fully Funded)
Financial Benefits:
University of Tokyo MEXT Scholarship 2021 in Japan will provide all expense because its a fully-funded scholarship for students around the world to complete their degrees. Detail of the MEXT Japan Scholarship is given below:
Enrollment and Tuition fees wavier.
Monthly Allowance:

Master's Degree: 144,000 Yen / Month
Doctoral Degree: 145,000 Yen / Month

Selected Students will get Return Economy class tickets.
Transportation will be provided from the airport.
MEXT Scholarship Duration:
Master's Degree: 2 Years
PhD Degree: 3 Years
Check Eastern Michigan University Undergraduate Scholarship 2021 in USA.
Documents Required:
Valid Passport Copy
Passport Type Picture not older than 6 months
Application form (Click Here)
An official transcript from the last university attended (at undergraduate or graduate level). If you are currently enrolled in a university (at undergraduate or graduate level), please submit an official transcript of the last degree program (Bachelor's, Master's, or PhD) that you have graduate from, as well as an official transcript of your current degree program.
Field of Study and Research Plan (Click Here)
Letter of recommendation from "dean or above". This letter must fulfill the following conditions:

The name of the addressee stated in the letter must be "the President of the University of Tokyo"
The letter must be printed on your university's letterhead.
Dean or above must written and signed this letter. Digital signature is not acceptable.

Abstract of graduation thesis(should be concise and to the point)
Official statement of (expected) graduation of the last university attended.
Language Proficiency
Eligibility Criteria of MEXT Japan Scholarship:
To be eligible for this scholarship applicants need to fulfill the following criteria:
All International students from eligible countries are encouraged to apply.
A candidate must hold outstanding academic records with a Bachelor's Degree if applying for a Master's program or Master's Degree or equivalent for Doctoral Program with 2.30 CGPA.
A candidate should be born after or on April 2, 1986.
A candidate must apply in a field previous degree field.
A candidate must be medically fit.
A candidate must be willing to attend the program by the date announced by the University of Tokyo.
English Proficiency: A candidate must have passed a language proficiency test either in English or Japanese.

Applicants must meet the B2 or above language proficiency or IELTS 5.5 or above TOEFL iBT 72 or above.  OR
Students previous degree language is English and can provide English Proficiency Certificate from previous institute.
Check Science and Law Scholarship 2020 Fully Funded for BS, MS and PhD.
Application Deadline:
The last date to apply for Japanese Government Scholarship is 30th October 2020. The scholarship will open from 1st October 2020.
How to Apply for University of Tokyo MEXT Scholarship?
To apply for the University of Tokyo MEXT Scholarship 2021 in Japan applicants have to submit Application Form with above listed document to the given below mailing address by Post. Also Official Advertisement link is given below:
Address: Room 278, 2nd floor, School of Science Building 1, Hongo Campus 7-3-1, Hongo, Bunkyo-ku, Tokyo 113-0033 JAPAN
Phone: +81-3-5841-7630
Fax: +81-3-5841-8775
Mail: [email protected]