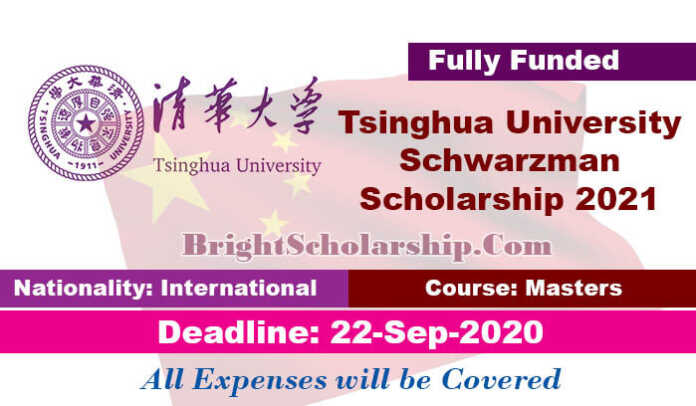 Tsinghua University Schwarzman Scholarship 2021 for International Students:
Students from all over the world are welcomed to apply for the Tsinghua University Schwarzman Scholarship 2021 in China. Tsinghua University is world Leading University in Beijing, China. Applicants who want to pursue their Masters Degree on a Fully Funded Scholarship are encouraged to apply for the Schwarzman Scholarship. The award is available for all International Students from all over the world. There is No Application Fee to apply for International Scholarship. Also apply for International Graduate Scholarship 2021 in Japan (Fully Funded).
Almost all academic fields and majors are available at the university to undertake masters degree. No IELTS or other Language Requirements if You have Studied at an English Institute in your country for 2 Years also No Minimum GPA or Class Rank Required to apply.
Tsinghua University is a major research university in Beijing, and a member of the C9 League of Chinese universities. Since its establishment in 1911, it has graduated Chinese leaders in science, engineering, politics, business, academia, and culture. In 2020, Tsinghua was is ranked 16th in the world by QS World University Rankings. Study abroad by applying for Sabanci University Scholarship 2021 in Turkey (Fully Funded).
Tsinghua University Schwarzman Scholarship 2021 Details:
University: Tsinghua University
Degree level: Master's
Scholarship coverage: Fully Funded
Eligible nationality: International
Award country: China
Last Date: 22 September 2020.
Join Our WhatsApp Group if You not Joined it Already
Stay in Touch & Follow us on our Social Media Platforms to Get Latest Updates for Latest Opportunities. Facebook Page – Facebook Group – Instagram – Twitter – LinkedIn
Amazing opportunity University of Tokyo MEXT Scholarship 2021 in Japan (Fully Funded).
Also check Korea University Undergraduate Scholarship 2021 in South Korea.
Financial Support:
Tsinghua University Schwarzman Scholarship 2021 is a Full Free Scholarship for International Aspirants which will cover the following:
Full Tuition Fee
Room and Board
Round Airfare Tickets For Travel to and from Beijing at the beginning and end of the academic year
An in-country study tour
Required course books and supplies
Health insurance
Schwarzman Scholars Stipend: A stipend of $4,000 for personal expenses.
List of Available Study Fields:
Schwarzman Scholarship Program offers all academic Fields of Study for the Master Degree Programs Such as:
Asian Studies
Chinese
Business
Economics
Humanities in Addition
International Relations
Science, Engineering
Social Sciences
Public Policy.
Check Top 10 websites to Learn Online 2020.
Eligibility Criteria for Schwarzman Scholarship:
The Schwarzman Scholars program at Tsinghua University is Only to Study a Masters Degree Scholarship.
The Duration of the MS Scholarship is One Year.
Applicants who are currently enrolled in Undergraduate Degree programs must be on track to successfully complete all degree requirements before August 1st.
There are No Requirements for a specific Field of Undergraduate Study; all fields are welcome.
Age Requirement: Candidates must be at least 18 but not yet 29 years of age as of August 1 of their Schwarzman Scholars enrollment year.
English Language:
Test of English as a Foreign Language (TOEFL PBT). A minimum score of 600. OR
Internet-based Test of English as a Foreign Language (TOEFL iBT). A minimum score of 100. OR
International English Language Testing System (IELTS). Minimum score 7. OR
English language proficiency: This requirement is waived for applicants who studied at an Undergraduate Institution where the Primary Language of Instruction was English for at least 2 Years of the Applicant's Academic Program.
Documents Required:
Online Application Form
Resume (CV) (2-page maximum)
Transcripts/Academic Records
Essays (2) For Essays
Three Letters of Recommendation
Video (optional).
Check Scotland Government Scholarship 2021 for Pakistani Students (Fully Funded).
Application Deadline:
The last date to apply for the Schwarzman Scholarship in China 2020-2021 is September 22, 2020. Selections will be made in November 2020.
How to Apply for Tsinghua University Schwarzman Scholarship?
There is an Online Application System to apply for Tsinghua University Schwarzman Scholarship. All the documents should be submitted Online. The link to the Official Advertisement is given below: