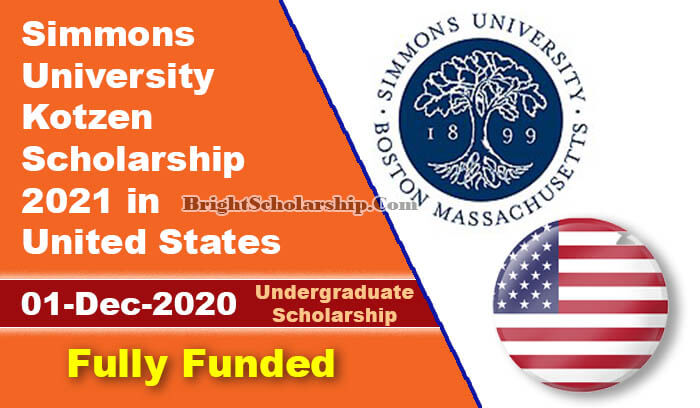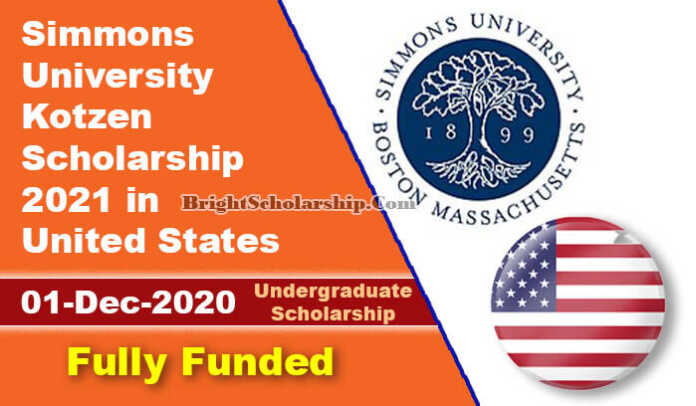 Simmons University Kotzen Scholarship 2021 for International Students:
Applications are invited to apply for the Simmons University Kotzen Scholarship 2021 in United States. All International Students from any part of the world are eligible to apply for Kotzen Awards at Simmons University. Candidates with high achieving academic background are encouraged to apply for Undergraduate Scholarship in USA. Simmons University Scholarship is Fully Funded Scholarship for all students. The scholarship is available for the academic session of 2020-21. Also apply for OIST Research Internship Program 2021 in Japan (Fully Funded).
Simmons University is offering all academic fields and majors under Kotzen Scholarship to undertake Bachelors Degree from USA. The scholarship duration is 4 Years until the completion of degree. The Scholarship will cover all the expenses for an Undergraduate Degree Program. Hence, this is the golden opportunity for excellent educational background students.
Simmons University was established in 1899 and located in USA. It is a private university. The university empowers student's leadership skills and enhanced them. The university has produced many leaders. You may also be interested in Rhodes Scholarships at Oxford University 2021 in UK (Fully Funded).
Simmons University Kotzen Scholarship 2021 Details:
University: Simmons University
Degree level: Bachelors Degree
Scholarship coverage: Fully Funded
Eligible nationality: International students
Award country: United States
Last Date: 1 December 2020.
Join Our WhatsApp Group if You not Joined it Already
Stay in Touch & Follow us on our Social Media Platforms to Get Latest Updates for Latest Opportunities. Facebook Page – Facebook Group – Instagram – Twitter – LinkedIn
Don't miss this great opportunity British Chevening Scholarship 2021 in United Kingdom (Fully Funded).
Also check Tsinghua University Schwarzman Scholarship 2021 in China (Fully Funded).
Financial Benefits:
Simmons University Kotzen Scholarship 2021 in United States is a Fully Funded Scholarship for International Students to complete their bachelors degree from USA. It will cover all the expenses. Detail of the scholarship is given below:
Complete Full Tuition will be provided
Free Room & board
Additional $3,000 for academic pursuits such as research support, study abroad.
Eligibility Criteria:
To be eligible to apply for Kotzen Scholarship in USA, candidates have to meet the following eligibility criteria:
Applicants must have a history of Honors, Advanced Placement (AP) and International Baccalaureate (IB) courses.
The applicant must have a GPA of 3.3 or higher.
Applicants need a score of 28 or more (ACT), 1300, or more (new SAT) or 1250 or more (old SAT – CR + M). At least 600 in each SAT section highly recommended. Or they can show their English proficiency by the TOEFL or IELTS test.
Check Scotland Government Scholarship 2021 for Pakistani Students (Fully Funded).
Application Deadline:
The last date to apply for Simmons University Scholarship 2021 in United States for All nationality students is 1st December 2020.
How to Apply for Simmons University Scholarship?
You can apply by Email for Simmons University Kotzen Scholarship 2021. You have to submit Answers of Short Questions and Formal Essay to Simmons University before the deadline. To know more about application procedure please visit the official link given below: