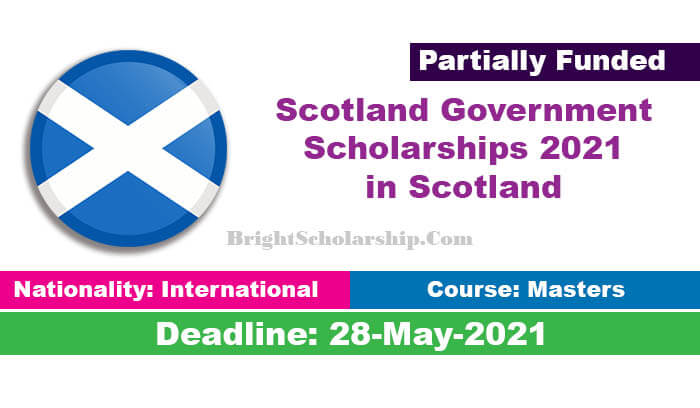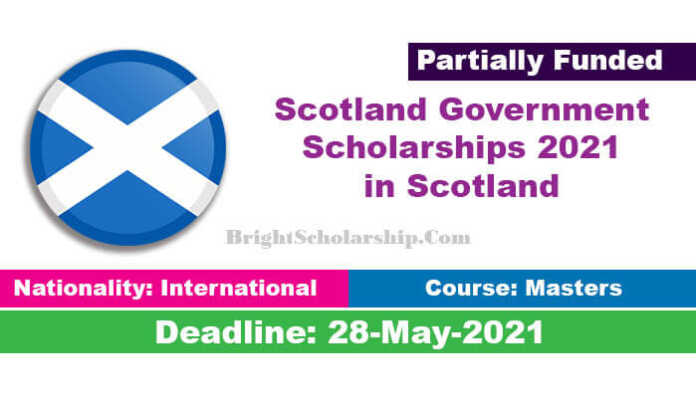 Scotland Government Scholarships 2021 for International Students:
Applications are invited to apply for the Scotland Government Scholarships 2021 to Study in Scotland Universities. The Scotland Saltire Scholarships Offered by the Scottish Government in collaboration with Scottish Universities for International Students to Study Master's Degree in Scotland. Scotland Government Scholarship Invites Students from Multiple Countries to pursue Masters Degree in Different academic backgrounds in Scotland Higher Education Universities. The Duration of the Saltire Scholarship in Scotland will be a 1 Year Master Degree. Also apply for Canadian Government Scholarships 2021 in Canada (Fully Funded).
Scotland's Saltire Scholarships is a program of scholarships with Scottish Universities in the areas of Science, Technology, Creative Industries, Healthcare & Medical Sciences, & Renewable and Clean Energy. Detailed information is given below. Must check SIIT Graduate Scholarships 2021 in Thailand (Fully Funded).
Scotland Government Scholarships 2021 Details:
Degree Level: One Year Master Program
Scholarship coverage: Partially Funded
Eligible nationality: International
No. of awards: 50 Scholarships
Award country: Scotland
Last Date: 28 May 2021.
Join Our WhatsApp Group if You not Joined it Already
Stay in Touch & Follow us on our Social Media Platforms to Get Latest Updates for Latest Opportunities. Facebook Page – Facebook Group – Instagram – Twitter – LinkedIn
Don't miss Italian Government Scholarships 2021 in Italy (Fully Funded).
Also check KNB Indonesian Government Scholarship 2021 in Indonesia (Fully Funded).
Financial Benefits:
The Scottish Government Scholarship will award 50 Scholarships each worth £8000 Pound Sterling, towards Tuition fees.
Saltire Scholars will also have the opportunity to take part in a program of activities over and above their studies, including dialogue with the academic and business community in Scotland.
List of Study Fields & Majors:
A wide range of academic fields is available to study in Scotland Under Scotland Government Scholarship. Examples of subject areas include:
Science:
Earth Sciences
Environment
Energy
Geology
Weather and Climate
Plants/Botany
Animals/Zoology
Technology:
Software
Engineering
Bioinformatics
Information
Systems
Multimedia
Engineering
Computers
Creative Industries:
Communications, Media and Culture
Broadcasting
Film
Animation
Journalism
Cultural
Publishing
New Media Studies
Computer Games / Computer Arts
Design
Graphic
Industrial
Interior
Fashion
Healthcare and Medical Science:
Physical and Life Sciences
Astronomy
Chemistry
Physics
Biology
Health Sciences
Biotechnology
Clean and Renewable Energy:
Sustainable Engineering
Renewable Energy
Biomass / Biofuels
Hydro / Solar / Tidal / Wind power.
Also check Bond University HDR Scholarship 2021 in Australia (Fully Funded).
List of Scottish Universities:
Scotland is home to a diverse and internationally successful higher education sector of 19 Scottish universities. Find out more about each one. #SCOTLANSISNOW
Find about Each University by Clicking Here
Eligibility Criteria for Scottish Scholarship:
If you are interested in applying for a Saltire Scholarship. There are some Rules & Requirements to be eligible for the Saltire Government Scholarship.
Have a conditional or unconditional offer of a place at a Scottish university on an eligible course.
Be a citizen of Canada, India, Japan, USA, Pakistan or China (Hong Kong citizens are also eligible as it is a Special Administrative Region of China).
Be able to demonstrate that they can meet the costs of living in Scotland and the remaining tuition fees.
Not have previously studied for a full undergraduate degree in Scotland.
Not have previously received a Saltire Scholarship.
Meet the language requirements of the course.
All other questions are answered at FAQ.
Check Xiamen University CSC Scholarships 2021 in China (Fully Funded).
How to Apply for Scotland Government Scholarships:
There is an Online Application Portal to apply for Scotland Saltire Scholarship. Complete the Online Application form before the Deadline. The Link to Online Application and official website link is given below: