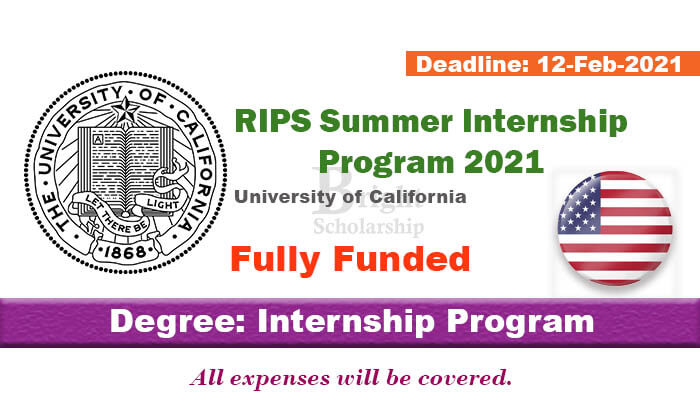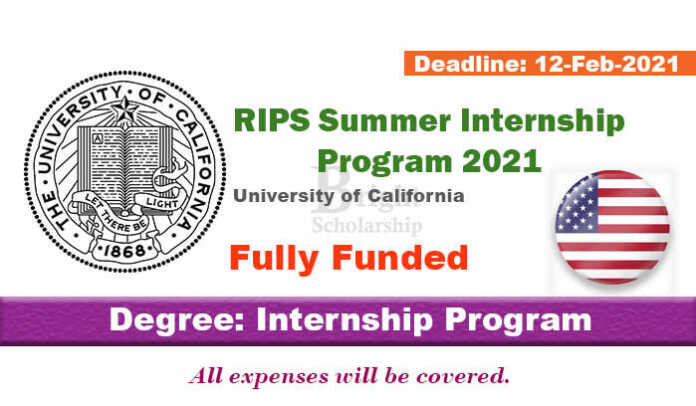 RIPS Summer Internship Program 2021 for International Students:
Applications are invited to apply for the RIPS Summer Internship Program 2021 in United States. All International Students are eligible to apply for the Research in Industrial Projects for Students (RIPS). Undergraduates Students studying math, computer science, and related fields can apply for Fully Funded Internship Program. USA Internship Program is taking place in the University of California, Los Angeles from 21 Jun to 20 Aug 2021 (9 weeks). Also apply for KAIST Graduate Scholarships 2021 in South Korea (Fully Funded).
This Internship is offered by IPAM with all expenses. Undergraduates who are currently enrolled or completed their degree and graduates who have completed their degree after December 2020 are eligible to apply. Here is the good chance for students around the world to take part in research project and get experience. Must check Islamic Development Bank Scholarship 2021 (Fully Funded).
RIPS Summer Internship Program 2021 Details:
University: University of California
Duration: 21 Jun to 20 Aug 2021
Internship award: Fully Funded
Eligible nationality: International
Award country: United States
Last Date: 12 February 2021.
Join Our WhatsApp Group if You not Joined it Already
Stay in Touch & Follow us on our Social Media Platforms to Get Latest Updates for Latest Opportunities. Facebook Page – Facebook Group – Instagram – Twitter – LinkedIn
Study in Canada University of Guelph President's Scholarships 2021 in Canada (Funded).
Also check University of Detroit Mercy Scholarships 2021 in USA (Funded).
Financial Benefits:
The REU program is nine weeks. IPAM provides each undergraduate student with a travel allowance and a stipend of $3,500. Housing and most meals are also included.
Eligibility Criteria:
Applicants with an academic background in mathematics, data analysis, computer science, data and computing, statistics, numerical computation and technology are eligible to apply for this fully funded paid internship RIPS 2021 in America.
Documents Required:
Following documents are required to apply for this paid internship.
Academic transcripts
Reference letters
Curriculum Vitae (CV)
Application Deadline:
The last date to apply for The Research in Industrial Projects for Students 2021 is 12th February 2021.
Check Asian Development Bank Internship 2021 (Fully Funded).
How to Apply for RIPS Summer Internship Program?
There is an Online Application System to apply for USA RIPS Internship. Application form link and Official Website link is given below: