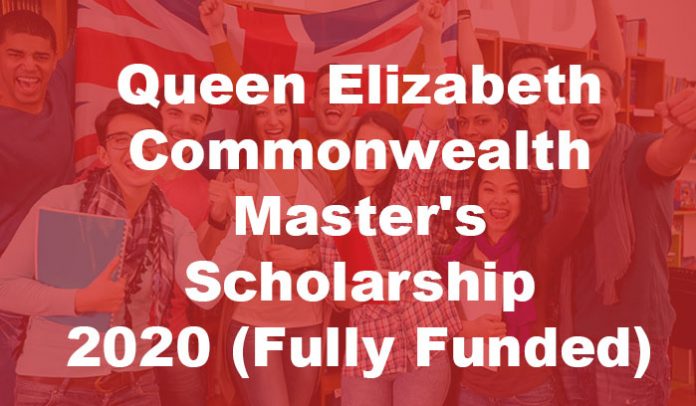 Queen Elizabeth Commonwealth Scholarship 2020:
Applications are now invited to apply for the Queen Elizabeth Commonwealth Scholarship 2020. The Queen Elizabeth Scholarship is a fully funded Scholarship for Commonwealth Countries to pursue their Master's Degree. The Queen Elizabeth Scholarship is offering a 2 Year Master Degree Program at Commonwealth Universities. All the Students who are from Commonwealth countries can apply for any Commonwealth University. A Life-Changing Opportunity. Also apply SUSI Leadership Summer Exchange Program 2020 in USA (Fully Funded).
All the academic fields & Majors are available & students with wide academic fields are strongly encouraged to apply. There is No Fee for the Application as well as Some Universities do not require IELTS or TOEFL Exam. Please keep reading further details. Must check Fully Funded PhD Scholarship at University of Zurich 2020 in Switzerland.
Queen Elizabeth Commonwealth Scholarship 2020 Brief Description:
Scholarship host: Queen Elizabeth Commonwealth
Degree level: Master's Degree
Scholarship coverage: Fully Funded
Eligible nationalities: Commonwealth Countries
Last Date: 15 January 2020.
Introduction:
Queen Elizabeth is a Unique Opportunity to Undertake 2 Year Master Degree in Low & Middle-income Countries aimed at students who are committed to creating change in their communities.
The Scholarship is a Life-Changing opportunity to experience a New Country & culture, make new networks.
Also apply for Fully Funded UNIL Summer Internship 2020 in Switzerland.
Also check University Of Huddersfield Scholarship 2020 for International Students.
Eligibility Criteria
To apply for the Scholarships Given below. You must be a citizen of (or hold refugee status in) a Commonwealth country
You Must Hold a Bachelors Degree.
There is No Upper age Limit.
The Classes will Start in Some Universities in July-Sep & in Some Universities from February.
Financial Coverage
The Queen Elizabeth Commonwealth Scholarship is Fully Funded Scholarships & will cover all the Expenses for the Students which are given below.
Fully Funded Tuition Fees.
Living Expenses Allowance (Stipend) for the duration of the award.
Return Economy Flights to their host Country.
An Arrival Allowance.
Research Support Grant – on request only; subject to approval.
Available Study Fields:
Medicine, health and life sciences
Physical sciences, engineering, and mathematics
Social sciences
Arts and humanities
List of Universities:
COMSATS University Islamabad, Pakistan
Kwame Nkrumah University of Technology and Technology, Ghana
Mbarara University of Science and Technology, Uganda
Technical University of Kenya
The University of the West Indies
The University of the West Indies – Climate Resilience
University of Dhaka, Bangladesh
University of Eswatini
The University of Ghana
University of Nairobi, Kenya – Migration Studies
Universiti Putra Malaysia
University of Malaya, Malaysia
University of Mauritius
University of Rwanda
State University of Zanzibar, Tanzania
University of Zambia
How to Apply:
You have to apply Online. You can apply to any of the Commonwealth University. All the links are given above. The Official Advertisement Link of the Queen Elizabeth Scholarship is given below.