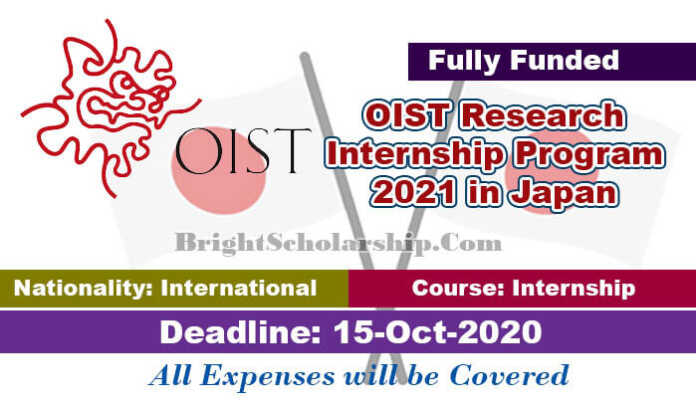 OIST Research Internship Program 2021 for International Students:
Applications are invited to apply for the OIST Research Internship Program 2021 in Japan. All International Students from all over the world are eligible to apply for Japan Internship program. The OIST Internship in Japan will be at the Okinawa Institute of Science and Technology (OIST). This internship is Fully Funded. All Cost will be Covered in Japan Internship Program. The Duration of the OIST Internship will be between 2 & 6 months, Normally 10 to 12 weeks. There will be No Extension. Students from all over the world are eligible to apply for the Japan Internship program. Also apply for KAUST VSRP Internship Program 2021 in Saudi Arabia (Fully Funded).
This is a paid internship in Japan. The internship Japan for international students is a Great Opportunity to complete Summer Internship in Japan & explore & they will see the Door open towards their Future Career. The Undergraduate & Graduate Students can apply for the OIST Internship in Japan. Must check MBZUAI Postgraduate Scholarships 2021 in UAE (Fully Funded).
OIST Research Internship Program 2021 Details:
Institute: Okinawa Institute of Science and Technology
Duration: 10 to 12 weeks
Internship coverage: Fully Funded
Eligible nationality: All International
Internship country: Japan
Start Date: 15 September 2020.
Last Date: 

15 October 2020.
Join Our WhatsApp Group if You not Joined it Already
Stay in Touch & Follow us on our Social Media Platforms to Get Latest Updates for Latest Opportunities. Facebook Page – Facebook Group – Instagram – Twitter – LinkedIn
Amazing opportunity to Study Free in Australia by Applying Charles Darwin University RTP Scholarship 2021 in Australia (Fully Funded).
Also check University of Hawaii Graduate Scholarships 2021 in United States (Fully Funded).
Financial Benefits of OIST Internship 2021:
All cost of the Selected participants will be covered Under OIST internship. This is a paid internship in Japan
Roundtrip Airfare travel Tickets for successful applicants is arranged by the OIST Graduate School.
Insurance
Visa support
On or off-campus housing accommodation
Commuting support
Allowance (Stipend) – 2,400 JPY per day (taxable).
About the OIST Internship:
The OIST Graduate School offers internship Opportunities in Multiple fields to Undergraduate & Graduate Students as Research Interns. This will give them an opportunity to gain experience & learn a specific technique. They will work under the direction of a Professor at OIST.
OIST Internship Available Fields:
As an Intern, the following fields are available to do Research. The fields are given below.
Physics, Chemistry, Biology, Neuroscience, Mathematics, Computational Science, Environmental, Ecological and Marine Sciences, Science, Engineering, and Medical.
Additionally, You Can Learn about More of the Research Going on at OIST Here.
Check GIST International Scholarships 2021 in South Korea (Fully Funded).
Eligibility Criteria for Japan Internship:
The Following Eligibility Criteria will be Consider for OIST internship in Japan.
Students who are enrolled in a Graduate Degree program in Universities, Colleges, Junior colleges, & vocational schools.
Students who are enrolled in an Undergraduate Degree program in universities, colleges, junior colleges, and vocational schools in Japan OR Overseas.
Recent Graduates of such institutions are also eligible to apply.
Currently, Enrolled students must have approval from their home institution.  If you are currently a student, please confirm with your institution.
Bachelor Year 3 and 4 and Master Year 1 & 2 students are particularly encouraged to apply
Documents Required:
Curriculum Vitae
Statement of Interest
A letter of Recommendation
Academic Transcript
ID Photo
Note: You must enter all the details in the application form (Given below) at once and cannot resubmit an application.
Check KAIST Graduate Scholarships 2021 in South Korea (Fully Funded).
Please fill out the Online Application Form (Link Given Below) and submit the following:
Curriculum Vitae Sheet.
Personal Statement.
Academic Transcript – Upload a scan of your current academic transcript in PDF format. Unofficial partial transcripts are accepted for those who have not yet graduated.
Recommendation Letter – A letter of reference from an academic or research professional familiar with your work is required. Please note that the request for a recommendation letter will not be sent until your application is submitted. The application system will ask him/her directly, using the email contact details that you provide. Applicants will be automatically notified by the application system when a letter of recommendation is received.
ID Photo – Upload a recent photo Passport Size (image must be in JPG format, and less than 5 MB).
Once you have obtained all the documents above, please attach and apply to the program through Online Application (Given Below).
Application Deadline:
The last date to apply for the OIST internship in Japan for International Students is 15th October 2020. Applications will start from 15th September 2020.
Check Tokyo Institute of Technology MEXT Scholarship 2021 in Japan (Fully Funded).
Application procedure for OIST Research Internship Program?
Please fill the Online Application Form & Attach all the Required Documents Listed Above. For any type of Help Visit, the Official Website Listed Below. OIST will only accept applications for OIST Internship in Japan through this online form.