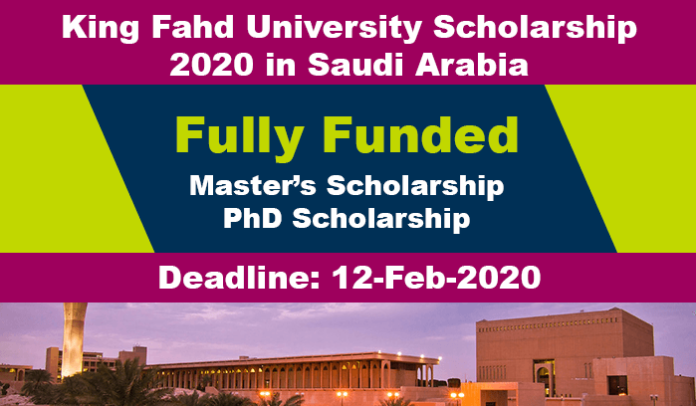 King Fahd University Scholarship 2020 for International Students:
All International Students are welcomed to apply for King Fahd University Scholarship 2020 in Saudi Arabia. This is a Fully Funded Scholarship in Saudi Arabia at King Fahd University for all the Local and International Students from all over the world. Students who want to Study Free in Saudi Arabia are encouraged to apply. The award is available to pursue Master's, PhD or Doctoral degree from Saudi Arabia. Also apply for New Zealand Government Scholarship 2020 (Fully Funded).
King Fahd University is offering all the academic programs including M.B.A, All Sciences, Engineering, Business Administrations, Computer Engineering & Sciences Fields for King Fahd University Scholarship 2020. You can also apply for Westminster Undergraduate Scholarship 2020 Fully Funded.
King Fahd University of Petroleum and Minerals (KFUPM or UPM) is a public university in Dhahran, Saudi Arabia. Among Saudi universities, its science, engineering, and business/management programs are the most highly regarded in the country as well as in the whole region.
The university has ranked fourth among top 100 worldwide universities granted US Utility Patents. The report of this rank was published by the American National Academy of Inventors (NAI). Also check Australia Awards Scholarships 2020 (Fully Funded).
King Fahd University Scholarship 2020 Details:
University: King Fahd University
Degree level: Master's, PhD, Doctorate
Scholarship coverage: Fully Funded
Eligible nationality: National & International
Award country: Saudi Arabia
Last Date: 12 February 2020.
Join Our WhatsApp Group if You not Joined it Already
Stay in Touch & Follow us on our Social Media Platforms to Get Latest Updates for Latest Opportunities. Facebook Page – Facebook Group – Instagram – Twitter – LinkedIn
Financial Coverage:
As Stated above KFUPM Scholarship is offering Fully Funded Scholarships in Saudi Arabia to all the Local & International Students. Check the Scholarship benefits below.
Free tuition.
A monthly stipend to cover living expenses.
Free furnished air-conditioned bachelor housing.
Essential Medical care.
Free Textbooks.
Subsidized Meals in the University cafeteria.
A chance to participate along with the University faculty in the Research and Book writing
Projects funded by the University.
A prepaid Airfare Ticket for Initial Travel to Dammam at the start of the contract, and a Return Ticket after his completion of the Degree (for RA and Lecturers-B).
Other benefits are also available in accordance with University policy.
Study Free in China and apply for Wuhan University Chinese Government Scholarship 2020 (Fully Funded).
Also check International Undergraduate Excellence Award 2020 in UK.
List of Academic Programs & Fields at King Fahd University:
M.B.A, All Sciences, Engineering, Business Administrations, Computer Engineering & Sciences For Masters & PhD The List is given below.
​​College of Computer Sciences & Engineering (CCSE)

Information and Computer Science
​​Computer Engineering
​​System Engineering
College of Sciences (CS)

Chemistry
Physics
Mathematical Science
Life Science
College of Engineering (CES)

Aerospace Engineering
Civil & Environmental Engineering
Chemical Engineering
Electrical Engineering
Mechanical Engineering
Eligibility Criteria for Master, PhD & M.B.A
For Master Programs:
A Four Year Bachelor's Degree

A Grade-Point Average (GPA) of 3.00 or higher on a scale of 4.00 or equivalent, and a GPA of 3.00 in the subject of the major field.
For PhD Programs:
An M.S. Degree (after a four-year B.S. degree)
A minimum GPA of 3.00 on a scale of 4.00 or equivalent in 

both

 B.S. and M.S. degrees.
For MBA:
A Four-Year Bachelor's Degree from a recognized institution.
A Grade-Point Average (GPA) of at least 3.00 on a scale of 4.00 or equivalent.
At least one course in college-level calculus which covers both differentiation and integration.
Working knowledge of computers as evidenced by at least one course in that area (e.g. data processing, programming, information systems, etc.)
At least one year of full-time work experience. This requirement may be waived for graduate assistants, research assistants, and applicants with exceptional academic records.
Check BS, MS, PhD Scholarship at Kyoto University 2020 in Japan.
Documents Required:
Be sure you have scanned copies of the following mandatory documents in PDF. Each file size can be a maximum of 2 MB.
Required Documents:
Copy of Identification (National ID – Saudi Nationals/Passport – Applicants from outside Saudi Arabia/Iqama – Residents of KSA)

Complete official transcripts [For Ph.D. Applicants – MS & BS Transcript/ For Master Applicants- BS Transcript] (The transcript should contain names and grade of all courses taken and should be an official transcript)

Three (3) Recommendation Letters from your academic referees submitted through the online recommendation system after you submit the online application.

Statement-of-Purpose (A one-page essay focusing on your career and research goals at FUPM).

Passport Size Photo with white background (Optional for females)

CV mentioning briefly your education and work experience.


GMAT (For International MBA Applicants).
Note: Application will not be processed at all without the above mandatory documents.
Non Mandatory Documents:
Non-Mandatory Documents for online Application but needed before final admission:
TOEFL (min 68 for MS and 79 for PhD) or IELTS (min 6.0 for MS and 6.5 for PhD) [IF AVAILABLE]

GRE (General) score sheet (Required for Engineering & Science programs)[IF AVAILABLE]

Degree(s) Certificates [If a degree was awarded]
Note: Non Mandatory Documents must required for final selection.
Check ILO Internship Program 2020 in Thailand.
How to Apply:
There is an Online Application Form. Complete the Online Application Form & Upload all the Documents they have mentioned above. Below is a Link Yiu can Find How the Online Application System works.