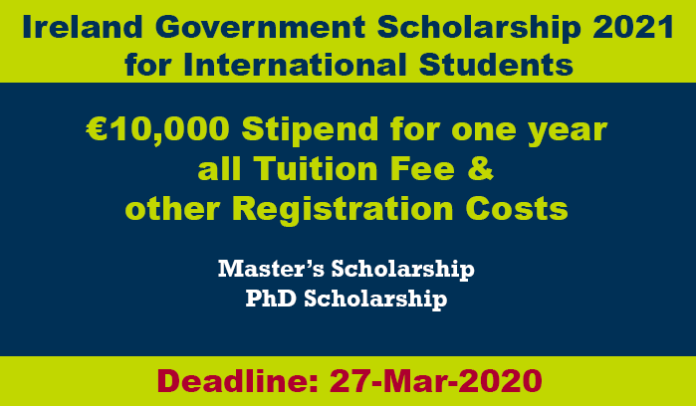 Government of Ireland International Education Scholarship 2020:
Applications are invited to apply for the Government of Ireland International Education Scholarship 2020. Government of Ireland Scholarships are one of the prestigious and famous scholarships for International Students to pursue a Masters's, MPhil or PhD Degree. Also apply for Lanzhou University Scholarship 2020 (Fully Funded) Chinese Government Scholarship.
The Scholarship in Ireland will be awarded to Students from Non-Europen Countries to study full-time in Ireland. It is expected that a total of 60 scholarships will be funded by the Government of Ireland International Education Scholarships for the academic year 2020/2021.
All-Academic Fields & Disciplines are available & Approved. The Duration is the One Year Taught Master Program, One Year Research Program or 3-4 Year PhD Program. Further Details about the Ireland Government Scholarship are given below.
The aim of the 2020 GOI-IES scheme is to reflect Ireland's engagement in target partner countries. The scheme is operated in the higher education sector and funded in partnership between the Government and the higher education institutions (HEIs). Scholarships will be branded as prestigious awards reflecting the core messages about Ireland as a centre of international education. It is expected that for every scholarship winner, awareness of Ireland will be raised among many more potential students. Must check UNESCO/ISEDC Fellowship Program 2020 in Russia (Fully Funded).
International Education Scholarship 2020 Details:
Funded by: Government of Ireland
Degree level: Master, MPhil, PhD
No. of Scholarships: 60
Eligible nationalities: International
Award country: Ireland
Last Date: 27 March 2020.
Join Our WhatsApp Group if You not Joined it Already
Stay in Touch & Follow us on our Social Media Platforms to Get Latest Updates for Latest Opportunities. Facebook Page – Facebook Group – Instagram – Twitter – LinkedIn
Study Free in Korea by Applying in Korean Government Scholarship 2020 (Fully Funded).
Also check IUKL Sports Excellence Scholarship 2020 in Malaysia.
Financial Benefits:
International Education Scholarship for International Students will cover the following expenses of the Participants given below. Students who are successful will receive:
A €10,000 stipend for one year's study
A full fee waiver of all tuition and other registration costs at the higher education institution.
Who can apply?
Note: The International Education Scholarship Period is Only 1 Year
One year of a taught Master's Degree Program
One year of a Research Program (i.e. one year of a 2-year Research Masters
3-4-year PhD Program
The final year of an Undergraduate Program.
Also check Fulbright Scholarship 2021 in United States (Fully Funded).
Fields & Majors:
The aim of the Irish Research Council International Education Scholarship Program is to support or intending to pursue, Full-Time Degree Masters or Doctorate in Any Discipline.
Science
Technology
Engineering
Mathematics
Arts
Humanities
Social Science.
List of Universities:
Available universities for International Education Scholarship are given below:
Athlone Institute of Technology
College of Computing Technology, Dublin
Cork Institute of Technology
Dublin Business School
Dublin City University
Dun Laoghaire Institute of Art, Design, and Technology
Dundalk Institute of Technology
Galway Business School
Galway-Mayo Institute of Technology
Griffith College, Dublin
ICD Business School, Dublin
Independent College, Dublin
Institute of Technology, Carlow
Institute of Technology, Sligo
Institute of Technology, Tralee
Letterkenny Institute of Technology
Limerick Institute of Technology
Mary Immaculate College, Limerick
Maynooth University
National College of Art and Design, Dublin
National College of Ireland, Dublin
National University of Ireland, Galway
The National University of Ireland, Maynooth
Royal College of Surgeons
Technological University for Dublin
Trinity College Dublin
University College Cork
University College Dublin
University of Limerick
Waterford Institute of Technology.
Also check International Volunteers Forum 2020 in Azerbaijan (Fully Funded).
Deadline:
The last date to apply for the International Education Scholarship 2020 For International Students is 27 March 2020. The Results will be on 1st June 2020.
How to Apply?
You need to create an Online Application for the International Education Scholarship 2020 in Ireland. The Link of the Official website is given below: