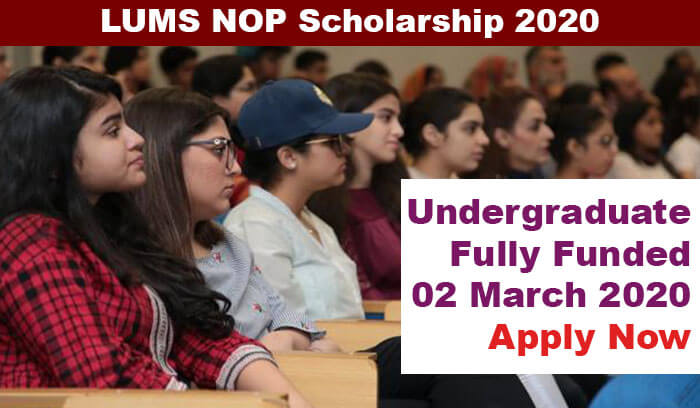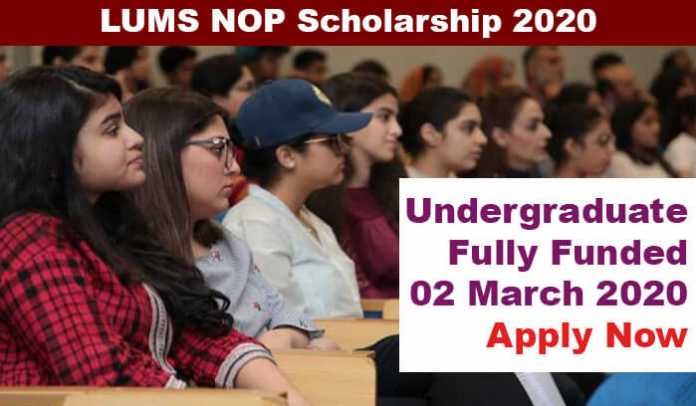 LUMS NOP Scholarship 2020 for Undergraduate:
Applications are invited to app for prestigious LUMS NOP Scholarship 2020 for Undergraduate Degree. The Lahore University of Management Science is providing NOP Scholarship. The National Outreach Program was launched for deserving and talented students all over Pakistan. The LUMS Scholarship will select outstanding intermediate students through a competitive process for NOP. The successful students will get admission in LUMS Undergraduate Program and all the expenses of their education will be covered by NOP. Also apply for 2020 Fully Funded International Scholarships for Pakistani Students.
LUMS NOP Scholarship 2020 Details:
University: Lahore University of Management Sciences
Degree level: Undergraduate
Scholarship coverage: Fully Funded
Eligible nationality: Pakistani
Last Date: 2 March 2020.
Must apply for HEC Ehsaas Undergraduate Scholarship 2020 for Pakistani Students.
Also check Azerbaijan Scholarship 2020 (Fully Funded).
Scholarship Coverage:
National Outreach Program (NOP) is Fully Funded Scholarship for Pakistani deserving students. All expenses will be covered.
Available Study Fields:
Suleman Dawood School of Business
BSc (Hons):
Accounting & Finance
Management Sciences
Muhstaq Ahmad Gurmani School of Humanities & Social Sciences
BA (Hons):
BSc (Hons):
Anthropology and Sociology
Economics
Economics and Mathematics
Economics and Politics
Political Science
Syed Babar Ali School of Science & Engineering
BS
Biology
Chemistry
Chemical Engineering
Computer Science
Electrical Engineering
Mathematics
Physics
Shaikh Ahmad Hassan School of Law
Syed Ahsan Ali and Syed Maratib Ali School of Education
Eligibility Criteria:
At least 80% marks in Matric or in O-Level
Financially deserving students.
Important Dates to Remember:
Summer Coaching Application: March 02, 2020 till 5:00 pm (PST)
Summer Coaching Session Document Submission: March 03, 2020 till 5:00 pm (PST)
Selection: September – October each year
Apply for admission: January 30, 2020 till 5:00 pm (PST)
Submission of supporting documents: January 31, 2020 till 5:00 pm (PST)
SAT Test: March 14, 2020
Application procedure:
Students who meet the above eligibility criteria can apply for LUMS NOP Scholarship.
STEP 1 – Application Process: Apply to NOP while you are in the First Year of Intermediate or A-Level. This will be two years before the start date of the undergraduate program at LUMS. Students attending the coaching session in 2020 will be able to join LUMS in 2021. Click on this link to apply online https://nopscs.lums.edu.pk.
STEP 2 – Summer Coaching Session: Shortlisted candidates will be called for two week summer coaching session at LUMS. The session will be arranged during the summer holidays and all expenses, except travelling will be covered by LUMS.
STEP 3 – SAT Exam: LUMS will pay the SAT registration fee of candidates who successfully complete the NOP Summer Coaching Session.
STEP 4 – LUMS Admission Form: The next step for successful NOP Summer Coaching Session candidates is to fill an online application for admission to LUMS through the following link: https://admissions.lums.edu.pk. Qualifying students will become LUMS NOP Scholars.