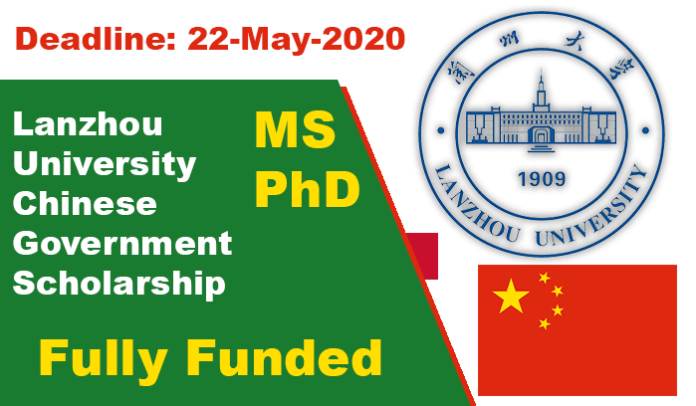 Lanzhou University Scholarship 2020 for International Students:
Applications are invited to apply for the Lanzhou University Scholarship 2020 in China.  All International Students can apply for Fully Funded Scholarships in China. Lanzhou University Scholarship is provided by Ministry of Education in China under Chinese Government Scholarships. Students who want to pursue Master's or PhD degree from China are encouraged to apply for CSC Scholarship. Also apply for United Nations Human Rights Internship 2021 in Geneva.
Founded in 1909, Lanzhou University is a key comprehensive university directly under the Ministry of Education of China. It offers two undergraduate programs, six master graduate programs, 4 PhD graduate programs and one post-doctorate working station for the brilliant students.
Lanzhou University Scholarship goal is to learn the techniques of comprehensive management with due tolerance and open-mindedness, and a global perspective, to better serve the community and the whole nation. It is designed to educate students to identify and correct interference, allowing living systems to improve the expression of their innate potential. Must check UNICEF Online Free Courses with Free Certificates 2020.
Lanzhou University Scholarship 2020 Details:
University: Lanzhou University
Degree level: Master's, PhD
Scholarship coverage: Fully Funded
Eligible nationality: International
Award country: China
Last Date: 15 April 2020.
Join Our WhatsApp Group if You not Joined it Already
Stay in Touch & Follow us on our Social Media Platforms to Get Latest Updates for Latest Opportunities. Facebook Page – Facebook Group – Instagram – Twitter – LinkedIn
Study Free Online Asian Development Bank ADB Online Courses with Free Certificates.
Check 44 Online Free Short Courses with Certificates 2020.
Financial Coverage:
Lanzhou University Scholarship will provide a full china funding for all the admitted students. The support will cover the following:
Full Tuition Waiver
Free University Dormitory
Medical Insurance
Monthly Stipend:
Master's Students: CNY 3,000 Per Month
Doctoral Students: CNY 3,500 Per Month.
Check University of South Australia Research Scholarships 2021 (Fully Funded).
Documents Required:
To apply for Lanzhou University Scholarship in China will required following documents:
Application Form for Chinese Government Scholarship (filled in Chinese or English).
Copy of Physical Examination Form for Foreigners (filled in Chinese or English). Note:Applicants should strictly follow the items required in the Foreigner Physical Examination Form. The "Foreigner Physical Examination Form" that is missing, has no photo of himself or is not stamped with a rider seal, and is not signed or stamped by a physician or hospital is invalid. The inspection result is valid for 6 months. Please bring the original when registering.
Notarized certificate of undergraduate degree and above (texts in languages ​​other than Chinese and English must be accompanied by notarized translations in Chinese or English. Fresh graduates must submit pre-graduation. (Certificate).
Notarized transcript (texts in languages ​​other than Chinese and English must be accompanied by notarized Chinese or English translations).
Recommendation letter: Recommendation letters from two professors or associate professors (Chinese or English).
Study or research plan in China (written in Chinese or English, no less than 800 words);
Copy of research results. Abstracts or catalogues of published papers, award certificates, etc.
Copy of language (Chinese or English) test transcript. Students applying for Chinese language teaching must have HSK level 4 or above (certificate is valid for 2 years). students applying for English language teaching, in addition to English-speaking applicants, must submit IELTS 5.5 or higher, TOEFL A transcript with a score of 80 or more or other proof of your English level.
A copy of a valid passport. Applicants in mainland China must also provide a copy of the current valid visa page or residence permit page.
Note: The above materials should be scanned and uploaded to the online application system, and then bound into a volume (two copies) in order and mailed to the Lanzhou University International Cultural Exchange College. When necessary, our school will require applicants to submit supplementary materials, which are not cleared or incomplete and will not be accepted. All materials, whether accepted or not, will not be returned.
Check Fulbright Scholarship 2021 in United States (Fully Funded).
Eligibility Criteria for Lanzhou University Scholarship:
Non-Chinese citizens with good physical and mental health.
Degree and age requirements: Those who are studying for a master's degree must have a bachelor's degree and be under 35 years of age. Those who are studying for a doctoral degree must have a master's degree and be under the age of 40.
Excellent grades and outstanding scientific research ability.
Non-recipients of other scholarships.
Requires a Chinese proficiency test (HSK) level 4 or above (Valid for 2 years).
How to Apply for CSC Scholarships?
There is Online Application System to apply for Lanzhou University Scholarship. Follow below steps to apply:
Step 1: Log on to the Chinese Government Scholarship website for registration, fill in the information, and scan and upload the original relevant materials. The specific website address is https://studyinchina.csc.edu.cn/, the type of study abroad program is Type B, and the acceptance institution code is 10730 (Lanzhou University). At the same time, please register and log in to Lanzhou University International Student Online Service System https://lzu.17gz.org to fill in and upload information.
Step 2: After completing the online registration, print the "Chinese Government Scholarship Application Form" automatically generated by the system, and prepare the corresponding materials in accordance with the requirements and order of the "application materials" list.
Step 3: Mail the paper materials.
Address: No. 222 Tianshui South Road, Lanzhou City, Gansu Province, Lanzhou University Student Activity Center, Room 703, ICES
Postcode: 730000, China
Tel: 0086-931-8914290.