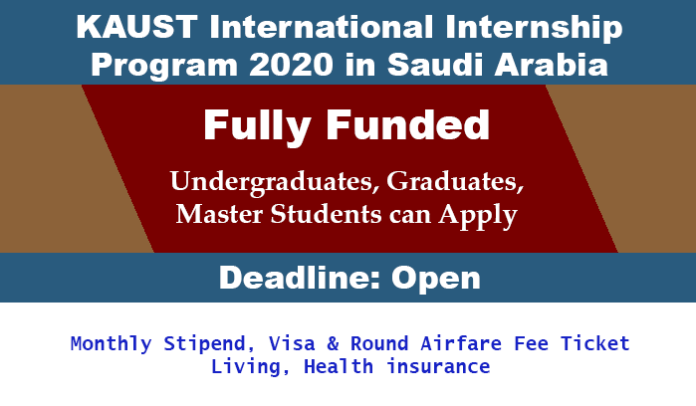 KAUST International Internship Program 2020 in Saudi Arabia:
Applications are invited to apply for the KAUST International Internship Program 2020 in Saudi Arabia. This is a Fully Funded Internship will be Take place at King Abdullah University of Science & Technology. KAUST VSRP Internship is an International Internship for all Students from all over the world. Each Year they Select 130 Students in 150+ Projects available from around the world. Also apply for Kyoto University ADB Scholarship 2021 in Japan (Fully Funded).
The Undergraduates, Graduates, Master Students from around the world are Eligible for the KAUST Youth Internship Program. The Duration of the KAUST VSRP Internship will be from 3 to 6 Months. There will be Some Free time as well as Social Activities too.
King Abdullah University of Science and Technology (KAUST)  is a private research university located in Thuwal, Saudi Arabia. Founded in 2009, the University provides research and graduate training programs in English as the official language of instruction.
KAUST is the first mixed-gender university campus in Saudi Arabia. In 2013, the University was among the 500 fastest growing research and citation records in the world. In the 2016 Nature Index Rising Stars, the University ranked #19 in the world of the fastest rising universities for high-quality research output. Must check United Nations Human Rights Internship 2021 in Geneva.
KAUST International Internship Program 2020 Details:
University: KAUST
Total No. of Internships: 130
Duration: 3 to 6 Months
Financial benefits: Fully Funded
Award country: Saudi Arabia
Last Date: Applications Accepted Year Around.
Join Our WhatsApp Group if You not Joined it Already
Stay in Touch & Follow us on our Social Media Platforms to Get Latest Updates for Latest Opportunities. Facebook Page – Facebook Group – Instagram – Twitter – LinkedIn
Study Free in Germany by Applying for ISA International Scholarship 2021 in Germany (Fully Funded).
Also check Australian Government Research Scholarship 2020 (Fully Funded).
Financial Coverage:
As Stated Above, KAUST Summer Internship in Saudi Arabia is a Fully Funded Internships for International Students. All the expenses will be covered. VSRP is a free internship abroad in Saudi Arabia & also a paid internship. The Full Benefits are:
$1000 Monthly Stipend
Visa & Round Airfare Fee Ticket
Private Bedroom & Bathroom
Health insurance
Social & other Activities
Community Resources.
Check University of Brunei Darussalam Scholarship 2021 (Fully Funded).
KAUST Internship Areas:
Environment
Environmental Science
Computer
Mathematical Science
Physical Science
Electrical
Water
Energy
Science
Technology
Engineering
Biological & Related Fields.
Eligibility Criteria:
The eligibility criteria of the KAUST Summer internship 2020 is given below:
Students from all over the world can apply for KAUST Internship.
KAUST will host eligible international BS/BSc (3rd year or 4th year) and MS students Or those who have completed BSc/BS
A cumulative grade point average (GPA) that exceeds 3.50 /4.00 ( 14/20: Equivalent to ECTS B) with some research projects requiring a 3.60 or higher.
Strong English Skills: Demonstrated English reading comprehension, speaking, listening and writing abilities.
Official academic transcript(s) or a certified translation if the original transcript(s) is not in English from current and previous institutions.
The recommendation of a faculty member in the field of study from current and previous schools of enrollment.
Valid passport.
Having Interest in the Fileds given above.
Check Salford International Excellence Scholarship 2020 in UK.
Documents Required:
Curriculum Vitae (CV)
Official Transcript in English or Arabic from Current Institute
Personal Statement (How to Write a Personal Statement for Scholarship
Letter of Recommendation
Valid Passport
Application Deadline:
Applications for the KAUST Summer Internship in Saudi Arabia is Open All Year. You can apply anytime throughout the Year. They are accepting applications if you want to Start Internship After 1st July 2020.
Check DAAD Helmut Schmidt Scholarship 2021 in Germany (Fully Funded).
How to Apply For KAUST International Internship 2020?
There is Online Application System to apply for the KAUST International Internship Program. The link to Application and Official Advertisement is given below: