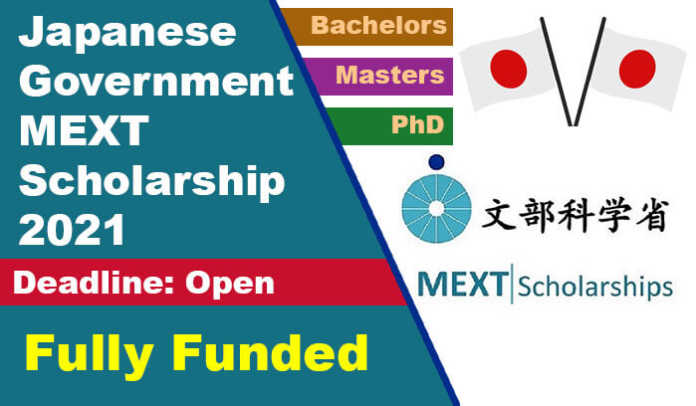 Japanese Government MEXT Scholarship 2021 for International Students:
Call for the MEXT Scholarship from the Japanese Government for International Students to Study Undergraduate Degree, Masters Degree or PhD Degree in Japanese Top Universities. Japanese Government MEXT Scholarship 2021 is a Fully Funded Scholarship to get your degree from Japan. IELTS or TOFEL are not required to apply for MEXT Scholarship Japan. Almost all Academic Fields and Majors are available under MEXT Scholarship and you can apply in any University of Japan. Also apply for Skoltech Scholarships 2020 in Russia (Fully Funded).
At this time, Scholarships are open for some countries, you need to check before apply, and rest will be open in the coming days and, an international student from  all over the world can apply for for Japanese Government Scholarship. The Ministry of Education, Culture, Sports, Science, and Technology of Japanese Government works with other countries ministries and agencies to encourage acceptance of more international students from all over the world, including setting up a platform to help international students boost their knowledge in world top universities under highly qualified scientists. Must check Australian Government Research Scholarship 2020 (Fully Funded).
Japanese Government MEXT Scholarship 2021 Brief Description:
Offered by: MEXT
Degree level: Bachelors, Masters & PhD
Scholarship coverage: Fully Funded
IELTS/TOFEL: Not Required
Eligible nationality: International
Award country: Japan
Last Date: Different for Every Country.
Join Our WhatsApp Group if You not Joined it Already
Stay in Touch & Follow us on our Social Media Platforms to Get Latest Updates for Latest Opportunities. Facebook Page – Facebook Group – Instagram – Twitter – LinkedIn
Don't miss this amazing opportunity Hurford Youth Fellowship Program 2020 in USA (Fully Funded).
Also check DAAD Helmut Schmidt Scholarship 2021 in Germany (Fully Funded).
Financial Benefits:
Japanese Government MEXT Scholarship 2021 is a Full Free Scholarship for Students from all over the world to pursue Bachelor's, Master's or PhD degree from Japanese top Universities. Because MEXT is a Fully Funded Scholarship So, it will cover all the expenses to complete your degree and all expenses will be provided by Japanese Government. Detail is given below:
Monthly Stipend will be given to all selected candidates.
100% Tuition Fee will be provided by MEXT.
Round Airfare Tickets will be given from Home country to Japan and from Japan to Home country.
It Covers your all Accommodation
Residence will be provided by the University in which you got accepted and allowance will be provided by Japanese Government.
Duration of the Scholarship in Japan:
Bachelor's Degree: 4-5 years
Master's Degree: 2-3 years
Doctoral Degree: 3-4 years.
Check Kyoto University ADB Scholarship 2021 in Japan (Fully Funded).
Documents Required:
To apply for Japanese Government MEXT Scholarship you need to Submit Following Document:
Mark Sheet Form
Application Form
Academic detail Marks sheet of Secondary School: (Matric/O Levels, Attested copy)
Academic detail Marks sheet of Higher Secondary School: (Intermediate/A Levels, Attested copy)
Attested copy of Certificate of enrollment from current educational institution (if applicable)
Hope certificate issued by the Institute (for students whose final result is expected by August 2020)
Note:
Submitted documents will not be returned.
Application should be unstapled and printed on A4 size paper.
Certificates & documents, other than those mentioned above, will not be considered.
Knowledge of Japanese Language, and IELTS/TOEFL is not mandatory.
Eligibility Criteria for MEXT Scholarship:
Applicants form those countries are eligible for MEXT Scholarship who have Diplomatic Relations with Japan (Click Here to Check Countries List)
Students who have Japanese Nationality is not eligible
Must be born after 02 April 1985.
Check Mexico Government Free Online Courses 2020 with Free Certificates.
How to Found MEXT Scholarship for Your Country?
Visit below "Embassies" Link and find a region in which your country is located. Open that region and then find your country in the list. After that visit your country Embassy Website. Then Click on "Culture and Education" in the menu. You will see the "Japanese Government Scholarship" there. Check this scholarship and follow Guidelines for Every country because they different for Each country. "Embassies" link is given below: