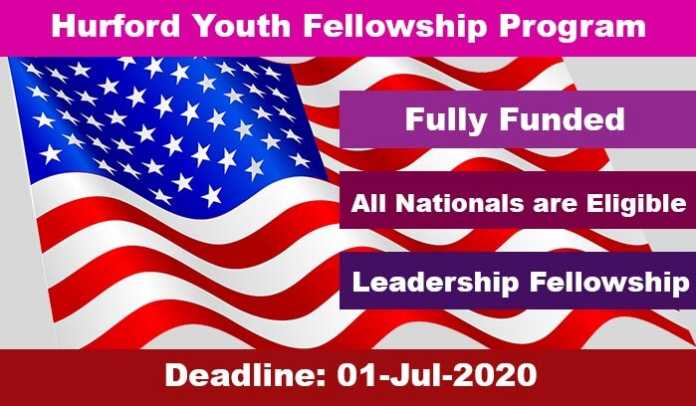 Hurford Youth Fellowship Program 2020 for International Students:
Applications are invited to apply for the Hurford Youth Fellowship Program 2020 in United States. The United States has opened its Doors for the Hurford Youth Leadership Exchange Program 2020. The Hurford is a Youth Exchange Program open to all participants from around the world to build Your Leadership Skills, Building Youth Activists. Also apply for University of Brunei Darussalam Scholarship 2021 (Fully Funded).
The Hurford Youth Leadership Exchange Program Seeks to Build Leadership Skills. Hurford Youth Fellows will engage in strategic meetings, Conduct Research and Organize and lead Presentations, and Information Sharing. Participants' age should not be more than 30 Years. The Hurford will cover all the Expenses for the Selected Participants.
The Participants will Stay in Washington D.C. for the duration of 3 Months. The Hurford Youth Fellowship will Start from March 1st, 2021 to 31st May 2021. Don't worry about Academic Education or CGPA. The Program Focuses on Your Leadership skills that why you are interested in this Program? You may also be interested in Australian Government Research Scholarship 2020 (Fully Funded).
Hurford Youth Leadership Exchange Program 2020 Brief Description:
Fellowship duration: 3 Months
Dates: 01 Mar to 31 May 2021
Fellowship coverage: Fully Funded
Eligible nationality: International
Program country: United States
Last Date: 1 July 2020.
Join Our WhatsApp Group if You not Joined it Already
Stay in Touch & Follow us on our Social Media Platforms to Get Latest Updates for Latest Opportunities. Facebook Page – Facebook Group – Instagram – Twitter – LinkedIn
Great opportunity in United Kingdom Coventry University Scholarships 2020 in UK.
Also check Deakin University Free Online Course 2020 with Free Certificate.
Financial Benefits:
The Hurford Youth Fellowship Program 2020 is a Fully Funded International Youth Exchange Program. The Fellowship will cover all the Expenses for the Duration of the Program such as:
Monthly Stipend for Living Expenses
Health Insurance
Round Trip Air Travel Tickets to and from Washington, D.C.
Fellows are provided with a Fully Equipped Office, including Internet and Email Access, and a Limited Budget for Fellowship Related Long-Distance Phone calls.
Note: Applicants should bear in mind that the cost of living (housing, furniture, food, and other essential living expenses) in the Washington metropolitan area is very high and that fellowship stipends are not calculated to cover the financial needs of a family. Fellows who wish to bring family members with them to Washington, D.C. will be expected to cover the costs of their dependents' roundtrip travel and stay within the United States. The program does not ordinarily cover costs associated with dependents' health insurance. Please note that all dependents traveling to the Unites States on a J-2 dependent visa will be required to have basic health insurance coverage for the full period of their stay
About Hurford Youth Fellowship
Do you have great ideas about how to promote democracy in your community? Are you ready to build your leadership skills? Would you like to meet other youth leaders from around the world?
The Hurford Youth Fellowship Program seeks to build leadership skills and harness the potential of young democracy activists from around the world.
Through the Program, young activists spend three months at the World Movement's Secretariat, during which they expand their global connections, share experiences with other activists from democracy movements around the world, and contribute to the development of the World Movement for Democracy and the World Youth Movement for Democracy.
Check DAAD Helmut Schmidt Scholarship 2021 in Germany (Fully Funded).
Required Documents:
The Applicant Form has four sections:
Personal Information
Project Proposal

Your project proposal is the most important part of your fellowship application. It should be clear, concise, and comprehensible to individuals outside your own field or concentration.

Curriculum Vitae/Resume (CV)

Your curriculum vitae or resume should highlight your relevant professional experience, educational background, community service, and/or extra-curricular activities.

Two Letters of Recommendation.
Note: Each applicant must complete the entire Form. Please note that incomplete application forms will not be reviewed.
Eligibility Criteria for Hurford Youth Fellowship:
Note that Applicants are eligible from any country with any Nationality.
Applicants interested in the Hurford Youth Fellows Program must be no older than 30 years of age
They Must Demonstrate a strong interest in Democratic activism and in the advancement of democracy in their respective communities, as well as worldwide. Youth affiliated with civil society organizations are especially encouraged to apply.
Knowledge of English is an important prerequisite for participation in the Program for general communication purposes.
Check Mexico Government Free Online Courses 2020 with Free Certificates.
Application Deadline:
The Last Date to apply for the Hurford Youth Fellowship Program 2020 in USA to the United States is 1st July 2020.
How to Apply for Hurford Youth Leadership Program?
There is an Online Application Portal to apply for Hurford Youth Fellowship Program 2020. Just visit the "Apply Now" link and register yourself if you don't have account already. Then start the applications and complete application and submit necessary documents. Also Link to the Official Advertisement is given below: