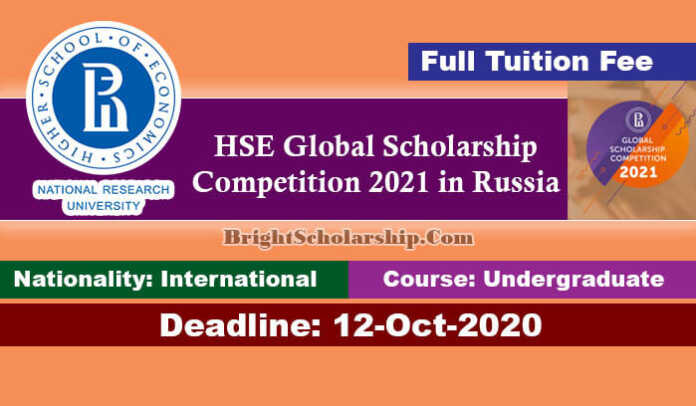 HSE Global Scholarship Competition 2021 for International Students:
Applications are invited to apply for HSE Global Scholarship Competition 2021 in Russia. All International Candidates from all over the world are eligible to participate in Competition held by Higher School of Economics, Russia. Students those who want to study in Russia to pursue their Bachelors Degree are encouraged to apply for HSE Global Scholarship 2020. Its provide scholarship for undergraduate degree with 100% fee waiver. There is No Application Fee to apply for HSE Competition 2021. Also apply for King Fahd University Scholarships 2021 in Saudi Arabia (Fully Funded).
HSE Global Scholarship Competition will cover the following subjects: Foreign Languages (English), Asian Studies, International Relations, History, Design, Journalism, Cultural Studies, Mathematics, Psychology, Modern Politics, Physics, Social Sciences, Media Communications, Law, Advertising and Public Relations, Philology, and Philosophy. You may also be interested in University of Toronto Scholarship 2021 in Canada – Lester B Pearson Scholarship.
HSE Global Scholarship Competition 2021 Details:
University: Higher School of Economics, Russia
Degree level: Undergraduate
Scholarship coverage: Full Tuition
Eligible nationality: International
Award country: Russia
Last Date: 12 October 2020.
Join Our WhatsApp Group if You not Joined it Already
Stay in Touch & Follow us on our Social Media Platforms to Get Latest Updates for Latest Opportunities. Facebook Page – Facebook Group – Instagram – Twitter – LinkedIn
Apply to avail this golden opportunity Gates Cambridge University Scholarships 2021 in UK (Fully Funded).
Also check University of Ottawa Scholarships 2021 in Canada (Funded).
Financial Benefits:
HSE Global Scholarship Competition 2021 in Russia for International Students will get the following benefits to undertake their undergraduate degree from Russia:
Winners are eligible for full-tuition waivers, partial scholarships as well as  discounts up to 75% in tuition fee.
HSE Global Scholarship Competition winners receive early admission decisions.
HSE GSC diplomas are valid for two consecutive years following the Competition.
An opportunity to gain more expertise on a certain field of study.
HSE GSC is a great way of career preparation.
New and exciting connections.
List of Available Study Areas:
Mathematics
English
Physics
Asian Studies
Design
Journalism
History (World History)
Social Sciences (Person. Society. State)
Cultural Studies
Media Communications
International Relations
Law
Psychology
Advertising and Public Relations
Modern Politics
Philology, and Philosophy.
Check Heinrich Boll Foundation Scholarships 2021 in Germany (Funded).
Eligibility Criteria for HSE Global Scholarship 2021:
To be eligible for this award, applicants need to meet the following criteria:
International (non-Russian) citizens, stateless persons, or Russian nationals living abroad.
Participants must be enrolled in either grades 10-11 of high schools for 11-year programs or grades 11-12 for 12-year programs.
International high school graduates are also welcome to apply.
All participants must be under 30 years-old.
Application Deadline:
Last date to apply online: 12th October 2020
Competition date: 22nd to 29th October 2020
Result Announced: 16th December 2020
How to Apply for HSE Global Scholarship?
There is an Online Application Procedure to apply for HSE Global Scholarship Competition 2021 in Russia. Follow the given below steps to register for the competition:
View the "How to Apply" section for undergraduate programs and select your program.
Complete the required online registration.
Identify relevant subjects (fields of study), depending on your choice of degree program.
Take part in the Competition in respective subjects (fields of study) in one of the countries outside Russia and in Russia  (personal attendance) or in a long-distance mode according to the Schedule.
Get your Competition results and learn more about your opportunities for admission to HSE undergraduate programs.