How to Apply for HEC HAT Test | Test Types and Preparation Guide:
Every year a lot of International Scholarships will offer to Pakistani Students through HEC. After applying for scholarships HEC will conduct HAT test for students to shortlist them. HEC is conduction 4 Types of tests according to students educational background and study field in which student applied. Here is given 4 types of Hat tests. Also apply for MCB Management Trainee Program 2022 | MCB MTO Program 40,000/-.
Test Types for Undergraduate Students:
1
Category
Physics
Chemistry
Math
English
 Total
HAT- UG-E
20
20
40
20
100
2
Category
Physics
Chemistry
Biology
English
 Total
HAT- UG-M
20
20
40
20
100
3
Category
Pak Studies
English
General Math
Islamiat
 Total
HAT- UG-S
20
35
25
20
100
Recommended Books or Materials for Undergraduate Test
Students are encouraged to prepare for the HEC HAT UG tests for their scholarships to study abroad through HEC Foreign scholarships by following recommended methods;
Intermediate books
HEC HAT UG books (you can buy from the any book shop), this book will help you to make a sketch for the previous tests and sample papers.
Test Types for Masters and PhD Students:
Join Our WhatsApp Group if You not Joined it Already
Watch Video on YouTube to Apply
Stay in Touch & Follow us on our Social Media Platforms to Get Latest Updates for Latest Opportunities. Facebook Page – Facebook Group – Instagram – Twitter – LinkedIn
Apply for Latest PPSC Jobs PPSC Jobs September 2022 | PPSC Advertisement No 19/2022
Also check CM Punjab Paid Internship Program 2022 | CM Punjab Internship Programme
Test Category
Disciplines/Subject
English Reasoning
Analytical Reasoning
Quantitative/ Math Reasoning
Total

%

HAT 1
Engineering & Technology (IT)
30
30
40
100
HAT 2
Management Sciences, Business Education
30
40
30
100
HAT 3
Arts & Humanities, Social Sciences
40
35
25
100
HAT 4
Agriculture & Veterinary Sciences, Biological Sciences, Medical Sciences, Physical Sciences
40
30
30
100
Who Can Apply for Higher Education Aptitude Test (HAT)?
The test is being organized for those applicants:
Who have already applied online for any MS/MPhil admission or HEC scholarships via E-portal for further final selection process
Who intend to apply for the scholarship schemes to be advertised in future including those by HEC sponsored Pakistani universities
Who are interested in securing admission in MS/MPhil programs in public and private universities of Pakistan.
Check Chulabhorn Graduate Institute Scholarship 2023 in Thailand (Fully Funded)
Date of Examination
Test will be held on September 25, 2022 tentatively. Any change in the test date will be communicated through www.hec.gov.pk and http://etc.hec.gov.pk
Applicants who register through HEC online registration process will be able to download their Roll Number Slip from http://etc.hec.gov.pk and registered Email address a week before the test date.
Email/SMS will also be sent to registered applicants for test date, time and venue. While filling online application forms, candidates are required to provide valid email/mobile numbers on which they wish to receive Roll Number Slips.
A print of Roll Number Slip, original paid Fee Challan and original CNIC will be required to enter the Test Centre on the test day.
HEC HAT Test Centers:
The examination will be conducted in the following cities:
Lahore
Islamabad
Bahawalpur Muzaffarabad
Karachi
Peshawar
Quetta
Gilgit
Applicants may select any test center from the list available in the application form.
Please note that the said test will be held on any of above centers if minimum 250 applicants select that center.
Please note that test center once selected will not be changed after registration.
Check KAIST University Scholarship in South Korea 2023 (Fully Funded)
Proposed Test Schedule:
Test will be held on quarterly basis and simultaneously in the major cities of Pakistan. Yearly test calendar will be uploaded on the ETC website. Candidates may register themselves through online registration portal: http://etc.hec.gov.pk. A sample papers are given below for help and guidance in preparation for the test.
Deadline for Online Registration:
Last date for HEC HAT Test online registration is September 12, 2022.
How to Apply for HEC HAT Test?
For registration, please visit: http://etc.hec.gov.pk.
In case of any query during the online registration, please visit onlinehelp.hec.gov.pk or visit HEC regional offices for guidance.
Application Submission comprises two steps; profile completion using "My Profile" section and application submission using "Higher Education Aptitude Test" links on the menu panel on the left-hand side bar of online portal.
Only SUBMITTED applications will be considered for HAT and applications in SAVE or INCOMPLETE mode will not be entertained.
The test fee for HAT is Rs. 1500/- per candidate. Candidates will deposit the fee amount in Habib Bank Limited Account No. 1742 7900 1334 01. Title of Account: Higher Education Commission
Download bank fee challan while registering for the test at http://etc.hec.gov.pk. (Fee Challan is only available on ETC online registration portal).
All candidates are required to upload the paid and scanned fee challan, duly stamped by an HBL branch, while completing the application form of ETC online registration portal to submit the application.
The test fee is non-refundable and non-transferable.
Note: It is mandatory to bring original applicant copy of paid fee challan on a test day along with your Roll Number Sip,
Original CNIC/original passport, otherwise candidate will not be allowed to sit in the examination.
Register Online for HEC HAT Test
​HEC HAT Test Advertisement: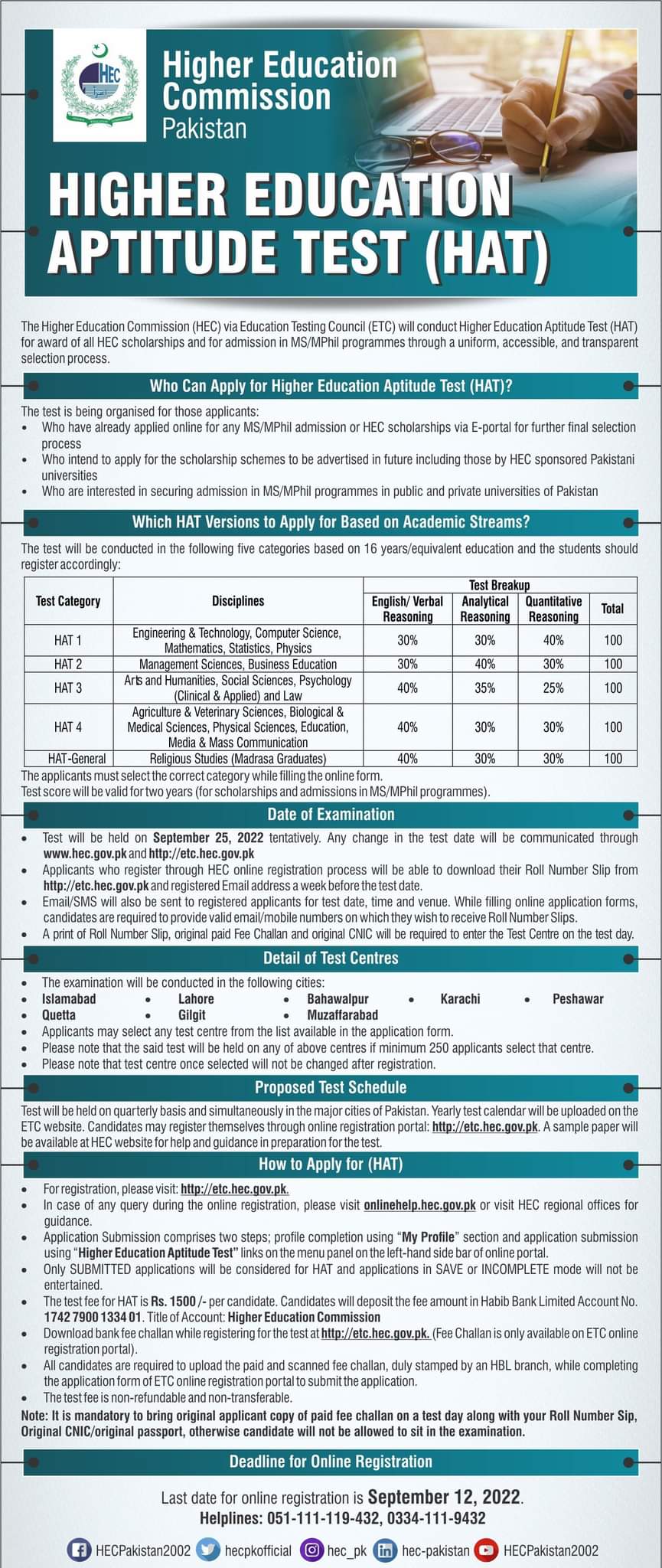 ​HEC HAT Test Preparation Guide with Tests and their solutions: