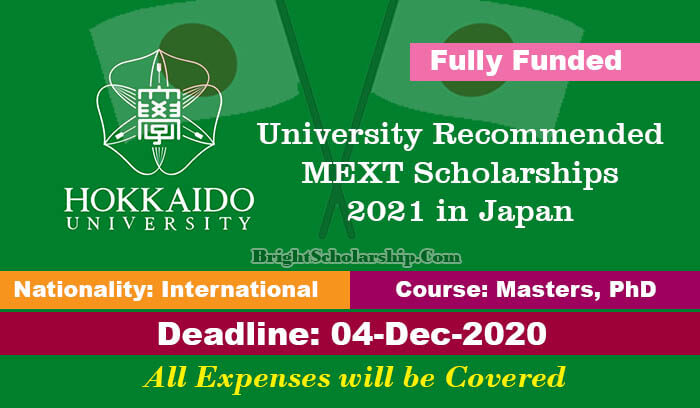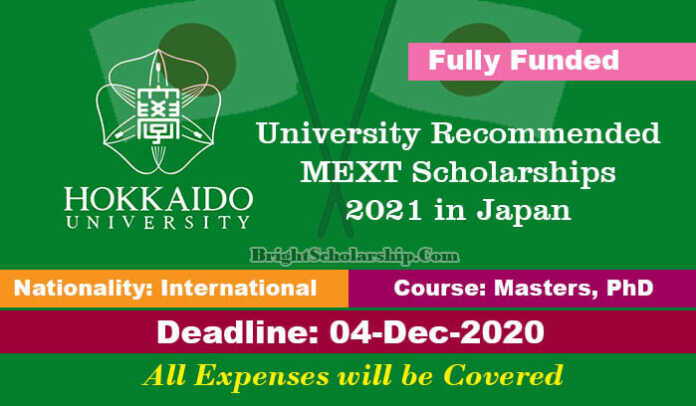 Hokkaido University MEXT Scholarships 2021 for International Students:
Applications are invited to apply for the Hokkaido University MEXT Scholarships 2021 in Japan. All International Students from all over the world having diplomatic relations with Japan are eligible to apply for University Recommended MEXT Scholarships 2021. Fully Funded Japanese Government Scholarship in Japan for International students to Study Master's Degree and PhD Degree in the University. There is No Need of IELTS/TOFEL to apply for Scholarships at Hokkaido University. Also apply for Doha Institute for Graduate Studies Scholarships 2021 in Qatar (Fully Funded).
Students can apply in all 13 Divisions in the fields of Mechanical Engineering, Civil Engineering, Materials Science, Applied Physics, Environmental and Resource Engineering, Architecture and Design participated in the e3 program.  Knowledge of Japanese Language or IELTS/TOEFL is not mandatory for this scholarship. You can submit an English Proficiency Certificate from your university. The scholarship will cover all the expenses.
Hokkaido University was established in 1876 and is national institution located in Hokkaido, Japan. This is the most prestigious university having QS ranking 122nd in the world. Japan is the hub of education. This is the golden opportunity for all students from around the world. You may also apply for Holland Government Scholarships 2021 in Holland (Funded).
Hokkaido University MEXT Scholarships 2021 Details:
University: Hokkaido University, Japan
Degree level: Master's, PhD
Scholarship coverage: Fully Funded
Eligible nationality: International
Award country: Japan
Last Date: 4 December 2020.
Join Our WhatsApp Group if You not Joined it Already
Stay in Touch & Follow us on our Social Media Platforms to Get Latest Updates for Latest Opportunities. Facebook Page – Facebook Group – Instagram – Twitter – LinkedIn
Amazing Scholarship opportunity Radboud University Scholarships 2021 in Netherland (Fully Funded).
Also check Swedish Defence University UHR Scholarship 2021 in Sweden (Funded).
Financial Benefits:
Hokkaido University MEXT Scholarships 2021 in Japan for International Students to undertake postgraduate degree program will cover all the expense to study free in Japan. Detail is given below:
Monthly Stipend:

Masters Degree: 144,000 Yen/Month
Doctoral Degree: 145,000 Yen/Month

Application Fee: Exempted
Admission Fee: Exempted
Tuition Fees: Exempted
Arrival Ticket: Provided
Return Ticket: Provided
What is MEXT Scholarship by Japanese Government?
MEXT Stands for the Ministry of Education, Culture, Sports, Science, and Technology (MEXT) of Japan offers scholarships For Bachelors, Master & Doctoral Degree in the fields which you have studied in Your Country.
Scholarship Duration:
Master's: 2 Years
PhD: 3 Years
Check Northeast Agricultural University CSC Scholarships 2021 in China (Fully Funded).
Documents Required:
Copy of valid Passport
Previous Academic Transcripts
Field of Study and Research Plan (Format)
Abstracts of Graduation Thesis and Publications
Graduation/Expected Graduation Certificates
One Letter of Recommendation(Format)
English Test Score or English Certificate from University.
Eligibility Criteria for Scholarship in Japan:
All International Students currently residing outside of the Japan. List of Eligible countries: Countries List
Candidate must completed or prior to complete previous degree before October 2021.
Applicants must have a Undergraduate Degree to apply for Master Degree.
Candidate must have a Masters Degree Certificate to be eligible for PhD Degree.
Students must have CGPA 3 on a Scale of 4 or 80% in previous degree.
Applicants must be born on or after April 2, 1986.
Check Stipendium Hungaricum Scholarships 2021 in Hungary (Fully Funded).
Application Timeline:
Application Timeline: 16 November 2020 – 4 December 2020
Result Announcement: 15 January 2021
Interview: January 25 – 29, 2021
Final Result: 5 February 2021
How to apply for Hokkaido University MEXT Scholarships?
You need to apply online for Hokkaido University MEXT Scholarships 2021 in Japan. The apply link will open on 16th November 2020. Online Application Link and Official Advertisement Link is given below: