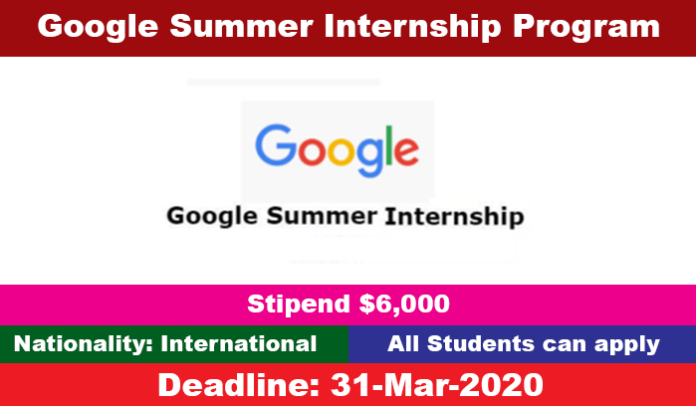 Google Summer Internship Program 2020 for International Students:
Applications are opened to apply for the Google Summer Internship Program 2020. The Google Summer Code Internship for International Students from all around the world. Maximum $6000 Stipend will be given & Minimum $3000 Stipend will be given for 3 Months. The Google Internship is open to all the Students who are pursuing Bachelors Degree Programs, Masters Degree Programs & PhD Degree Programs & Current University Students are eligible to apply who are above 18 Years of age. Also apply for Australian Government Research Scholarship 2020 (Fully Funded).
All the participants from around the world with any Nationality are eligible for the Google Internship 2020. If your idea is good enough, the organization will select you and you will be assigned a mentor and will work under that mentor for 03 months. On successful completion of it, you will be awarded a stipend and certificate. Must check OIST Japan Internship Program 2020 (Fully Funded).
Google Summer Internship Program 2020 Brief Description:
Provided by: Google
Internship duration: 3 Months
Stipend: $6000
Eligible nationality: International
Last Date: 31 March 2020.
Join Our WhatsApp Group if You not Joined it Already
Stay in Touch & Follow us on our Social Media Platforms to Get Latest Updates for Latest Opportunities. Facebook Page – Facebook Group – Instagram – Twitter – LinkedIn
Study Free in Australia University of Sydney Scholarships 2020 for International Students (Fully Funded).
Also check One Young World Summit 2020 in Germany (Fully Funded).
Google Summer Internship Benefits:
This is a Full Paid Internship for International Students.
Minimum 3000 USD Stipend & Maximum 6000 USD Stipend depending on your country.
Working with Big International Companies
Get Certificates at the End.
Please Check the Google Internship Stipend for Your Country Here
About Google Summer Internship:
Spend your summer break writing code and learning about open source development while earning a stipend.
Accepted students work with a mentor and become a part of the open-source community. Many become lifetime open source developers.
This is a remote (work from home) internship. All development occurs online; there is no requirement to travel as part of the program.
Google Internship Dates:
The Google Summer Internship will run from May 18, 2020 – August 10, 2020. During this Duration, Students will work on their Projects with Mentors.
Eligibility Criteria for Google Internship Program:
All International Students from any country are eligible.
University Students of Bachelors, Masters, and Ph.D. can apply for it.
Age Should be above 18.
How does it work?
Students:
Students contact the mentor organizations they want to work with and write up a project proposal for the summer. If accepted, students spend a month integrating with their organizations prior to the start of coding. Students then have three months to code, meeting the deadlines agreed upon with their mentors.
Organizations:
Open source projects apply to be mentor organizations. Once accepted, organizations discuss possible ideas with students and then decide on the proposals they wish to mentor for the summer. They provide mentors to help guide each student through the program.
Mentors:
Existing contributors with the organizations can choose to mentor a student project. Mentors and students work together to determine appropriate milestones and requirements for the summer. Mentor interaction is a vital part of the program. 
Check France Government Scholarship 2020 for International Students (Fully Funded).
Application Deadline:
The last date to apply for the Google Summer Internship Program 2020 is 31st March 2020.
How to Apply for Internship in Google?
You have to apply online for the Google Summer Internship Program 2020. The Link to Online Application & Official website is given below: