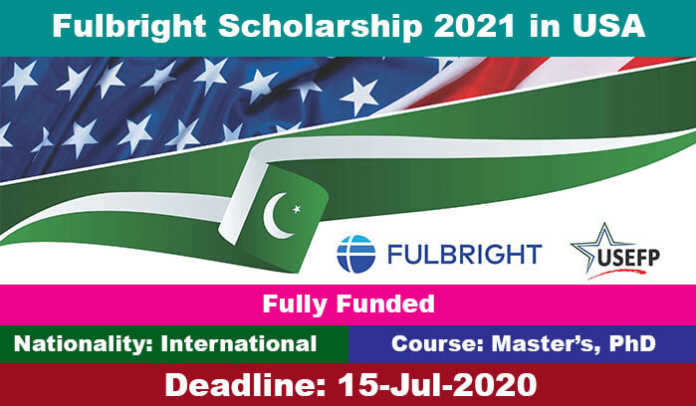 Fulbright Scholarship 2021 in United States for International Students:
Applications are opened to apply for the Fulbright Scholarship 20201 in United States. Fulbright Scholarship is a Fully Funded Scholarship to Study in United States for a degree of Master's or PhD. Fulbright Scholarship in USA is offered to 150 countries in the world. But Each country has its own procedure. You can check Your Country by Clicking Here. For both the Masters and PhD programs, all academic disciplines are eligible, except clinical medicine. The Fulbright Scholarship is Funded by the U.S Department of State. Also apply for University of Dayton Merit Scholarship 2020 in USA.
The USA Fulbright Scholarship will cover Tuition, Required textbooks, Airfare, a Living Stipend, and Health insurance. USEFP also assists with the Visa Process. This Year Fulbright 2021, USEFP hopes to award more than 130 Fulbright scholarships to Pakistani Students. Must check International Chevening Scholarship 2020 in UK (Fully Funded).
Fulbright Scholarship 2021 Brief Description:
Course level: Masters, PhD
Scholarship coverage: Fully Funded
Eligible nationality: International
Award country: United States
Last Date: 15 July 2020.
Join Our WhatsApp Group if You not Joined it Already
Stay in Touch & Follow us on our Social Media Platforms to Get Latest Updates for Latest Opportunities. Facebook Page – Facebook Group – Instagram – Twitter – LinkedIn
If you want to Study Free then apply for University of Victoria Undergraduate Scholarship 2020 in Canada.
Check DAAD International Scholarship 2020 in Thailand (Fully Funded).
Award Benefits:
Fulbright Scholarship 2021 is a Full Free Scholarship in the United States. It's full scholarships for international students in USA. All Expenses will be covered.
Complete Tuition Fee
Textbooks
Airfare Tickets
A living allowance
Health Insurance
Visa Fees
A Computer and Settling-in allowance.
Fulbright awards enable grantees to live at the same standard as most American graduate students.
Check How to Make an Effective Resume (CV) 2020.
Available Study Fields for Fulbright Scholarship:
All Disciplines are eligible except for clinical Medicine.
People in the fields of Energy, Water, Agriculture, Public Health, Education, Social Sciences, Journalism and Mass Communication, Arts and Culture, Management including heritage conservation and museum studies, urban and regional planning, environmental science/studies, security/peace studies, and data science are strongly encouraged to apply.
Eligibility Criteria for USA Fulbright Degree Program:
For the Masters Degree program, a four-year Bachelor's degree or a Bachelor's and Master's combination totaling 16 years of formal education from an accredited university.
Recent graduates are strongly encouraged to apply, except for MBA and Public Policy/Administration applicants, who require 2 years of work experience.
For the PhD degree program, a Master's, M.Phil or comparable degree (a minimum of 18 years of formal education) from an accredited university.
It is highly desirable that candidates have work experience in teaching, research, or the public sector in Pakistan.
For both the Masters and Ph.D. programs, all academic disciplines are eligible, except clinical medicine.
The Graduate Record Examination (GRE) is required for all applicants. Under the new scoring system, minimum scores of 138 in the verbal and 136 in the quantitative sections are required.
Applicants must also possess a high level of fluency in spoken and written English. The Test of English as a Foreign Language (TOEFL) will be required from all the selected candidates.
Check Edinburgh Global Masters Scholarship Online 2020 in UK (Fully Funded).
Application Procedure:
All the applicants must need to submit an Online application form & upload all the required documents which will be given in the Application form. The Link to Online Application and official website is given below. These Links are for Pakistani Students You can check apply links for Your Country.