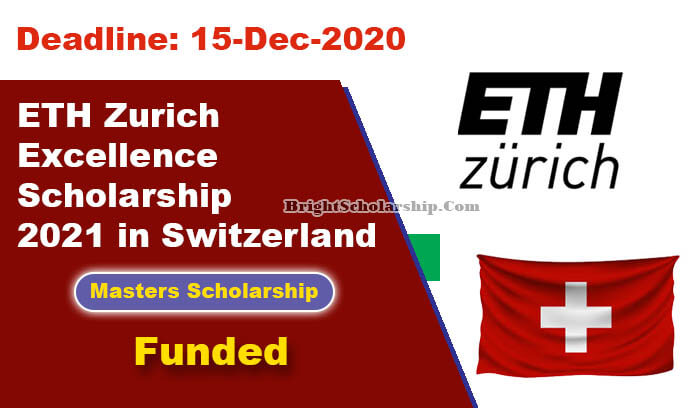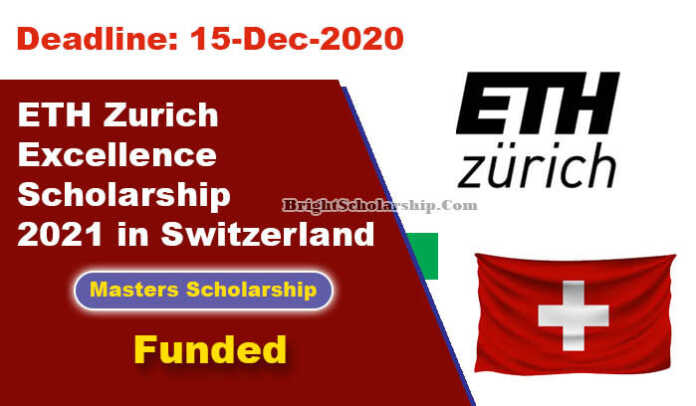 ETH Zurich Excellence Scholarship 2021 for International Students:
Applications are invited to apply for the ETH Zurich Excellence Scholarship 2021 in Switzerland. All National and International Students are eligible to apply for ETH Scholarships 2021. Students who want to study their Masters Degree in Switzerland are encouraged to apply. ETH Excellence Scholarship is one of the most prestigious scholarships in Switzerland. The scholarship is available for the academic session of 2021-22. Also apply for Vidyasirimedhi Institute of Science and Technology Scholarship 2021 in Thailand (Fully Funded).
Almost all academic fields and majors are available for Switzerland Masters Degree Scholarships at ETH Zurich University. The Duration of the Scholarships for Master Degree is 1.5 Year or 2 Year Means 3 or 4 Semester depending on the course.
ETH Zurich University was established in 1855 and is a public research institution located in Zürich. According to QS World University Rankings, ETH is ranked at 6th in the world. About 22,000 national and international students from more than 120 countries are studying here. Must check Zhejiang University CSC Scholarship 2021 in China (Fully Funded).
ETH Zurich Excellence Scholarship 2021 Details:
University: ETH Zurich
Degree level: Masters
Scholarship coverage: Funded
Eligible nationality: International
Award country: Switzerland
Last Date: 15 December 2020.
Join Our WhatsApp Group if You not Joined it Already
Stay in Touch & Follow us on our Social Media Platforms to Get Latest Updates for Latest Opportunities. Facebook Page – Facebook Group – Instagram – Twitter – LinkedIn
Hungarian Government Scholarship University of Debrecen Hungarian Scholarships 2021 in Hungary (Fully Funded).
Also check Cross Culture Program 2021 in Germany (Fully Funded).
Financial Benefits:
ETH Zurich Excellence Scholarship 2021 in Switzerland for International students is offering two types for scholarships to students to pursue Masters Degree Program at the university. Detail is given below:
ETH Zurich Excellence Scholarship
The Excellence Scholarship/ESOP will provide funds for Living Costs and Study Expenses (CHF 12'000/Semester) as well as a Tuition Fee Waiver.
ETH-D Scholarship
The ETH-D Scholarship consists of a Partial Stipend for Living and Study Expenses (CHF 7'500 per semester) as well as a Tuition Fee Waiver.
The Department will Additionally Provide a Scholarship of CHF 3'000 Per Semester or offer an Assistantship (with a payment of CHF 500 – 600 Per Month).
List of Available Study Fields:
ETH Zurich is offering a lot of study fields and areas under this scholarship. Detail is given below:
Architecture and Civil Engineering
Electrical Engineering and Information Technology Master
Mechanical Engineering Master
Cyber Security Master
Data Science Master
Energy Science and Technology Master
Materials Science Master
Architecture Master
Civil Engineering Master
Environmental Engineering Master
Biotechnology Master
Computational Biology and Bioinformatics Master
Computer Science Master
Geomatics Master
Integrated Building Systems Master
Biomedical Engineering Master
Micro and Nano-systems Master
Neural Systems and Computation Master
Nuclear Engineering Master
Process Engineering Master
Spatial Development and Infrastructure Systems Master
Quantum Engineering Master
Robotics, Systems and Control Master.
Check Holland Government Scholarships 2021 in Holland (Funded).
Natural Sciences and Mathematics
Chemistry Master
Chemical and Bioengineering Master
Physics Master
Biology Master
Mathematics/Applied Mathematics Master
Interdisciplinary Sciences Master
Quantitative Finance Master
Pharmaceutical Sciences Master
Pharmacy
Computational Science and Engineering Master
High Energy Physics Master
Statistics Master
System-​oriented Natural Sciences
Health Sciences and Technology Master
Food Science Master
Environmental Sciences Master
Atmospheric and Climate Science Master
Agricultural Sciences Master
Earth Sciences Master
Applied Geophysics Master.
Management and Social Sciences
Documents Required:
Applicants have to submit following document to apply for the award:
Online Application Form
Updates Resume (CV)
Two Reference Letters
Letter of Motivation (1-2 pages)
Pre-Proposal for your Master's thesis.
Eligibility Criteria:
To be eligible for ETH Zurich Scholarships, candidates have to meet the following criteria:
All National & International Students are eligible to apply for ETH Scholarships.
Applicants must have undergraduate degree to apply for masters degree program.
Skype Interview will be conduct in February 2021.
Application Deadline:
The last date to apply for International ETH Scholarship in Switzerland 2021 is 15th December 2020.
Check Hokkaido University MEXT Scholarships 2021 in Japan (Fully Funded).
How to Apply for ETH Zurich Excellence Scholarship?
In order to apply for ETH Zurich Excellence Scholarship 2021 in Switzerland you have to fill online application form. Visit the given below link for more details about application process.