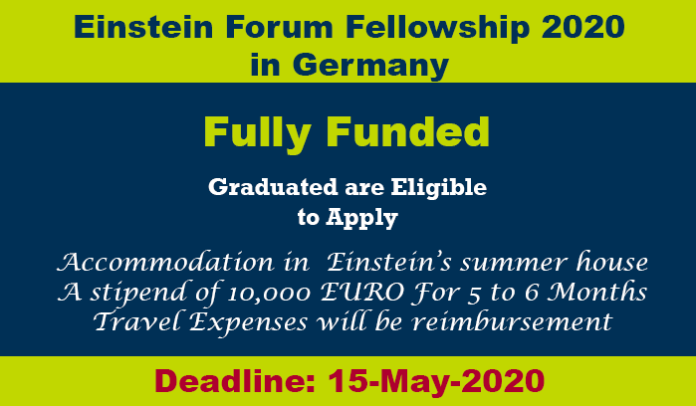 Einstein Forum Fellowship 2020 in Germany for International Students:
Call for the applications to apply for the Einstein Forum Fellowship 2020 in Germany. All the Applicants who are applying for the Einstein Fellowship 2020 must be under 35 years of age. This is a Fully Funded Fellowship in Germany by Einstein Forum for outstanding Young Thinkers. No Need of IELTS/TOEFL for this Fully Funded fellowship scholarship. Also apply for Deakin University Free Online Course 2020 with Free Certificate.
Applicants must have University Degree in Science, Natural Science & Humanities. The duration of this Scholarship in Germany is 5 to 6 Months.This is a scholarship for international students in Germany that will be given to Any Nationality who will propose a Unique Project. Einstein Fellowship Germany will cover your Accommodation cost and Stipend 10,000 Euro for 6 Months which is enough to cover your food and other Cost during Einstein Forum Scholarship and will Reimburse Travel Cost. Must check DAAD Helmut Schmidt Scholarship 2021 in Germany (Fully Funded).
Einstein Forum Fellowship 2020 Brief Description:
Provided by: Einstein Forum
Duration: 5 to 6 Months
Fellowship award: Fully Funded
Eligible nationality: International
Award country: Germany
Last Date: 15 May 2020.
Join Our WhatsApp Group if You not Joined it Already
Stay in Touch & Follow us on our Social Media Platforms to Get Latest Updates for Latest Opportunities. Facebook Page – Facebook Group – Instagram – Twitter – LinkedIn
Great opportunity to Study Free in Salford International Excellence Scholarship 2020 in UK.
Also check Mexico Government Free Online Courses 2020 with Free Certificates.
Financial Support:
Einstein Fellowship Germany 2020 will cover almost all cost Such as:
Accommodation in Einstein's summer house in Caputh.
A stipend of 10,000 EURO For 5 to 6 Months
Travel Expenses will be reimbursement.
About the Einstein Fellowship:
Awarded by the Einstein Forum and the Daimler and Benz Foundation. The Einstein Forum and the Daimler and Benz Foundation are offering a fellowship for outstanding young thinkers who wish to pursue a project in a different field from that of their previous research.
The purpose of the fellowship is to support those who, in addition to producing superb work in their area of specialization, are also open to other, interdisciplinary approaches – following the example set by Albert Einstein.
Check OKP Netherlands Government Scholarship 2020 (Fully Funded).
Eligibility Criteria for Fellowships in Germany:
Candidates must be under 35 and hold a university degree in the humanities, in the social sciences, or in the natural sciences.
Applications for 2021 should include a CV
A two-page project proposal
Two letters of recommendation
All documents must be received by May 15, 2020.
At the end of the fellowship period, the fellow will be expected to present his or her project in a public lecture at the Einstein Forum and at the Daimler and Benz Foundation.
A successful application must demonstrate the quality, originality, and feasibility of the proposed project, as well as the superior intellectual development of the applicant.
It is not relevant whether the applicant has begun working toward, or currently holds, a Ph.D.
The proposed project need not be entirely completed during the time of the fellowship but can be the beginning of a longer project.
Application Deadline:
The last date to apply for the Einstein Fellowship Germany 2020 by Einstein Forum is 15th May 2020.
Check Boston University Free Online Courses 2020.
How to Apply for Einstein Fellowship?
Please read carefully above eligibility criteria and must submit all documents by email [email protected] Although Official Link is given below you can read all details once more.
Should I attach the letters of reference in my application, or should my recommenders send them separately?
We will accept both, but we recommend that your reference letters be emailed to us directly by their respective authors.
Is it mandatory to stay in Einstein's summer house?
Yes. As part of the Einstein Fellowship, we expect the fellow to reside in Caputh.
Is it mandatory to stay in Einstein's summer house?
Yes. As part of the Einstein Fellowship, we expect the fellow to reside in Caputh.
My application was rejected. Can I reapply next year?
As long as you still fit the other eligibility criteria, you may reapply for the fellowship next year with a new proposal.