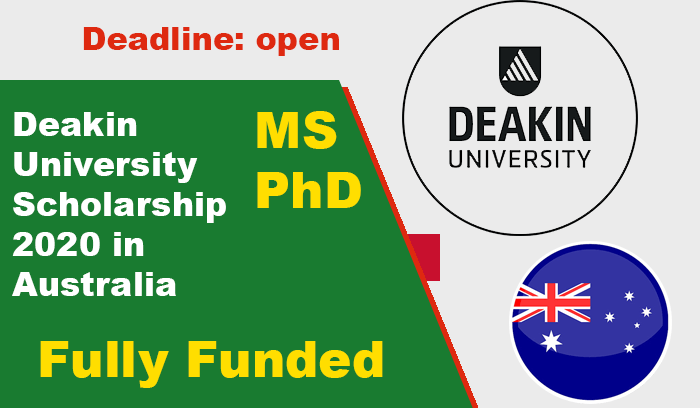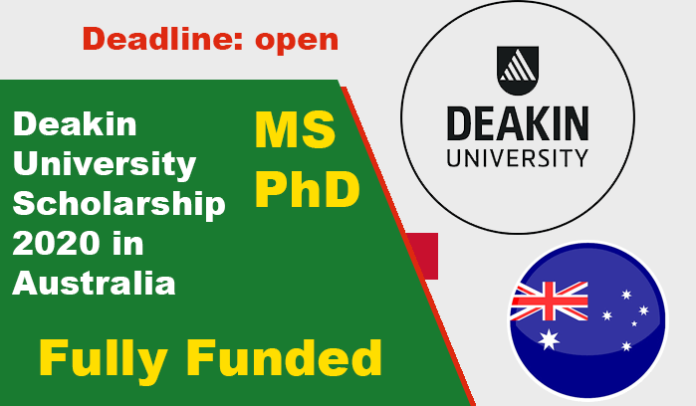 Deakin University Scholarship 2021 for International Students:
Applications are invited to apply for the Deakin University Scholarship 2021 in Australia. Deakin University is offering Fully Funded Scholarships for Domestic and International Students from all over the world. Scholarships in Australia are available to pursue a Master's Degree or PhD Degree. Students those who want to pursue their education from Australia are encouraged to apply. The award is available for the academic session of 2021-22. Also apply for Kyoto University of Advanced Science Scholarship 2021 in Japan (Funded).
Almost all Academic Fields and Majors are Available at Deakin University to undertake postgraduate degree programs. The duration of the Australian Scholarship for Master's Degree will be for 2 Years and for Doctoral Degree will be 4 Years.
Deakin University is a public university in Victoria, Australia. Deakin is one of Australia's fastest growing research universities. 89% of Deakin's research is rated at or above world class. Deakin University ranks 16 in Australia, 18 in Oceania, and 350 in the world in the Webometrics Ranking of World Universities. Must check Shanghai Jiaotong University Scholarship 2021 in China (Fully Funded).
Deakin University Scholarship 2021 Details:
University or Institution: Deakin University
Degree level: Master's & PhD
Scholarship coverage: Fully Funded
Eligible nationality: International
Award country: Australia
Last Date: Accepted all the Year.
Join Our WhatsApp Group if You not Joined it Already
Stay in Touch & Follow us on our Social Media Platforms to Get Latest Updates for Latest Opportunities. Facebook Page – Facebook Group – Instagram – Twitter – LinkedIn
If you are interested in Australia then apply for Griffith University Research Scholarships 2021 in Australia.
Also check TDTU International Graduate Scholarship 2021 in Vietnam.
Financial Benefits:
Australian Scholarships RTP is a Fully Funded Scholarships for International Students in Australia. The scholarships in Australia 2021 will Cover the Following Expenses.
Stipend: An Annual Living Allowance of AUD$28,092 (tax free, 2021 value) for up to 2 Years for a Research Masters degree, and up to 4 Years for a Research Doctorate Degree.
Full Tuition Fee for Masters up to 2 Years & For Doctoral Degree up to 4 Years.
Medical Funds (Paid sick leave).
Overseas Student Health Cover (OSHC)
Travel Allowance Airfare (Travel from their home country to/from Deakin University.
Scholarship Duration:
Master's degree: Up to 2 Years
PhD degree: Up to 4 Years
Check University of Southern Denmark Scholarship 2021 in Denmark (Funded).
List of Available Study Fields:
Deakin University Scholarship in Australia For International Students is offering Scholarships in Most Academic Majors/Faculties. The list of the fields is given below.
Faculty of Arts and Education
Faculty of Business and Law
Faculty of Health
Faculty of Science, Engineering and Built Environment
Institute for Frontier Materials
Institute for Intelligent Systems Research and Innovation.
Eligibility Criteria for Australian Scholarships:
This is a basic Eligibility Criteria for Scholarship in Australia for Masters & for Scholarship in Australia for PhD.
Applicants must be International Students or National of Australia.
Applicants are required to have successfully completed at least the equivalent of an Australian Honors degree.
Must Meet the English Language Proficiency Requirements.
Check Lanzhou University of Technology President Scholarship 2021 (Fully Funded).
Application Deadline:
There is no deadline to apply for Deakin University Scholarship 2021 in Australia. You can apply anytime throughout the year.
How to apply for Deakin University Scholarship?
All the applicants need to submit an Online Application Form. The Link to Online Application Form & Official Advertisement link is given below: