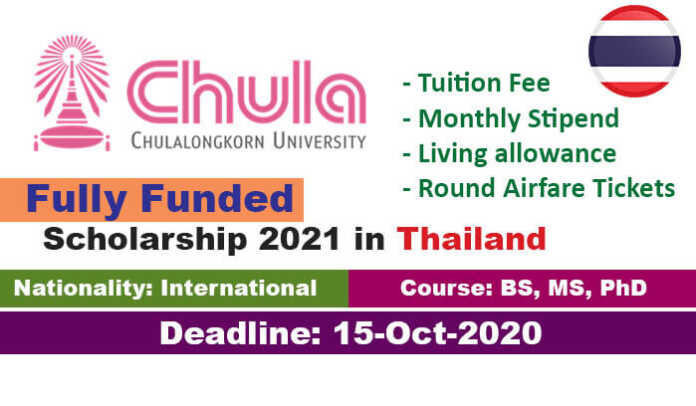 Chulalongkorn University Scholarships 2021 for International Students:
Applications are invited to apply for the Chulalongkorn University Scholarships 2021 in Thailand. All International Students from all over the world are eligible to apply for the Thailand Scholarship. Fully Funded Scholarships by Thai Government are available to  all excellent students to Pursue an Undergraduate Degree, Masters Degree or PhD Degree from Chulalongkorn University. This is the International Graduate Scholarship for students from all over the world. Also apply for Study without GRE and GMAT in USA Universities 2020.
It should be noted that candidates who have been studying at the Chulalongkorn University for more than a term are not let eligible for this scholarship. Secondly, applicants should send their application form or required documents to the faculty program of their choice two weeks before the application deadline set by the unitary officials.
Chulalongkorn University is a public and autonomous research university in Bangkok, Thailand. By the Times Higher Education Emerging Economies Index, Chula ranked 126. Must check Griffith University Research Scholarships 2021 in Australia.
Chulalongkorn University Scholarships 2021 Details:
University: Chulalongkorn University
Degree level: Undergraduate, Masters & PhD
Scholarship coverage: Fully Funded
Eligible nationality: International
Award country: Thailand
Last Date: 15 October 2020.
Join Our WhatsApp Group if You not Joined it Already
Stay in Touch & Follow us on our Social Media Platforms to Get Latest Updates for Latest Opportunities. Facebook Page – Facebook Group – Instagram – Twitter – LinkedIn
Amazing Scholarship in Austria IST International Scholarships 2021 in Austria (Fully Funded).
Also check UMCS International Scholarship 2020 in Poland.
Financial Benefits:
Chulalongkorn University Scholarships 2021 in Thailand is a Full Free Scholarship which will cover all the necessary expense to complete your degree. Detail is given below:
Complete Tuition Fee
A Monthly Stipend and Living allowance 16,000 Baht.
Round Airfare Tickets

For students from ASEAN, the airfare of each leg of the nip must not exceed 8,500 Baht.
Students from Asian countries, the airfare of each leg of the trip must not exceed 12,000 Baht.
For students from Europe, Australia and New Zealand as well as Africa, the airfare of each leg must not exceed 20,000 Baht.
For students from North and South America, the airfare of each leg must not exceed 30,000 Baht
Note: Students are required to pay for their tickets and this amount will be reimbursed upon their arrival at Chulalongkorn University.
Scholarship Duration:
Bachelors Degree: 4 Years
Masters Degree: 2 Years
PhD Degree: 3 Years.
Check CERN Junior Fellowship Program 2020 in Switzerland (Fully Funded).
List of Available Study Fields:
Furthermore, you can check the Full List of the Programs for Bachelors, Masters, & Ph.D. (Here).
Check University of Miami Undergraduate Scholarship 2021 in USA (Fully Funded).
Eligibility Criteria:
Applicants must be international graduate students from ASEAN or Non-ASEAN countries. Faculty members, researchers and academic staff, who will return to teach/work at their home universities after graduation from Chulalongkorn University, are preferred. Note: It should be noted that students from ASEAN or Non-ASEAN countries, who have been studying in any programme at Chulalongkorn University for more than one semester, are not eligible to apply for this scholarship.
Candidate must hold High School Certificate if applying for Undergraduate Degree.
Applicants must have completed a Bachelors degree or a Masters degree in a field related to the field for which they are applying A degree certificate and an official academic transcript must be submitted with their application.
Applicants must have obtained a grade point average of not lower than 2.75 for their undergraduate studies and not lower than 3.25 for their graduate studies.
Applicants must be not be over 35 years of age.
Applicants must have a good command of English. A minimum TOEFL score of 500 or 173 Computer-based or IELTS score of 5.0 is required.
Applicants must be in good health.
Check Vanier Canada Graduate Scholarships 2021 in Canada (Fully Funded).
Required Documents:
A completed Application Form with a 1-inch photograph attached (Click Here)
Curriculum Vitae (CV)
An Academic Transcript issued by the last academic institution that the applicant attended
A certificate of graduation, if available
A photocopy of the applicant's Passport
Two Letters of Recommendation from the Head, the Director or the Dean of the institution of the applicant's affiliation or from the applicant's superiors
A Medical Certificate confirming a physical examination in a hospital in the applicant's home country.
Application Deadline:
The last date to apply for Chulalongkorn University Scholarships 2021 in Thailand is 19 June  2020 for First Semester and 15 October 2020 for Second Semester.
Check Sussex Graduate Scholarship 2020 in UK.
How to Apply for Thailand Graduate Scholarship:
It should be noted that each Faculty/Programme sets its own application dateline and selection schedule. Applicants should send their application form and relevant documents to the Faculty/Programme of their choice at least 2 weeks prior to the deadline set by the University's Office of Academic Affairs. Link to Application Form and Official Advertisement Link is given below: