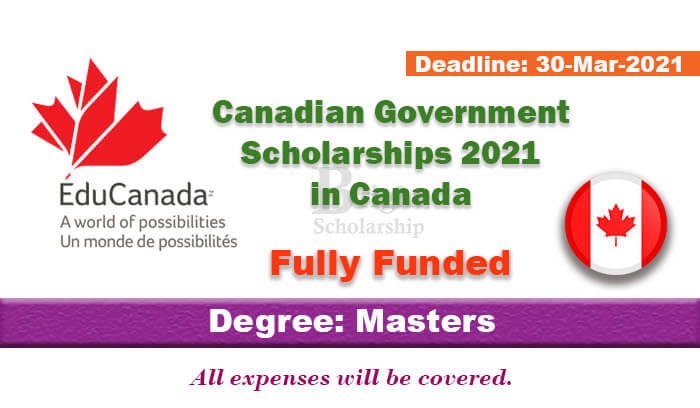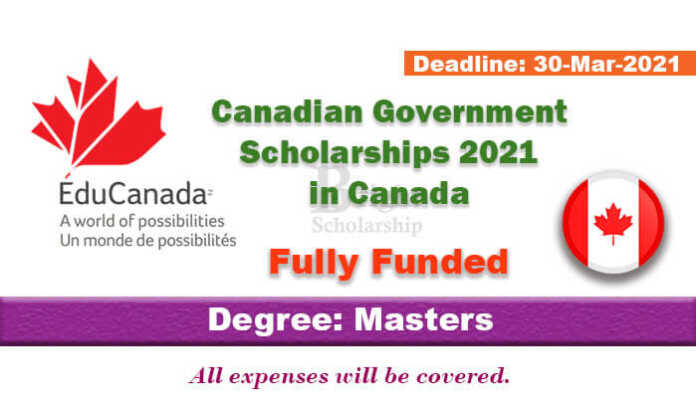 Canadian Government Scholarships 2021 for International Students:
Applications are invited to apply for the Canadian Government Scholarships 2021 in Canada. The Canadian Scholarship is a Fully Funded Scholarship for International Students offering all Academic Disciplines which will cover all the expenses of the selected students to Study Free of Cost in Canada. Canadian Government Scholarships for International Students are opened to pursue Master's Degree Programs. Also apply for Italian Government Scholarships 2021 in Italy (Fully Funded).
Global Affairs Canada Launched Canada Scholarship Program will offer academic scholarships for up to Two Years of Study at the Post-Secondary Level that leads to a Diploma, Post-Secondary or Post-Graduate Certificate, or Master's degree at a college, technical or vocational school, or university in Canada. You can also apply for SIIT Graduate Scholarships 2021 in Thailand (Fully Funded).
Canadian Government Scholarships 2021 Details:
Offered by: Government of Canada
Degree level: Master's
Scholarship coverage: Fully Funded
Eligible nationality: International
Award country: Canada
Last Date: 30 March 2021.
Join Our WhatsApp Group if You not Joined it Already
Stay in Touch & Follow us on our Social Media Platforms to Get Latest Updates for Latest Opportunities. Facebook Page – Facebook Group – Instagram – Twitter – LinkedIn
Great scholarship opportunity KNB Indonesian Government Scholarship 2021 in Indonesia (Fully Funded).
Also apply for Zhejiang Normal University CSC Scholarship 2021 in China (Fully Funded).
Financial Benefits:
The Canada Government Scholarships For International Students 2021 is a Full Free Scholarship for Master Degree Scholarships. International Scholarships will cover the cost of such as:
The Winner will get up to CAD 60,000 for programs of one academic year in duration (e.g. 2 academic terms of up to 4 months each)
Up to CAD 120,000 for programs of two academic years in duration (e.g., up to 20 months, including four academic terms of up to 4 months each and one intervening spring/summer term of up to 4 months)
Also, funds allocated to the recipients by DFATD, the Canadian host institution may also claim CAD 500 per award recipient to assist with administrative costs once the recipient arrives in Canada.
Visa/study/work permit fees/travel related to the collection of biometrics
Economy-Class Airfare Ticket
Health insurance
Tuition fees and mandatory expenses for the academic program for up to 20 months
Living expenses such as accommodation, utilities, and food
Ground transportation expenses, including a public transportation pass
Books and supplies required for the recipient's study or research, excluding computers and other equipment.
Note: the award does not cover language training.
Check Paris-Saclay University International Scholarship 2021 in France (Fully Funded).
Scholarship Duration:
The Duration of the Scholarship in Canada for the Master Degree Scholarship or for Short Courses such as:
Minimum of One Academic Year (8 months)
Maximum of Two Academic Years (24 months total), which must begin between August 2021 and February 2022.
Available Academic Programs:
The Study in Canada Scholarships program is open to students from all disciplines.
Eligibility Criteria:
Must be citizens of one of the following eligible countries: Azerbaijan, Bhutan, Comoros, Djibouti, Fiji, Kazakhstan, Kiribati, Liberia, Mauritania, Micronesia, Palau, Tonga, Uzbekistan, Turkmenistan, and Vanuatu. Palestinians from the West Bank, Gaza and East Jerusalem are also eligible.
Must not hold Canadian citizenship or permanent residency and must not have a pending application for permanent residency in Canada.
Must apply and be admitted to a full-time academic program at a Canadian post-secondary institution;
Should indicate their interest in being considered for the Study in Canada Scholarships program when applying for admission at a Canadian institution, and
Must possess the linguistic competencies necessary to undertake studies in the language of instruction at the Canadian post-secondary institution (English or French).
Check Singapore Government Scholarships 2021 in Singapore (Fully Funded).
Application Deadline:
The last date to apply for the Canadian Government Scholarships For International Students 2021 is 30th March 2021
How to Apply for Canadian Government Scholarships?
There is Online Applications System to apply for Canadian Government Scholarships. The Detailed procedure is given below under a Link. Please check the Official Website Link.