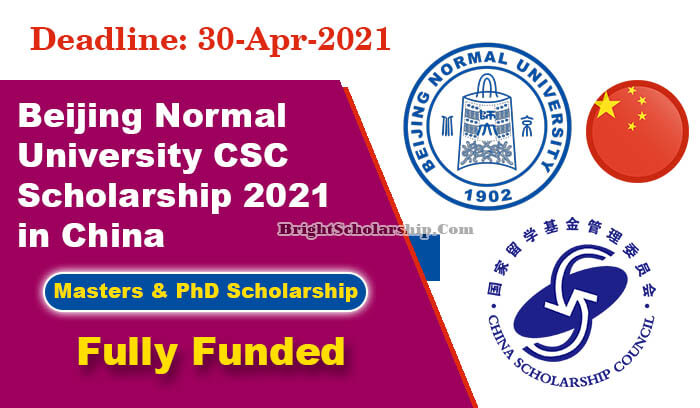 Beijing Normal University CSC Scholarship 2021 for International Students:
Applications are invited to apply for Beijing Normal University CSC Scholarship 2021 in China. The Scholarship is provided by Chinese Government. All International Students from all over the world are eligible to apply for Chinese Government Scholarships at Beijing Normal University. Students those who want to undertake their Masters Degree or PhD Degree from Beijing Normal University China are encouraged to apply. This is a Fully Funded Scholarship available for academic year of 2021-22. Also apply for Renmin University CSC Scholarships 2021 in China (Fully Funded).
Almost all academic fields and majors are offered by Beijing Normal University under Chinese Government Scholarship to study Postgraduate Degree Programs. IELTS/TOEFL is not required for CSC Scholarship. The duration of the Master's Degree is 3 Years & for Doctoral Degree 4 Years. The award will cover all the expenses.
Beijing Normal University (BNU) was established in1902 is a public research institution located in Beijing, China. BNU is ranked at 25th globally by QS World University Rankings. Almost 25,000 national and international students are enrolled in the university. You may also apply for Dalian University of Technology CSC Scholarship 2021 in China (Fully Funded).
Beijing Normal University CSC Scholarship 2021 Details:
University: Beijing Normal University
Degree level: Master's, PhD
Scholarship coverage: Fully Funded
Eligible nationality: International
Award country: China
Last Date: 30 April 2021.
Join Our WhatsApp Group if You not Joined it Already
Stay in Touch & Follow us on our Social Media Platforms to Get Latest Updates for Latest Opportunities. Facebook Page – Facebook Group – Instagram – Twitter – LinkedIn
Here is great opportunity to Study Free in Netherlands Radboud University Scholarships 2021 in Netherland (Fully Funded).
Also check Queen Elizabeth Commonwealth Scholarship 2021 (Fully Funded).
Financial Benefits:
Beijing Normal University Chinese Government Scholarship is a Fully Funded scholarship for international students. The following things will be covered:
Registration Fee
100% Tuition Fee will be given.
Free Accommodation will be provided on campus
Monthly allowance is offered as followings:

Master Degree: 3,000 CNY/month
Doctor Degree: 3,500 CNY/month

Comprehensive Medical Insurance
List of Available Study Fields:
Applicants can select any study field according to their choice from given below study areas:
School of Chemistry
School of Mathematics
School of Psychology
Faculty of Education
School of Life Science
School of Chinese Language and Literature
School of Law
School of Economy and Business Administration
School of Foreign Language and Culture
School of Resources
School of Geography
Department of Astronomy
School of History
School of Philosophy
Department of Physics
School of Sociology
School of Arts and Mass Media
School of Environment
School of Systems Science
School of Social Development and Public Policy.
Check Stipendium Hungaricum Scholarships 2021 in Hungary (Fully Funded).
Documents Required:
Candidates have to upload and submit hard copies of following documents:
CSC Scholarship Application Form
Application Form for International Students from BNU online portal
Official Transcripts and Degree Certificate of highest degree
Valid Passport Copy
Updated CV or Resume
Two recommendation letters
Foreigner Physical Examination Form
English Language Proficiency Certificate for English taught programs or HSK Certificate for Chinese taught programs
Original Statement of Guarantee
Eligibility Criteria:
Applicants must be non-Chinese citizens in good health.
Education background and age limit:

Applicants going to apply for master degree must have Undergraduate degree and be under the age of 35.
Candidates for PhD degree programs must hold Master's degree and be under the age of 40.

Applicants currently not enrolled in any Chinese university and not availing any other scholarship.
Check CERN Online Summer Student Program 2021 (Fully Funded).
Application Deadline:
The last date to apply for Beijing Normal University Chinese Government Scholarship 2021 for International Students is 30th April 2021.
How to apply for Beijing Normal University CSC Scholarship?
To apply for Beijing Normal University CSC Scholarship 2021, applicants need to follow the given below steps. The Complete procedure is given below in the Official Link:
Apply Online at  CSC website https://studyinchina.csc.edu.cn, upload all the necessary documents and then download the application form. The Scholarship Type is B and Agency Number is 10027.
All the students are also required to submit the online application at BNU online portal: http://apply.bnu.edu.cn/
Pay Application Fee Online of 600 RMB
Send Hard Copies to the given below address.
Mailing Address: Provost's Office and Academic Affairs (Graduate School), Admission Office
Beijing Normal University
A103, Main Building, No. 19 Xinjiekouwai Street, Haidian District
Beijing, China 100875
E-Mail: egp@bnu.edu.cn