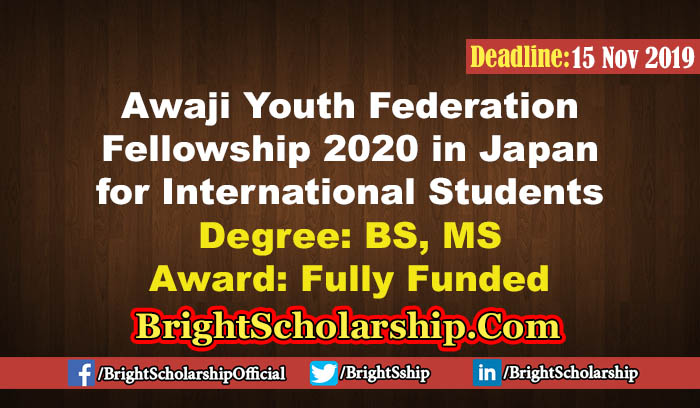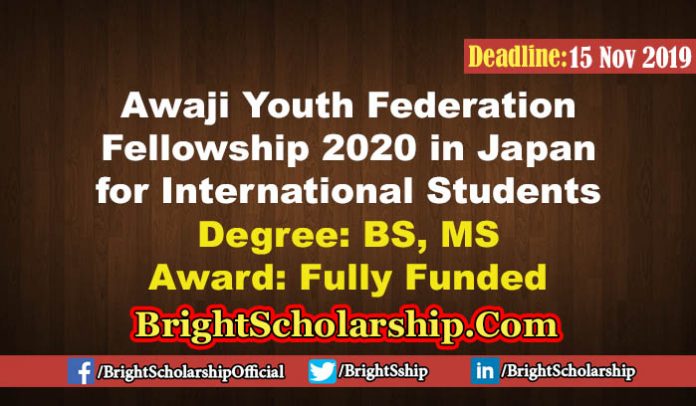 Awaji Youth Federation Fellowship 2020 in Japan Fully Funded:
Applications are open to apply for the Fully Funded Awaji Youth Federation Fellowship 2020 in Japan. Awaji Youth Fellowship is Funded by the Pasona Group an international community of young innovators based on Awaji Island, Japan.
The aim of the Awaji Youth Federation Fellowship is to bring Youth from around the world with the passion to challenge themselves. The main focus is a regional revitalization of the island, cultural creation, and entrepreneurship.
The Awaji Youth forum is dedicated to Youth age between 18-35 Graduated with a Bachelors Degree or Master Degree. The Fellowship will cover the expenses of the Participants during the Program.
You may also like:
Awaji Youth Federation Fellowship 2020 Brief Description:
Country: Japan
Award: Fully Funded
Duration: 12 Months
Nationality: International
Last Date: 15 November 2019
What is AYF:
AYF is one of the newest and most promising projects of Pasona Group Situated in Awaji Island.
AYF is seeking for Next Generation Leaders with the passion to challenge themselves in a Unique Global Community by taking advantage of this Once in a Lifetime Opportunity.
Young Youth Come together across cultures, backgrounds, and Disciplines to use their skills and find a solution to global issues.
Fellows will have a chance to enhance their skills through active involvement in new business projects and facilities operated by Pasona Group on Awaji Island.
Financial Benefits:
The Following Expenses Given below will be Covered by the Organizers of the Program for all the Participants.
Program
Cost: JPY 90,000/mo
5 days a week of working & learning
​10 days of paid leave available six months into the program
Accommodation
Cost: JPY 26,000/mo
Individual room in either Japanese or Western-style
Utility costs such as electricity and Wi-Fi are included
Meals (Working Days only)
Cost: JPY 20,000/mo
Although AYF attempts to accommodate Fellows with food allergies, special dietary needs or those following religious dietary practices including Halal diet, the dishes we provide are general buffet style
Eligibility Criteria
Graduated with a Bachelor's or Master's Degree
Commitment to solving society's problems and contributing to Pasona Group's projects.
Open to staying on Awaji Island after the year at AYF and continuing to work on regional revitalization
Core values of hard work, discipline, and care for others
Flexible, perseverance and resilience
The ability and drive to translate ideas into concrete action
How to Apply:
You have to download the Application Form. The Link of the Application Form & Guidelines is given below. The official link is also given below.