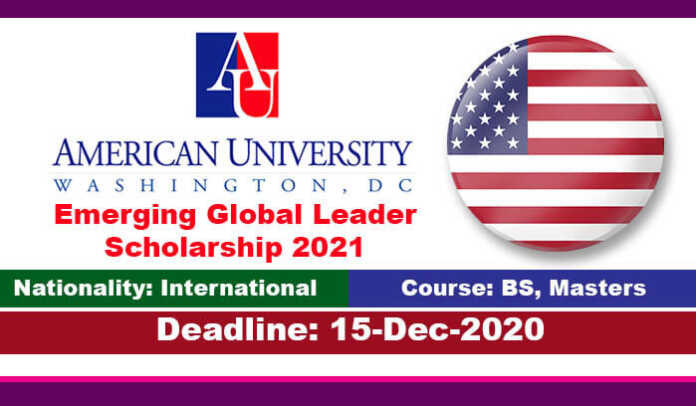 American University Global Leader Scholarship 2021 for International Students:
Applications are invited to apply for the American University Global Leader Scholarship 2021 in United States. All International Students from any part of the world are eligible to apply for AU Emerging Global Leader Scholarship 2021. Students those who want to undertake their Bachelors Degree or Masters Degree from The American University are encouraged to apply. Fully Funded Scholarships are available for the academic session of 2020-21 for all students. Also apply for YLP MEXT Scholarship at GRIPS 2020 in Japan (Fully Funded).
International Emerging Global Leader Scholarship 2021 will cover all the necessary expense to complete degree from USA. Distance learning scholarships are also available but only for Masters Degree students. The Scholarship duration for an Undergraduate Degree is 4 Years while 2 Years for Masters Degree. Almost all Academic Fields & Majors are available at the university.
The American University (AU) was established in 1893. It is a private research university located Washington, D.C, United States. AU has more than 160 degree programs in which 10 are PhD degree programs, 87 Masters Degree programs and 71 are undergraduate degree programs. Almost 13,000 national and international students from more than 141 countries are enrolled in AU. It is ranked at 77th in 2020. You may also be interested in Islamic University of Madinah Scholarship 2020 in Saudi Arabia (Fully Funded).
American University Global Leader Scholarship 2021 Details:
University: American University
Degree level: Bachelors & Masters
Scholarship coverage: Fully Funded
Eligible nationality: International
Award country: United States
Lat Date: 15 December 2020 (for BS), Apply anytime for Masters.
Join Our WhatsApp Group if You not Joined it Already
Stay in Touch & Follow us on our Social Media Platforms to Get Latest Updates for Latest Opportunities. Facebook Page – Facebook Group – Instagram – Twitter – LinkedIn
Don't miss this amazing opportunity University of Sydney Scholarships 2020 in Australia (Fully Funded).
Also check List of Best International Scholarships in Germany 2020.
Financial Benefits:
American University Global Leader Scholarship 2021 in United States for International Students for Undergraduate Degree will provide the following expenses:
Complete Tuition Fee
Room
Board
Note: The EGL scholarship will not cover the following expenses which will be round about $4,000 per year:
Health Insurance
Books
Airline Tickets
Miscellaneous Expenses.
Check HENNGE Global Internship Program 2020 in Japan.
List of Available Study Fields:
Undergraduate Programs
American University offers 71 undergraduate degree programs under AU Emerging Global Leader Scholarship 2021. You can check the List of all Programs (Clicking Here)
Online Master Degree Programs
Master of Science in Nutrition Education
Master of Science in Counter-Terrorism and Homeland Security
Master of Science in Health Promotion Management
Master of Public Administration and Policy
Master of Arts in Strategic Communication
Master of Arts in Economics, Applied Economics
For more Distance Learning Courses, you can Read here
About the EGL Scholarship in USA:
The AU International Leader Scholarship provides opportunity and promotes educational access while enhancing international diversity.
Bringing together the best of AU – global engagement, leadership development and academic excellence – the AU Global Leader serves, inspires and achieves with vision.
The Emerging Global Leader is dedicated to social and positive civic change and will return home to improve underserved, under-resourced communities in their home country.
Check Vice-Chancellor's Undergraduate Scholarship 2020 in UK.
Eligibility Criteria for AU Emerging Global Leader Scholarship:
To Apply for American University Global Leader Scholarship 2021 in United States, you need to fulfill the following criteria:
Applicants with any nationality are eligible to apply for American University Online Masters Scholarships.
Candidates must hold their Bachelors Degree for a Masters degree program.
Students applying for the scholarship must have an excellent academic record.
Candidates with leadership qualities would be given preference.
Candidates need to maintain a 3.0 GPA in the first two-semester of the Master's Program.
Ineligibility Criteria:
If applicant is permanent resident of USA or Citizen of USA or have Dual nationality with USA.
If you started studies in US or Home country already.
Candidates Graduated earlier than 2019 from secondary school.
Check Study without GRE and GMAT in USA Universities 2020.
Application Deadline:
The last date to apply for the AU Emerging Global Leader Scholarship in United States is 15th December 2020 for Undergraduate Students and Masters Degree Students can apply Anytime.
How to Apply for AU Global Leader Scholarship?
There is an Online Application Portal to apply for American University Global Leader Scholarship 2021 in United States. Official links to apply for both bachelors degree and masters degree are given below: