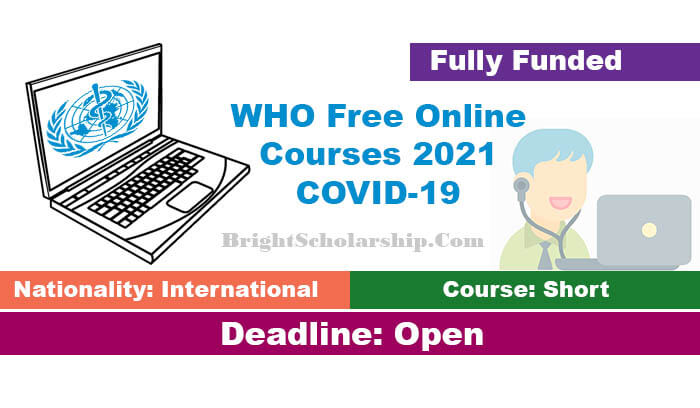 WHO Free Online Courses 2021 COVID-19:
Applications are open to apply for the WHO Free Online Courses 2021 COVID-19 with Free Certificate. All International Applicants from any part of the world can enroll in these free online course. OpenWHO courses are self-paced, meaning you can take as much time as you need to complete a course. The COVID-19: Operational Planning Guidelines are one of the most popular courses in the current time. Also apply for University of Maryland Online Courses Free 2021 with Certificate.
WHO Online Courses are offered for free. Those who completed the WHO free online course on Corona Virus will get a free certificate. OpenWHO offers two types of certificates: records of achievement and confirmations of participation.
OpenWHO is the first WHO platform to host unlimited users during health emergencies. It provides you with a fast and free way to obtain the latest scientific and operation know-how. With a dynamic interface, accessible through your computer and mobile device, OpenWHO offers off-line downloads, peer discussion boards and live briefings from ongoing health emergencies. You can also apply for University of Science & Technology Scholarships 2021 in Korea (Fully Funded).
WHO Free Online Courses 2021 Details:
Provided by: World Health Organization
No. of Courses: Unlimited
Access mode: Online
Eligible nationality: International
Last Date: Open.
Join Our WhatsApp Group if You not Joined it Already
Stay in Touch & Follow us on our Social Media Platforms to Get Latest Updates for Latest Opportunities. Facebook Page – Facebook Group – Instagram – Twitter – LinkedIn
Study Free in United Kingdom by Applying for Wellcome International Master's Fellowships 2021 in UK (Fully Funded).
Also check King Abdulaziz University Scholarship 2021 in Saudi Arabia (Fully Funded).
WHO Online Course Benefits:
Free to Everyone
No Nationality Restrictions
No Academic Restrictions
Self-Paced
Online Course with Free Certificate
Essay to Access
WHO Course Duration:
 Approximately 1 hour for Modules 1 and 2 and another hour for Module 3.
WHO Online Course Certificates:
A Record of Achievement will be available to participants who score 80% or higher in the cumulative course assessment for both Modules 1 and 2. Module 3 is free of any certification.
Key Learning Objectives of Free Online Course:
Be able to educate yourself and others about the importance of operationalizing the SPRP for the COVID-19 outbreak using the Operational Planning Guidelines
Be able to describe the 8 major pillars of public health preparedness and response and initial actions to be taken by the UN country teams
Be able to access the full set of actions, performance indicators and resources needed to conduct the preparedness level assessment using the COVID-19 Partners Platform for country preparedness and response plans
Check DAAD Scholarships 2021 in Germany (Fully Funded).
Course Contents:
Module 1: Mission and purpose of this program (incl. COVID-19 knowledge):
This module provides a description of the purpose and context for this learning package, leadership words, and relevant COVID-19 knowledge.
Module 2: Country-level preparedness and response:
This module provides an introduction to the Operational Planning Guidelines to Support Country Preparedness and Response, and access to relevant information and documentation.
Module 3: Pillars of the public health response:
This module is technical deep dive into each of the 8 pillars of the public health response as described by the Operational Planning Guidelines to Support Country Preparedness and Response.
Check World Bank Graduate Scholarship Program 2021 (Fully Funded).
Eligibility Criteria:
Open to Everyone
No Academic Restrictions
No Nationality Restrictions
How to Enroll in WHO Free Online Course 2020?
You have to apply Online for Online Free Courses by WHO. Once you have created an account on OpenWHO and are logged in, you can choose the course you want to take from the list of available courses on OpenWHO. Link to Online Application Form and Official Advertisement Link is given below: