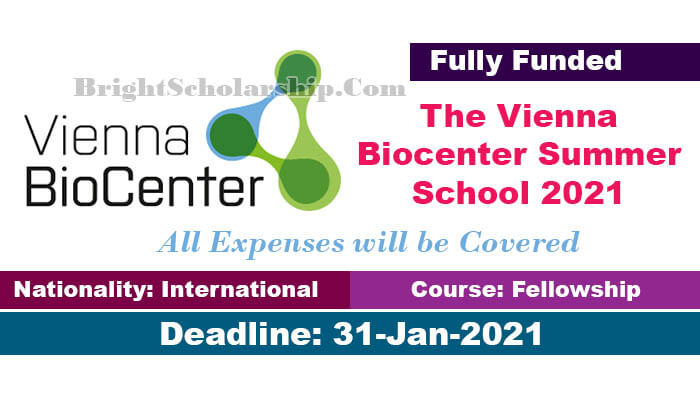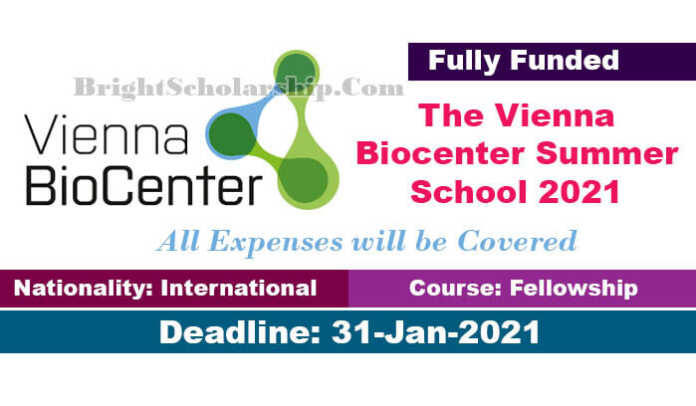 Vienna Bio Center Undergraduate Fellowships 2021 for International Students:
Applications are invited to apply for the Vienna Bio Center Undergraduate Fellowships 2021 in Austria. All International Students from all over the world are eligible to apply for the Vienna Biocenter Summer School 2021. If you have a passion for biology, get ready to apply for the Fully Funded Fellowship in Austria. Undergraduate and Masters Degree students have a good chance to work in world's best labs with great researchers. Also apply for Asia Pacific University MEXT Scholarship 2021 in Japan (Fully Funded).
This Summer School will provide all the expenses. A wide range of research projects are available in the areas of biochemistry, stem cells, Molecular biology, bioinformatics, neuroscience, RNA biology and immunology. The applications for this summer school will open on 1 December 2020. Almost 30 students selected each year for the program.
Every year the Vienna Bio center summer school takes onboard talented individuals. These individuals are provided the chance to work along side expert scientists in the field of biology. The best part about this summer school is the fact that it is completely funded. Must check Charles Darwin University RTP Scholarship 2021 in Australia (Fully Funded).
Vienna Bio Center Undergraduate Fellowships 2021 Details:
Provided by: Vienna Bio Center, Austria
Fellowship coverage: Fully Funded
Eligible nationality: International
Award country: Austria
Start date: 1 December 2020.
Last Date: 31 January 2021.
Join Our WhatsApp Group if You not Joined it Already
Stay in Touch & Follow us on our Social Media Platforms to Get Latest Updates for Latest Opportunities. Facebook Page – Facebook Group – Instagram – Twitter – LinkedIn
Don't miss this amazing opportunity Koc University Turkish Scholarship 2020 for International Students (Fully Funded).
Also check Fully Funded Taiwan Scholarship 2021 for International Students.
Financial Benefits:
Vienna Bio Center Undergraduate Fellowships 2021 in Austria for students from around the world is a Full Free Summer School for the duration of 9 Weeks. Details of coverage is given below:
Free Accommodation will be provided.
Stipend of 1400 euros will be provided to each selected candidate after tax for the duration of nine weeks program
Comprehensive Medical Insurance
A free travel pass providing unlimited use of public transport within Vienna for the duration of the scholarship
Reimbursement of travel costs to and from Vienna
Numerous social events
Eligibility Criteria for Austria Summer School:
Completed at least 2 years of an Undergraduate Degree at University or at least 1 year of a Master Degree by 30 June.
Applicant have previous research experience
Good academic record
High level of English language
Evidence of enrollment in a University program for the current academic year and the next year (if possible).
Check Tulane University Global Scholarship 2020 in United States.
Application Deadline:
The last date to apply for the Vienna Bio Center Summer School 2021 in Austria is 31st January 2021.
How to Apply for Summer School in Austria:
There is an Online Application System to apply for the Vienna Bio Center Undergraduate Fellowships 2021 in Austria. The Official Advertisement link is given below: