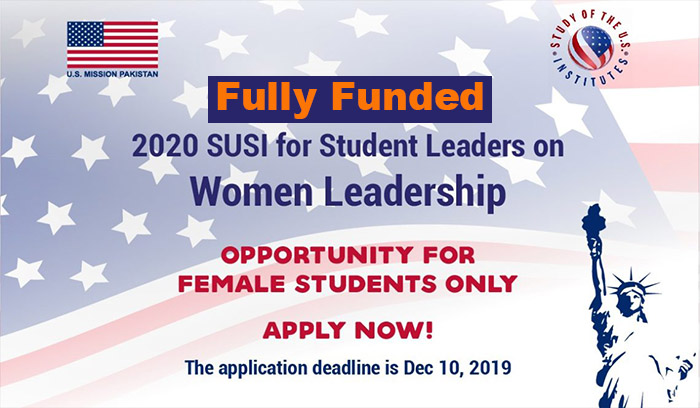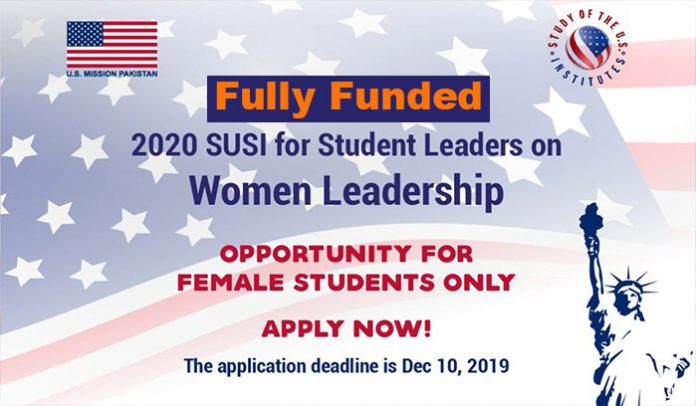 SUSI Leadership Summer Exchange Program 2020 in USA:
Applications are invited to apply for SUSI Leadership Summer Exchange Program 2020 in USA. Currently Exchange Program is open for Females only bit SUSI 2020 for Male will open in a few days.Its Fully Funded Summer Exchange Program. Also apply for Fully Funded UNIL Summer Internship 2020 in Switzerland.
Selected candidates will spend 5-6 Weeks in the United States from late June to early August 2020 at the University of Kansas. There is No Need for IELTS/TOEFL. You Don't need CGPA. Also, No Need for Passport at the time of applying for the SUSI Exchange Program 2020.
SUSI Summer Exchange Program for Pakistani students is designed for Pakistani Students enrolled at a university in Pakistan. SUSI program is for cultural/academic, a Leadership exchange free study in the USA for Pakistani students through a Short Term cultural exchange program for Pakistani students. Must apply for University of iowa Summer Exchange Program 2020 in USA (Fully Funded).
SUSI Leadership Summer Exchange Program 2020 Brief Description:
University or Institution: University of Kansas (Kansas State)
Duration: 5-6 Weeks
Coverage: Fully Funded
Award country: United States
Last Date: 10 December 2019.
Also check Fully Funded PhD Scholarship at University of Zurich 2020 in Switzerland.
Must check University Of Huddersfield Scholarship 2020 for International Students.
Information For Applicants:
The aim of the SUSI Pakistan Cultural Exchange Program is to promote a mutual understanding between the people of the United States & the people of Pakistan.
The Program is for those students who are interested in deeper Understandings of the United States & to enhance their leadership skills.
Note: this is Not an Academic Program. Participants with any academic Background are eligible & highly encouraged to apply. No CGPA requirements.
Fields:
Those who are applying for SUSI 2020 Women Leadership, should have a strong interest in the topic of "Women's Leadership". There are No Academic Restrictions. SUSI 2020 For Male will open in Just a Few Days.
Financial Coverage:
SUSI is a Fully Funded & all expenses covered program by the U.S. Department of State. You Don't have to Spent a Single Penny.
Round Airfare Travel Economy Class Tickets.
VISA Fee.
Airport Expenses ($250).
Monthly Stipend Up to $800 for the whole Program.
Meals (Breakfast, Lunch Dinner).
Full Accommodation.
All Field Trips inside the US.
A Mobile Phone
An IPAD
Opening Conference at Washington D.C

A Free Study Tour to Chicago, Illinois. So, It Means You will see 4 Different U.S States (Washington DC, Kansas, Chicago, Illinois).
Eligibility Criteria for SUSI 2020:
If You Meet the Following Eligibility Criteria. Then You can apply for the SUSI US Exchange program.
Females Undergraduates Only.
Currently enrolled in a public college/university or studying in a private institution.
If you are enrolled in a Two-Year Bachelor's Program, you are eligible to apply if you are not in your final year of study. Final year students are not eligible to apply.
If you are enrolled in a Four-Year Bachelor Program you can apply if you have at least one semester of study remaining. Final semester students are not eligible to apply.
Students Enrolled in (2nd,3rd,4th,5th,6th,7th) of their 4 Year Bachelor Degree Can Apply.
Students Enrolled in (2nd,3rd,4th,5th,6th,7th,8th,9th) of their 5 Year Medical Degree Can Apply.
NOTE: When I was Applying For SUSI 2017 in November. My 7th Semester of 4 Year Bachelors Degree was Just Ended. I was Selected. So, Try Your Luck those who are in their Final Semester.
Note: You Don't Need English Language Certificate Like IELTS, TOEFL or any other Language Test.
Have a strong interest in the topic of Women Leadership
Fluent in English
Be between 18 and 25 years of age
Demonstrate strong leadership qualities
Indicate a serious interest in learning about the United States
Selection Timeline
Interviews: Late December 2019 OR in the First Week of January Through Skype or Telephonic Interview. Only shortlisted candidates will be contacted.
Final Result: Mid-March 2020.
Passport & Visa: Selected participants will need to obtain passports & apply for U.S. visas with the assistance of the Public Affairs Section of the U.S. Embassy. (They will Guide You).
Travel to the US: In the Summer of 2020. From late June to early August 2020.
Application procedure (Very Important):
Download the SUSI 2020 Application Form given in the Official Link. 
The Form is in MS Word. Fill the Application Form. Convert the Completed Application Form into PDF.
You have to Email Your PDF Application Form at [email protected]
While Emailing Your Application Form kindly use the following format for the Subject Line: Applicant Name, Name of Institution, City in which you study, for e.g. AYESHA KHAN, NUST, ISLAMABAD.