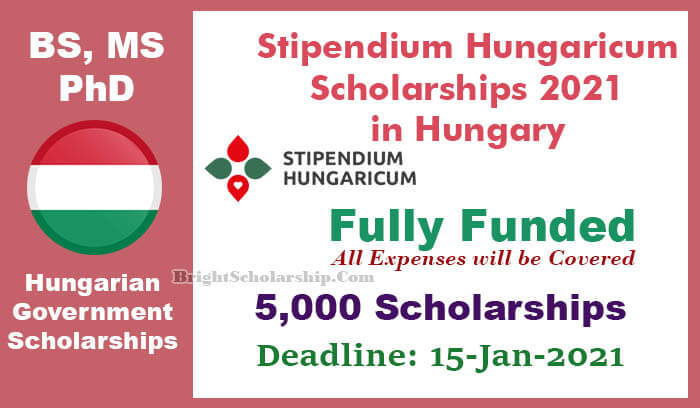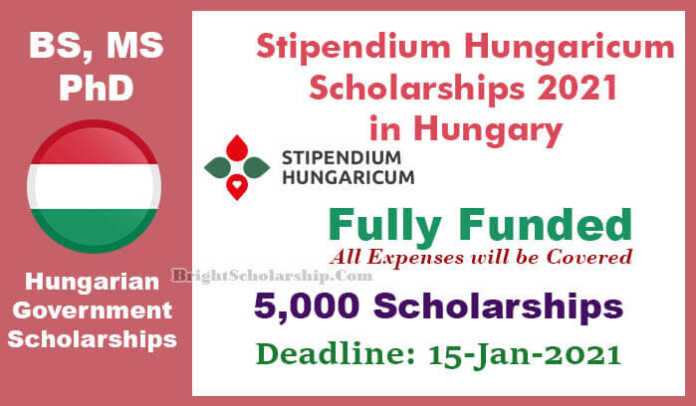 Stipendium Hungaricum Scholarships 2021 for International Students:
Applications are invited to apply for the Stipendium Hungaricum Scholarships 2021 in Hungary. All International Students from all over the world are eligible to apply for Hungarian Government Scholarships. Government of Hungary is providing Fully Funded Scholarships to all the students to undertake their Bachelors Degree, Masters Degree, PhD Degree or Non Degree program in Best Universities of Hungary. The award is available for the academic year of 2021-22. Also apply for Radboud University Scholarships 2021 in Netherland (Fully Funded).
Almost all academic fields and majors are available to pursue undergraduate or postgraduate degree programs. All the programs will be Taught in English. All the expenses will be covered by Government of Hungary.
The number of Stipendium Hungaricum applicants are continuously increasing as well as the number of available scholarship places. Every year round about 5,000 scholarships are given to most talented student from around the world. Must check Hammad Bin Khalifa University Scholarship 2021 in Qatar (Fully Funded).
Stipendium Hungaricum Scholarships 2021 Details:
Provided by: Government of Hungary
Degree level: Bachelor, Master's, Doctoral
Scholarship Coverage: Fully Funded
Eligible nationality: International
Award country: Hungary
Last Date: 15 January 2021.
Join Our WhatsApp Group if You not Joined it Already
Stay in Touch & Follow us on our Social Media Platforms to Get Latest Updates for Latest Opportunities. Facebook Page – Facebook Group – Instagram – Twitter – LinkedIn
Study Free in China Northeast Agricultural University CSC Scholarships 2021 in China (Fully Funded).
Also check Swedish Institute Scholarships 2021 by Sweden Government (Fully Funded).
Financial Benefits:
The Stipendium Hungarian Scholarship is a Fully Funded Scholarship for all the Participants. The benefits of the Hungarian Stipendium is given below.
Complete Tuition Fee will be given for Bachelors, Masters & PhD Degree.
A Monthly Stipend of 43,700 HUF/Month will be provided
Free Accommodation
Comprehensive Health Insurance
A Round Airfare Travel Tickets Might Finance your Travel Costs to Hungary but it is Not obligatory for them by the Sending Authority of Your Country.
List of  Universities & Course Finder:
CLICK HERE to find the eligible host institutions and details of their study programs. You can select Universities according to Your Field of Interest.
List of Available Study Fields:
Here is a list of all Academic Fields, Majors & Departments available in the University of Debrecen Under Stipendium Hungaricum Scholarship program 2021-2022.
Agriculture Programs
Animal Husbandry Engineering
Agricultural Environmental Management Engineering,
Agricultural Water Management Engineering
Food Safety and Quality Engineering
Plant Protection,
​Rural Development Engineering
Business Program
International Economy and Business,
Engineering Programs
Engineering Management,
Environmental Engineering,
Mechatronic Engineering,
​Mechanical Engineering,
Urban Systems Engineering
Health Programs
Complex Rehabilitation,
Public Health,
Social Work in Health Care,
Social Work and Social Economy,
Humanities Programs
English Studies,
American Studies,
Science Programs
Applied Mathematics,
Biology,
Chemistry,
Environmental Sciences,
Geography,
​Hydrobiology – Water Quality Management,
Molecular Biology
Computer Science
Computer Science Engineering
Law Program
European and International Business Law- LL.M.
Music Program
Classical Musical Performance
Documents Required:
You need to prepare and upload the following documents for the Hungary Government scholarship.
Certificate of Education (school-leaving Qualification, High school diploma, a document of Graduation or any Equivalent, University or College Diploma/Certificate or any equivalent; all in English (translated).
Certificate or Proof of citizenship and/or permanent residence (e.g. Passport).
Short Resume/CV
Medical Certificate – Please see a Template HERE
Citizens, nationals, or permanent residents of the United States of America applying for the Medicine program of the University are required to submit their Medical College Admission Test (MCAT) results.
Note: IELTS/TOEFL Language Certificate is Not a Compulsory to apply for scholarship.
Check TU Delft Excellence Scholarship 2021 in Netherlands (Fully Funded).
Application Deadline:
The last date to apply for Hungary Government International Scholarship 2021 is 15th January 2021.
How to apply for Stipendium Hungaricum Scholarships?
Apply online for this Stipendium Hungaricum Scholarships 2021 in Hungary. A Step by Step Process is given. Before submitting your application, carefully read the call for the 2021 Scholarship in Hungary for International students. The official advertisement link is given below: