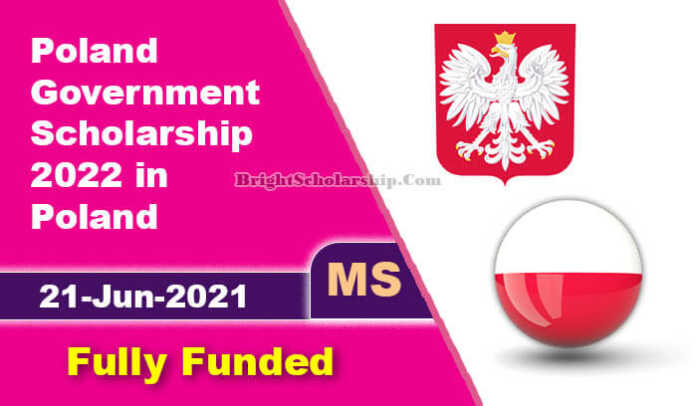 Poland Government Scholarship 2022 for International Students:
International Students are invited to apply for the Poland Government Scholarship 2022 in Poland. Students who want to Study Free Master's Degree from Poland are encouraged to apply for Łukasiewicz Scholarship. Banach Scholarship Program and the Lukasiewicz Scholarship Program, are merged into one scholarship. Applicants from All over the globe with any Academic Filed are eligible to apply for the Government of Poland Łukasiewicz Fully Funded Scholarship. The Scholarship is open to any Citizen from around the world. Also apply for University of Brunei Darussalam Scholarship 2022 in Brunei (Fully Funded).
Poland Government Scholarship is available in many academic fields & Majors e.g. Engineering, IT, Science, Social Science, Arts, etc. The scholarship will cover all the expenses to undertake Masters Degree Program.
This Scholarships in Poland for International Students 2022 is a joint study in Poland scholarship and is initiative of the Ministry of Foreign Affairs and the Polish National Agency for Academic Exchange (NAWA) Program and will be implemented under the framework of the Polish development assistance. Must apply for Rhodes Scholarships at Oxford University 2022 in UK (Fully Funded).
Poland Government Scholarship 2022 Details:
Provided By: Ministry of Foreign Affairs
Degree level: Master Degree
Eligible nationality: International
Award country: Poland
Last Date: 21 June 2021.
Join Our WhatsApp Group if You not Joined it Already
Stay in Touch & Follow us on our Social Media Platforms to Get Latest Updates for Latest Opportunities. Facebook Page – Facebook Group – Instagram – Twitter – LinkedIn
Amazing opportunity in Australia Australian Government Research Scholarship 2022 (Fully Funded).
Also check United Nations Internship Program 2022 in Geneva.
Financial Benefits:
The Poland Scholarship will cover almost all the expenses for all the selected Students to Study in Poland.
Full tuition fees for public or non-public institutions will be covered.
A monthly stipend from PLN 1500-2000 will be paid to the student for daily transportation and other accommodation purposes etc.
For an unseen or unexpected event, the NAWA Director has the right to grant extra PLN 500 at the request of the scholarship holder.
Available Study Fields:
All Courses are available in Poland Government Scholarship by HEI.
Engineering
Science
Arts
Social science
Technical
Sciences
Agricultural sciences
Life sciences.
Must check DAAD Helmut Schmidt Scholarship 2022 in Germany (Fully Funded).
List of Eligible Countries for Poland Scholarship:
Albania, Angola, Argentina, Armenia, Azerbaijan, Belarus, Bosnia and Herzegovina, Brazil, Montenegro, Ethiopia, Philippines, Georgia, India, Indonesia, Iraq, Iran, Jordan, Kazakhstan, Kenya, Colombia , Kosovo, Lebanon, North Macedonia, Mexico, Moldova, Nigeria, Palestine, Peru, South Africa, Senegal, Serbia, Tanzania, Tunisia, Ukraine, Uzbekistan, Vietnam
Eligibility Criteria:
Applicants must meet the following criteria at the time of applications:
Be citizens of a country listed above
Not be Polish citizens
Not have previously obtained a Master's degree.
Not have previously been granted a scholarship under the Program
Speak English at least at the B2 level.
Check Hurford Youth Fellowship Program 2022 in USA (Fully Funded).
Application Deadline:
The last date to apply for Polish Government Scholarship for International Students is 21st June 2021. The Result will be announced in the early week of August 2021.
How to Apply for Poland Government Scholarship 2022?
The Link to Make an Online Application is given below. Create an account and follow instructions to submit your application through the online portal. Submit the application then you will receive a message through an email containing the application reference number. Official Advertising link is given below: