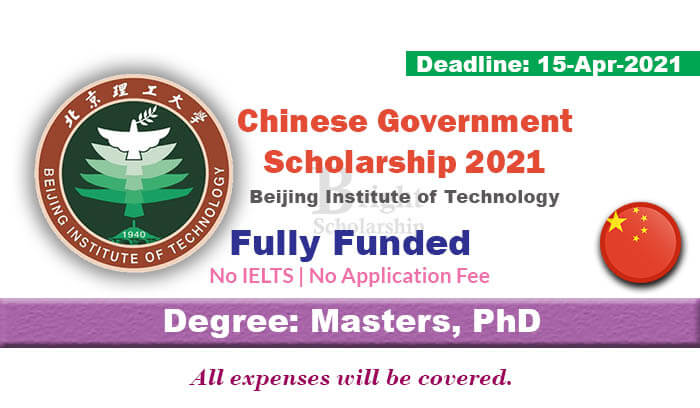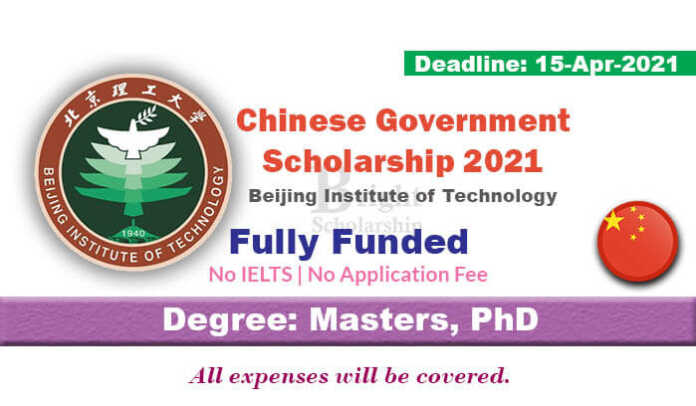 Beijing Institute of Technology Scholarship 2021 for International Students:
Applications are invited to apply for Beijing Institute of Technology Scholarship 2021 in China through Chinese Government Scholarship. All International Students from any part of the globe can apply for China Scholarship. Beijing Institute of Technology Scholarship is offering Masters Degree and PhD Degree Scholarships to all International Students. All-Academic Fields/, Majors are available for Masters Degree Scholarship & Doctoral Degree Scholarship in China. Fully Funded Scholarship is available for academic session of 2021-22. Also apply for Fulbright Scholarship 2021 in United States (Fully Funded).
Beijing Institute of Technology is one of the Most Famous University with International Vision. Most of the students are coming from South Korea, Russia, Poland, Pakistan, Germany, France, Kazakhstan, Indonesia, and Thailand. Must check KAIST International Undergraduate Scholarship 2021 in South Korea (Fully Funded).
Beijing Institute of Technology Scholarship 2021 Details:
University: Beijing Institute of Technology
Degree level: Masters, PhD
Scholarship coverage: Fully Funded
Eligible nationality: International
Award country: China
Last Date: 15 April 2021.
Join Our WhatsApp Group if You not Joined it Already
Stay in Touch & Follow us on our Social Media Platforms to Get Latest Updates for Latest Opportunities. Facebook Page – Facebook Group – Instagram – Twitter – LinkedIn
Apply for amazing opportunity Asian Development Bank Scholarship 2021 in Asia and the Pacific.
Check Korean Government GKS Scholarship 2021 in Korea (Fully Funded).
Financial Benefits:
The Beijing Institute of Technology Scholarship 2021 will provide Full Chinese Scholarships to all International Student sto pursue Postgraduate Degree programs. The Scholarship details are given below.
Registration Fee
Complete Tuition Fee
Laboratory Experiments, Internship, and Basic Text Books
Free Accommodation on or off-campus depends on the availability
Comprehensive Medical Insurance and Protection Scheme
Monthly Living Allowance: Master: CNY 3,000 (USD 485), Ph.D. Candidates: CNY 3,500 (USD 565)
Duration of the Scholarship:
The duration of the Master's Degree is 2-3 academic years, Doctoral Degree 3-4 academic years. This is one of the best Scholarships to study in China scholarship at BIT University.
Check Scotland Government Scholarships 2021 in Scotland (Funded).
List of Available Study Fields (Masters, PhD):
Below is a List of Academic Fields for Masters & PhD Degree Programs at BIT Scholarship in China for International students.
Computer Science and Technology
Aerospace Engineering
Chemistry and Chemical Engineering
Automation
Design and Arts
Education
Foreign Languages
Mechanical Engineering
Mechatronic Engineering
Humanities & Social Sciences
Information and Electronics
Law
Life Science
Management and Economics
Mathematics
Optoelectronics
Physics.
Eligibility Criteria:
Applicants are non-Chinese citizens and in good health.
Applicants for Master programs should be under the age of 35 and hold a Bachelor's Degree.
Applicants for Ph.D. programs should be under the age of 40 and hold a Master's Degree.
Check SIIT Graduate Scholarships 2021 in Thailand (Fully Funded).
Documents Required:
The Following Documents you have to Upload in PDF Format.
CSC Application Form
Notarized Highest Degree Certificate (English Version) for Graduates/Certificate of schooling for Registered students.
Notarized Transcripts of the Highest Degree
BIT Advisor Recommendation Form (You may upload a piece of blank paper instead of at the stage of initial application);
Curriculum Vitae
Personal Statement
Two recommendation letters
Valid Passport (FrontPage)
Physical Examination Record
English Proficiency Certificate or Test.
Application Deadline:
The last date to apply for Chinese Government Scholarships at Beijing Institute of Technology 2021 is 15th April 2021.
Check KNB Indonesian Government Scholarship 2021 in Indonesia (Fully Funded).
How to Apply for Beijing Institute of Technology Scholarship?
You have to Apply Online at CSC Scholarship Portal as well as on the University Scholarship Application Portal. Select "Type B" and the agent No. of BIT is "10007". The Complete Application Procedure is given below:
Step 1: Create an account at https://studyinchina.csc.edu.cn/ and choose program Type B. The agent No. of BIT is 10007. Please download the CSC application form after registration.
Step 2: Create an account at http://isc.bit.edu.cn/, upload the following application documents and submit your application to get your BIT application number.